Smudge Fundaes
Award-winning Musical Entertainment for Kids
Bio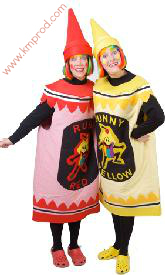 Described as "captivating", "sheer entertainment", "the elite of children's performers", "better than the Wiggles", Sandie Thomson and Suzanne Nicks make up the "delicious" duo, The Smudge Fundaes! Canadian musicians with varied musical backgrounds, Sandie and Suzanne combine their talents, wit and 'kid-intuition' to deliver MUSIC FOR KIDS – NOT NECESSARILY FOR PARENTS!
The Smudge Fundaes have 5 highly acclaimed CDs that have garnered 6 international awards and have been twice honoured by "Parents Choice Award", 3 times honoured by "iParenting Media" Award, and have also received the "Our Choice" Award (with Distinction)! Our Choice is a Canadian guide to consumers for the best music CDs and books for children.
2008 Canadian Children's Group of the Year!!!
2008 TVCOGECO Star Awards Winner!
2008 & 2009 Niagara Music Awards Best Children's Group!
For television, The Smudge Fundaes conceived, wrote and starred in their own show, Classroom Crayons, featuring Ruby Red and Sunny Yellow. The accolades and reviews were fantastic and The Smudge Fundaes have been asked to write and star in another season of the Classroom Crayons. The Smudge Fundaes variety show is always a crowd pleaser, whether in conjunction with TREEHOUSE TV's Big Comfy Couch, Clifford, or Dora The Explorer.
The Smudge Fundaes have performed at concerts, fairs and festivals across Canada and the U.S. For over 15 years. Performing for Winterblast at Superbowl XL in Detroit, Michigan was a thrilling experience for the duo.
Show Description
Holiday Season Shows
The Smudge Fundaes have songs to celebrate Christmas and the festive Holiday Season. The Fundaes will bring along their set of season-appropriate music mixed in with all the usual favourites that people love to hear. Using both familiar songs and new songs of the season, The Smudge Fundaes put their own twist on Santa, Monsters, the Bunny Trail and more!
The Smudge Fundaes are represented by K&M Productions for company/corporate family events. For more information and booking The Smudge Fundaes, contact us.

Partial Client List
Great Blue Heron Charity Casino
Miller Thomson LLP
JTI-Macdonald Corp.
Winterblast at Superbowl XL, Detroit, MI
The Canadian National Exhibition (CNE), ON
Ontario Place, ON
Red River Ex, Winiipeg MN
Southshore EX, Bridgewater, NS
Whoop-Up Days, Lethbridge, AB
Lloydminster Exhibiton, Lloydminster, AB
Saskatoon Exhibition, SK
Westerner Days, Red Deer, AB
Niagara Grape and Wine Festival, ON
Dearborn Performing Arts Center, MI
Detroit Symphony Orchestra, MI
Centre For the Arts, Brock University, ON
Orillia Performing Arts Center, ON
Arts, Beats and Eats Festival, Pontiac, MI
Brighton Center For the Performing Arts, MI
Louden County Schools, VA
Hard Rock Cafe, NY
Art in the Pointe, Grosse Pointe Shores, MI
Winter Festival of Lights, ON
State Theater, Bay City, MI
Help-a-Child-Smile
Tender Wishes
Tuppys' Children's Foundation
Niagara Backpack for Kids
Brain Injury Foundation (Toronto Sick Kids' Hospital)
... and many more.