Dr. Lance Secretan
Leadership Expert & Creating Inspiring Organizations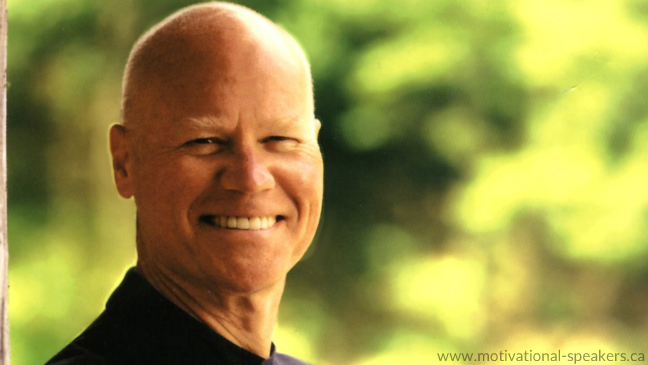 Bio
Dr. Lance Secretan is widely acknowledged as one of the most insightful and provocative leadership teachers of our time. He is the former CEO of a Fortune 100 company, university professor, award-winning columnist and author of 15 books about inspiration and leadership. He is a thought leader whose teachings and writings on conscious leadership are courageous, radical and ingenious and have been hailed as among the most original, authentic and effective contributions to leadership thinking currently available. +

He is an executive coach to leaders globally and works intensely with organizations and their leadership teams to transform their culture into the most inspirational in their industries. Individuals, entire organizations, cities and states have experienced remarkable transformations through his unique mentoring, coaching, wisdom and approach.
He has helped six companies to be named to Fortune's Best Companies to Work for in America list, and eight others on this list are also his clients, and 30 clients are on Fortune's Most Admired Companies list. Leadership Excellence ranked him among the top 100 Most Influential Thinkers on Leadership in the World and he is ranked 17th in the world by Leadership Gurus.
Dr. Lance Secretan is a spellbinding speaker. He is one of North America's most sought-after keynote speakers, and he was chosen by Successful Meetings magazine as one of the top 21 speakers for the 21st century, he is ranked among the top 10 speakers in America and Speakers in America ranks him among the Top Five Leadership speakers. He gives frequent keynote speeches, receiving standing ovations, to audiences worldwide. In every keynote his aim is the same, to change the lives of participants and to make the world a better place. --
Topics
Dr. Lance Secretan's Speaking Presentations:
The Spark, the Flame, and the Torch:
Inspire Self. Inspire Others. Inspire the World
What makes some people so unique that they become a beacon for the rest of us? How do they achieve breakthroughs and unique accomplishments that others merely hope for? How do they inspire us to do things we would not otherwise be able to do on our own? In other words, what makes a great leader, and how do they inspire us and change the world? +
In this keynote, Dr. Lance Secretan takes us on an invigorating, radical and inspiring journey in which he asks a question: "Given all the investments we have made with leadership experts, consultants, books and workshops, why is our contemporary leadership paradigm so broken—in politics, business, academia, healthcare, law, religion and elsewhere?" He'll share an entirely fresh approach that breaks away from the pack—a reset—that has been successfully proven by corporations, cities, states and provinces and countries.
Learn how Lance has guided and inspired some of the greatest organizations in the world—and their leaders—to extraordinary levels of performance. Exquisitely honed philosophies developed over nearly forty years of running a Fortune 200 company, coaching, mentoring and advising outstanding leaders in every sector of our society. --
ONE: The Art and Practice of Conscious Leadership
How "separateness thinking" has hobbled potential—personally and organizationally—and how thinking as "ONE" propels people and their organizations to peak performance. +
Six thousand years ago we were one. We shared the same stories and myths, mysteries and magic. The classical Greek philosophers began the process of separate thinking. The great Renaissance thinkers picked up the pace and the genius of our modern scientific and technical era has unraveled this precious human asset. If we continue to separate ourselves liberal/conservative, parent/child, Muslim/Christian, labor/management, black/white, young/old, rich/poor we will wither as a society, perhaps as a species.
Conscious Leadership inspires self and others to reframe what we see by making the connections between all the parts countries as kin, corporations as communities, employees as whole humans, and religions as partners rather than competitors. In this, we gain a greater understanding of how all our actions connect with everything else. --


Inspire! What Great Leaders Do
The need to inspire has never been greater than it is today, as many people feel afraid, cynical, and resigned. In fact, most companies try to motivate their people with traditional leadership models. Secretan's keynote, Inspire!, offers an alternative way to inspire from within and use self-knowledge to inspire others. It starts with the individual and spreads to transform organizations. This transformational process is Higher Ground Leadership®. +
Inspire! teaches business leaders how to ignite superior performance by speaking to the deeper needs of business relationships, and by aligning their desires with your organization's cause. Inspire! is full of proven methods for connecting with the soul, the real self. The keynote provides valuable guidance and shares a host of stories that illustrate how inspiring leaders have transformed their business environment from places of fear and resignation to powerhouses of effective performance.
Lance shares the results of deep research that explains exactly what made the most extraordinary leaders unique and successful—in history and today. --
Values-Centered Leadership®
The key to leadership lies in timeless values that help us to be of service to others. Think of your organization as though it were a bicycle with the back wheel providing the power and the front wheel providing the direction. From the back wheel, we derive the life skill Values that are the source of personal and organizational power. These Primary Values help us kick-start personal growth and change corporate culture. +
Learn a breakthrough concept that revolutionizes executive coaching and performance management, together with the tools to implement it. Values-centered Leadership® is one of the most powerful coaching models in the world, and a leadership model used by thousands of organizations worldwide. --


Reclaiming Higher Ground®
We have become experts in the science of "personality", but the real opportunities lie in understanding what inspires the soul. Learn how to adopt these radical ideas into your own organization, becoming better at asking the right questions instead of having all the right answers. +
Based on Dr. Lance Secretan's worldwide bestseller, Reclaiming Higher Ground: Creating Organizations that Inspire the Soul, this presentation inspires a new way to think about leadership and work. The vast majority of people are deeply dissatisfied with their work lives and this affects the bottom line. Lance Secretan describes how leaders can serve the needs of their employees and how this improves performance.
Loyal, productive, creative employees inspire profits. Employees are eager to bring more than their bodies to work, and because work and the company represent such a huge commitment in a person's life, they don't want to bring stress and unhappiness home. There is a lot of productive common ground here—Higher Ground, Secretan calls it—when organizations answer this eagerness and desire with Higher Ground Leadership®.
He lays out a detailed and pragmatic process for organizational transformation that goes much deeper than compensation to address the hearts and minds of individuals, and their vision and goals for their organization. He talks about inner life, trust, courage, values and community as indispensable to the health of a business. And he sets the record straight about competition, profit, teams and structure in ways that inspire leaders and employees alike. --
The New Story of Leadership
An established trend is gathering momentum: the hunger to experience spirit in the workplace is gaining the force of a movement. The old story of leadership will no longer satisfy this hunger. Followers—employees—are leaving their leaders behind as more and more of them come to work with a new set of expectations. +
Fortunately, some leaders—like Lance Secretan—are answering this hunger with a New Story of Leadership that connects employee fulfillment to the bottom-line in concrete ways. In this presentation, Lance proves that the trend is, in fact, mounting, why it matters, and how you can become a New Story Leader.
Here are the harbingers of the New Story of Leadership in business:
Leadership. Many of us are yearning for an alternative to business-as-war and leaders-as-warriors. We yearn for spirit in the workplace and for servant-leaders—people who lead with their hearts as well as their heads and wills.
Values. Business has more opportunity to influence the future than any other institution in the world. New Story Leaders choose to make business an instrument for positive change.
The End of Competition. The root meaning of 'compete' is to strive together—exactly the opposite of its usual meaning. The New Story Leader respects our interdependence—our oneness—and sees how it opens opportunities for growth, both within the organization and out in the marketplace.
The Cause. People want to work for a Cause that inspires the soul. A Cause acts as a magnet for passion. It articulates the higher purpose of an organization, it describes how we serve.
The New Customer. The New Story Leader devotes even greater attention to meeting the needs of employees as they do for customers. This goes beyond the usual incentive and reward systems —to practices that awaken passion and satisfy the soul. The result is a dramatic improvement in profitability.
Integration. The New Story Leader creates an environment in which "work" and "life" are not just "balanced," but blended into an integrated, seamless whole.
The Calling. People are looking for more than a paycheck. They seek joy, meaning and fulfillment from their work. A Calling results in work that engages, nourishes and expresses our souls. The leader's mission is to enable each follower to find, grow and excel in her or his Calling.
Soulspace. We ask people to contribute to the highest standards of which they are capable while putting them in the dreariest, most uncreative environments in their lives. Imagine the extraordinary work that could flow from sacred workspaces designed to inspire the soul.
Technology. The Internet, as an example—can be a medium for the web of human consciousness, described by Pierre Teilhard de Chardin as the noosphere. New Story Leaders will reinvent their organizations within this context.
Learning. The most important 'fringe benefit' is no longer healthcare or a pension; it is the right to learn. Learning inoculates against irrelevance and positively feeds the soul.
Inspiration. The role of the New Story Leader is to inspire others. This ability grows organically from one's own inspiration.
Dr. Lance Secretan is represented by K&M Productions. To inquire about Dr. Lance Secretan's speaking schedule, fees & booking leadership speaker Dr. Lance Secretan, contact us.
Testimonials
If I were to label Lance's contribution to our success, I would label it superlative. He has a skill at making people stretch themselves. I am grateful that he exceeded my expectations and transformed us. He is a man with a mission and a message, that people need to hear.
–Manulife Financial
[More..]
If I were to label Lance's contribution to our success, I would label it superlative. He has a skill at making people stretch themselves. I am grateful that he exceeded my expectations and transformed us. He is a man with a mission and a message, that people need to hear.
–Manulife Financial
You're one hell of a speaker! Our hearts, minds and bottom lines are deeply indebted to you.
–Margot Franssen, President The Body Shop International Ltd.
How much I enjoyed your presentation – it was the hit of our conference. On a scale of zero to ten, you were an eleven.
–Four Seasons Hotels and Resorts
Captivating only touches the surface of the impact Lance Secretan had at our recent C-Suite Conference. The top business leaders from some of the largest companies are rarely inspired as they were by Lance.
Bringing his creditability as a corporate CEO coupled with his wisdom and humility, Lance offered a new perspective to what matters for long-term business success. Lance grabbed everyone's attention in a surprising way. He talked about love. A topic that is always present in our lives and mostly ignored in a business setting. He showed the link of our core capacity for caring for the concerns of others that is the foundation for inspiration. He challenged the value of vision and missions statements and showed the power of an organizational dream to change the destiny of organizations and all who work there.
We have had many leading speakers at our events. Lance is at the top of the list for us.
–Thomas White CEO C-Suite Network
Lance presents his material in a most unique and dynamic way that lends itself to getting people's attention who may not have otherwise been interested, and specifically, as a result, tapping the potential of all involved. The lessons he shared, are and will continue to be, part of the reason Medtronic and each of us at Medtronic are successful in what we do.
–Vern Dale-Johnson, Director of Planning and Business Development Medtronic of Canada Limited
Lance has a highly strategic mind. When I think of the process we went through and think of Lance's skills I am grateful for his ability to look at, process and produce in a unique and highly creative way. I personally look forward to working together with Lance and having him stretch my mind — and our business.
–Cyanamid Canada
[Less..]