Amanda Gore
Connection Expert & Speaker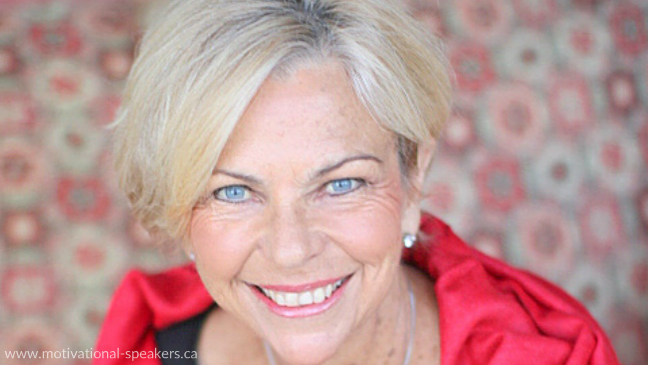 Bio
Amanda Gore uses the latest research in neuroscience, positive psychology, epigenetics, and emotional intelligence to help business leaders create joyful workplaces that incite better performance. Her funny, energizing, and engaging presentations are based on her decades of experience as a communications and a performance expert. +

A professional speaker, Amanda Gore has won many awards and achieved many honours, including being inducted into the Speaker Hall of Fame; receiving a Meeting Planners International Favourite Speaker award; and being voted as one of the "Hottest 25 Speakers" in the USA. To date, her clients have included Wells Fargo, TD Canada Trust, BMW Group, McDonalds, MetLife, Crate and Barrel, Westpac, and hundreds more. She is also the author of five books, including The Gospel of Joy and You Can Be Happy. --
Topics
Wired For Joy: 9 Ways to Enhance Well-Being, Increase Sales and Boost Productivity

You were born with the capacity for joy! Science shows us that by the time you were 7, your pure 'operating system' of love and joy was infected with viruses, malware, apps and other people's programs! Joy at work boosts sales by 37%, increases productivity 31%, reduces errors 18% and boosts chances of promotion 40%. Joy matters! Your brain can be rewired for joy. This session teaches you how. +
It's aimed at helping people feel good about themselves – which is the essence of wellness and changes the way they interact with everyone else. It's great for energising the whole group, de-stressing them and reframing the way they view change, have them rolling around laughing while they learn about the importance of 'the joy spot' – the place where neuroscience, epigenetics, emotional intelligence and positive psychology intersect! Amanda presents profound concepts, in an entertaining way that change people's perceptions of themselves and others; gives them specific strategies to bust stress, lead more effectively, fear less, and to be more collaborative, creative, innovative and productive.
Amanda will cover the latest new science of stress – which will not only show you how to reduce the impact of stress, but also how to change your reactions to it permanently! Did you know that what people think about stress or stressful situations is the 15th biggest killer of humans in the USA? And it is potentially a source of great resilience, productivity, engagement and courage when handled correctly. --
Always Look On the Bright Side: How Optimism Connects, Motivates and Engages

The major disruptor to collaborative teams, joy filled workplaces and high production, sales and service is 'stinking thinkin' as Zig Ziglar used to say! The stories people tell themselves about themselves, their colleagues, customers, bosses and the company determines their behaviour. +
This presentation helps people understand how to be conscious and mindful of their thinking and stories – and how to change them. And more importantly, why to change them. The formula T+ S = F …thinking (stories) + speaking = feeling – rules everything. How we think determines how we feel, which determines how we behave – but the source of everything is our thinking. 95% of the time we are operating from an unconscious level – we don't even know what we are thinking! Everything in business, when boiled down, is about feelings. They determine the quality of all relationships at work, leadership, teamwork, sales and customer service.
This session also has the opportunity to finish with a 21-day challenge for the team to look at how they are thinking and what they are thinking and strategies on how change it. It's fun, full of laughter and has a profound impact on how they perceive everything. If you want your change fatigued team enthusiastic, motivated and re-energised this session will do it! --
The Life Pizza: 7 Ways to Build Resilience and Restore Work Life Balance. It IS Possible!

'Busy-ness' is the new 'disease' impacting almost everyone. Rushing and having the perception (and reality) of too much to do can destroy mental clarity and physical health. +
Did you know that new research shows us how we THINK about stress decides if our bodies react negatively or not. Our perceptions rule our reality and in part, create our environment. How we view life balance also determines the physiological impact it has. These factors all affect our resilience.
Understanding the 3 possible stress responses and channeling them in the right way changes everything! How we feel, how we respond to those events and how others in turn respond or react.
The Life Pizza is a simple and easy way to review important aspects of our lives and become aware of imbalances in what areas are most important to us and what areas we put most of our attention on – which then allows us to make a plan to improve that balance. It is also the way to introduce concept of resilience and teach them several 'resilience strategies'. This is an engaging experience that sends people out of the room laughing and determined to balance their 'life pizza'! --
Amanda Gore is represented by K&M Productions for speaking engagements. For more information and booking Amanda Gore, simply contact us. speaker amanda gore

What Clients are Saying
In a word, she was superb, charming, funny, engaging. She had the audience on the edge of their seats. I have been in Association Management for 15 years and I've never experienced anything quite like it.
–Society of Industry and Office Realtors
[More..]
In a word, she was superb, charming, funny, engaging. She had the audience on the edge of their seats. I have been in Association Management for 15 years and I've never experienced anything quite like it.
–Society of Industry and Office Realtors
You were just fabulous, and by far the best of our speakers over the past several years. I'm particularly grateful for how well you integrated our messages into your presentation. You have a wonderful knack for getting the most hard boiled of the group involved. You even had the biggest cynic in the group laughing himself silly. It is clearly your mission to fill the world with the light and warmth of zoot zoot! Ta Da!!
–Hilton Hotels
We have never received such consistently strong feedback form our participants and our business partners. A large part of that was because of your contribution.
–TD Canada Trust
You were one of the key contributing factors of our [program's success. We have received many accolades from all...Even our technical crew was overwhelmed.
–CAIFA Toronto
You did it, Amanda! We had an aggressive schedule and objectives. You set a tone that offered that, by being positive and caring, we can accomplish whatever we set our minds to. The plans are well on their way to completion. I would be completely remiss if I did not share with you that you struck a chord with the entire group. And as you know, it was a very skeptical group.
–Hard Rock Cafe
You had a big impact. The Tada's and 'yes…excellent!' continued long into the next day and all the way through our final dinner. I received a lot of very positive feedback. Thank you for such an energetic and well tailored presentation.
–Grant Thornton International
Amanda, we haven't seen this group this animated ever before! They just loved the experience! Thanks so much for ending our meeting on such a high note. We are getting a lot of kudos and doing 'Ta Da' all over the place!
–Society of Financial Service Professionals
[Less..]