Fee Range
PGgzPkZlZSBSYW5nZSBmb3IgQ2lyY3VzIEpvbmF0aGFuPC9oMz48cD4kMSw1MDEgLSAkMiw1MDAgQ0FEPC9wPg==
Request More Information

Circus Jonathan
A One Man Busker Festival!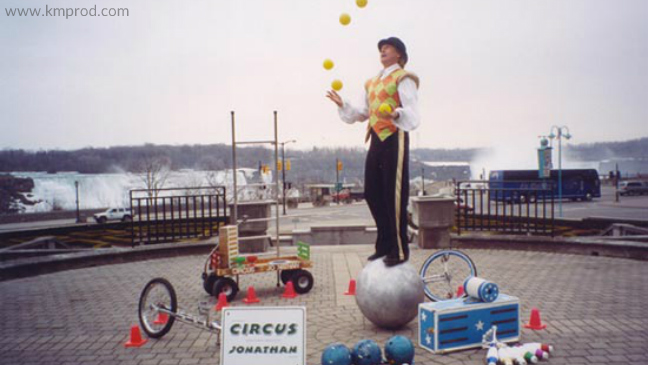 Show Description
Circus Jonathan is an award winning comic, a master of Chinese gyroscopes and box manipulation, a unicyclist, juggler, renown clown, circus instructor, master balloon sculptor, stilt-walker, wire walker, equilibrist, actor, professional court jester, and acrobat. In short - an entertainment tour de force. He is also a Guinness Champion Juggler for endurance juggling with 3, 16 lb., 10 pin bowling balls.

An internationally-acclaimed performer and entertainer, he has thrilled audiences with his one-man show in 12 countries including Australia, Japan, Hong-Kong, Switzerland, Belgium, Ireland, England, U.S.A., India, Italy, France, Canada and all over North America.

He performs for a wide variety of corporate events, (with many appropriately themed costumes) as well as at international festivals and special events - including repeat engagements on Canada Day at Parliament Hill in Ottawa.

Circus Jonathan offers thrilling interactive entertainment both on a strolling basis as well as stage shows.
For more information & booking Cirucs Jonathan contact us.