Steve Patterson
Host of CBC's The Debaters; Award-winng Comedian
Bio
Familiar to hundreds of thousands of Canadians as the host of CBC Radio One's hit show The Debaters, Comedian Steve Patterson's material combines razor sharp wit and meticulously crafted, up-to-the-moment social commentary, with a measure of musicality thrown in where appropriate. +
Patterson has appeared on numerous nationally-televised comedy specials over the past two decades, and twice earned the title "Best Male Stand-up Comedian" at the Canadian Comedy Awards (2011 and 2013).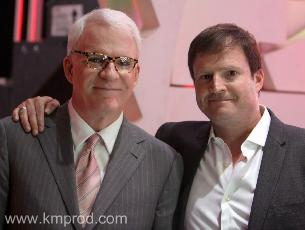 His work has received considerable praise over the years, but none more poignant than at a Just For Laughs Festival gala when he shared the stage with comedy icon Steve Martin who proclaimed of Patterson, "If I'd known he was going to be THAT good, I would have cancelled him."

In an effort to continue to prove he is THAT good, Patterson has toured his one-man show called This Is Not Debatable in theatres nationwide and released a comedy recording of the same title in 2014 which earned him another Canadian Comedy Award nomination.

In 2016, he also added author to his credits, with the publication of his first book, The Book of Letters I Didn't Know Where to Send, and created and co-produced his latest media project, The Smartass-ociates with Steve Patterson, which combines topic-specific experts with top comedians to make smart people funnier and funny people smarter. --
Topics & Categories
Celebrities & Media
Comedy & Humour
Event Hosts & M.C.\'s
Humour & Variety
Most Requested Virtual Shows
Unique & Interactive
Universities & Colleges
Virtual Presentations
The Keynote Comedian
Cap off your conference with a laugh! Award-winning comedian Steve Patterson expertly weaves customized messaging, industry news and current events into his unique (and hilarious) keynote, leaving audiences laughing, thinking, and feeling good about what they do.
Customized Comedy
Smart, well-read, well-versed in current events, quick on his feet, and a riveting raconteur, Steve Patterson is a one-stop shop for all things hilarious, who can quickly turn a crowd of strangers into a roomful of laughing co-conspirators. Patterson customizes each of his performances with up-to-the-minute material based on current events and his audience. +
Steve's humour is relatable, and with material that covers everything from personal stories to social commentary to songs that aren't pop hits but should be, and while he will have fun with his audience, he will never make fun of an audience member unless the target of his joke is laughing the loudest in the room.

So, if you are looking to book a "good" comedian for your next event, there are several good choices. If you would prefer to book a one-of-a-kind performer who has been recognized as the best in the business and will customize your event like no other speaker, Steve Patterson is the one for you. --
The Debaters Live!
Be it resolved that The Debaters Live! is a fantastic way to liven up your next event, corporate function, or fund-raiser. Real live Debaters host, Steve Patterson, and two stand-up comedians who have appeared on the show will entertain your group with a relevant exchange of facts and funny, tailored to suit your needs. As always, The Debaters guarantees comedy that is manufactured with 100 percent original and hilarious material.
Hosting & Emceeing
One-of-a-kind comedian Steve Patterson offers customized emceeing guaranteed to create laugh and achieve your organization's goals. Having Steve host your event, gala, or conference ensures that everyone will be talking about it for days, weeks, and even years to come!
Steve Patterson is represented by K&M Productions. To inquire about Steve Patterson's schedule,* fees & booking comedian Steve Patterson contact us. *Note: Fee range indicated is for a "virtual" comedy show.
Testimonials
His talent borders on a type of brilliance I've rarely seen in either the worlds of comedy or business. Sold-out audiences consistently pointed out Steve as the highlight of the night.
–Investors Group (tour sponsors)
[More..]
His talent borders on a type of brilliance I've rarely seen in either the worlds of comedy or business. Sold-out audiences consistently pointed out Steve as the highlight of the night.
–Investors Group (tour sponsors)
The Debaters was the perfect "cherry on top" for our event. The comedians were hand-picked to fit our conference theme, the show was expertly planned, and the humour appealed to everyone in our audience. Canadian comedy that is world-class! We were blown away with the customization of this show! Steve connected with our audience from the second he stepped on stage. He's simply in a league of his own.
– Grain Farmers of Ontario
I have heard nothing but rave reviews as to the quality, wit and intelligence of your show ... you had our audience in fits of uncontrollable laughter for sixty minutes!
–Price Waterhouse Coopers
I have never seen such preparedness in a stand-up comedian. You had quite obviously done your homework on the school and me ... you had everyone laughing from the word go and kept it up for the entire set.
–Rotman school of Management, University of Toronto
Everyone thought Steve was hilarious and thoroughly enjoyed his show. I would recommend him to anyone considering him.
–Basics Office Products
Not only did your style of humour appeal to our diverse group, it was clear that this was a customized show based on the research you did within a very short time frame.
–Deloitte & Touche LLP
His unique blend of well written prepared material, improvisation skills and charismatic demeanor made him an instant hit with our live audiences and our associated television producers as well.
–Producer, Halifax Comedyfest
[Less..]