Dini Petty
Author, Award-Winning Television & Media Personality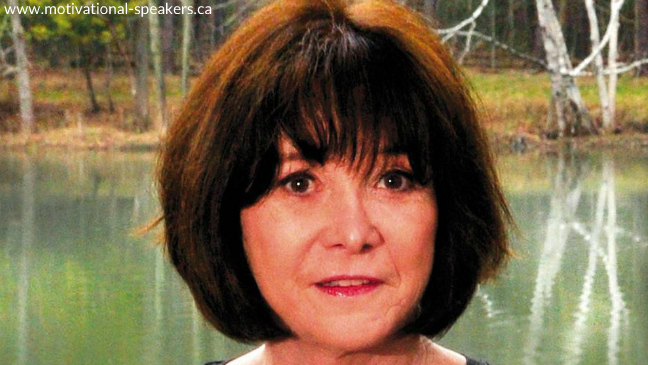 Bio
Dini Petty is a Canadian icon. Celebrity, mother, author, entrepreneur, daredevil and free spirit, she is a remarkably accomplished woman. Motivated for success, she is a helicopter pilot, a radio and television personality, talk show host, and successful writer and poet. Although Dini makes success look easy, she has had her share of struggles. She shares the story of her discovery of inner strength, and shows audiences how to get back in touch with their own instincts, increasing self-confidence and self-esteem. +

Her legendary career began at age 11, when she was cast in a National Film Board production Who Is Sylvia? Entertainment roots in her family run deep, as her mother opened Canada's first talent agency, Molly Petty Producers Services, and her father opened one of Canada's first animation houses, Gord Petty Film Technique.
Dini made aviation history — and her first indelible mark on the public's consciousness — when, at age 22, she got her commercial helicopter pilot's license and began broadcasting from a pink Hughes 300 helicopter for CKEY radio, logging some 5000 hours while doing traffic reports.
In 1979 Dini traded in her flying suit to become part of the original, groundbreaking CITY Pulse news team at CITY TV. Beginning as a general reporter, Dini was soon co-anchoring the 6 o'clock news, then solo-anchoring the 5 o'clock news, while hosting a daily talk show, which became and remains CITYLINE. It set broadcast records for the size of its viewing audience.
Ten years later, the opportunity to host a national talk show took Dini to CTV, where The Dini Petty Show became the longest running talk show in Canada's history, earning her the nickname "Canada's Oprah." [more]
Dini's contribution to Canadian television has been recognized with six Can Pro Awards and four Gemini Nominations, for her talk show and documentary work. She pulled no punches - her film Incest: Scandal in the Family, was just the second documentary ever done in Canada on the subject. Having a Baby documented the pregnancy of Dini's second child, Nick, from amniocentesis through delivery, a first of its kind. She is also the recipient of the NATPE International IRIS Award and several others for her decades of charity work.
Charity work has been a lifelong passion. As a teenager, Dini raised money going door-to-door for local charities and organized Christmas parties at shelters for children and youth. When TV gave her a public platform, she used it to start Coats for Kids while at CITY, a campaign still going today. The Pregnancy Youth Line was one of Dini's early initiatives, where she worked with CHUM radio to run spots offering assistance to pregnant teenagers in need.
For over two decades Dini has been involved with international aid. A spokesperson for Amnesty International and Christian Children's Fund, Dini hosted infomercials that began one of the organizations' most successful campaigns ever in Canada. For Amnesty International, that also included the USA. Most recently Dini has traveled to Africa and the Far East, documenting Canadian doctors who work in developing countries.
Dini has conducted between 15,000 and 20,000 interviews. It's that ability to connect with people that makes Dini such a powerful presenter. She speaks from the heart, with an insight into the human condition that few can claim. She communicates authentically, insightfully and compassionately, always exhibiting great humour.
In recent years Dini has turned her love of poetry into a best-selling children's book The Queen, The Bear and the Bumblebee, which inspires children to "Be who you are, because there's only one you." Over the last few years Dini has toured her one-woman show A Broad View to rave reviews.
There are few women whose life journey takes you where Dini Petty has been. The highly accomplished Canadian Icon draws audiences into her personal universe making them laugh, cry and occasionally gasp with her honest, true from life stories. --
Topics & Categories
Celebrities & Media
Change | Change Mgmt.
Entrepreneurship
Event Hosts & M.C.\'s
Inspiring Stories
Motivational
Women of Influence
Surviving Change or The Soul of the Matter
After some 40 years of public speaking and surveying the audiences to find out what their greatest personal and professional problems are, the answers are always the same. We all have the same problems. Dini explores self-esteem, instinct, expectations, multi-tasking & the rabbit hole in her new presentation.

The Success of Failure
Full of real-life examples and hilarious anecdotes, Petty will have listeners laughing and nodding their heads in agreement. This is no "motivational" speech, but rather one of inspiration, with a healthy dose of reality. Audiences will leave feeling uplifted, inspired, and ready to take on new challenges, knowing the process of trying, and of learning when things go wrong is just as important, if not more so, than the end result.

Self Directed Journey
Get back in touch with your own instincts, increasing self-confidence.

The Queen, The Bear and The Bumblebee
Explore the fundamentals of being happy: friendship, courage, and self-discovery

If I Knew Then What I Know Now
- Celebrity Host-Emcee
- Personal Appearances
Dini Petty is represented by K&M Productions for corporate events & speaking engagements. For more information, fees, Dini Petty's speaking schedule & booking Dini Petty contact us.
Testimonials
We received nothing but positive feedback after Dini Petty spoke at our Women's Wellness event. Dini's insights and personal stories touched everyone in the room. She is down to earth, approachable, real and I highly recommend her as a speaker.
–Humber River Regional Hospital Foundation
[More..]
We received nothing but positive feedback after Dini Petty spoke at our Women's Wellness event. Dini's insights and personal stories touched everyone in the room. She is down to earth, approachable, real and I highly recommend her as a speaker.
–Humber River Regional Hospital Foundation
Motivational, inspirational and always entertaining.
–The Canadian Management Centre
Dini's stories are real, powerful and straight from her heart. They run the gamut of excitement and opportunities to challenges full of pain and suffering. She encourages us to "be yourself" and be in tune with life. Dini stresses the importance of valuing and looking after yourself, and getting at the things that are important to us in life.
–PEI Business Women's Association
Dini Petty is the go to person when you need an emotional and humorous speaker for events geared at people of all demographics. Dini touches the audience with her honesty about her own struggles in life, and how even when she was down, she always knew that things would get better. Many of us face challenges, especially those of us in the sandwich generation, balancing our lives between work, and family needs. Dini's stories bring us into a perspective of hope. All of us will face challenges in our lives, no one gets a "no problems in life free card", and Dini brings that message home to the audience. No matter what happens, and you fall into that rabbit hole with mud at the bottom, you can always wipe yourself off, and dig your way out. She leaves the audience with smiles on their faces and truly renewed hope in their hearts.
–Flagstaff Family & Community Services
[Less..]