Mark Hebscher
Humour & Sports Stories;
Creator of the "Hebsy Awards"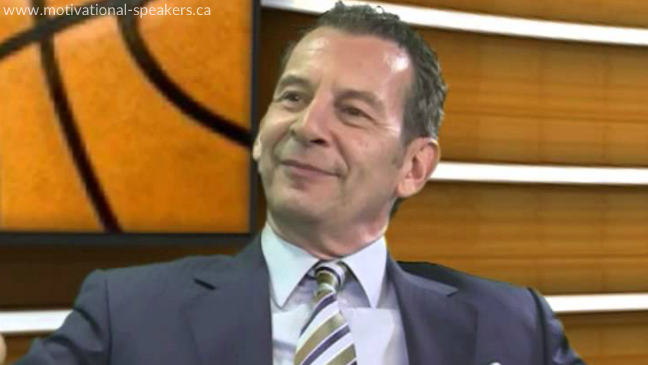 Bio
Best known for his role on Global TV's Sportsline, Mark Hebscher stands out from the crowd with his provocative, no-nonsense broadcast style. He has interviewed some of the world's greats - from Muhammad Ali and George Chuvalo to Donovan Bailey and Pete Rose - and never flinched in the glare of their fame. +

One of the most diverse broadcasters in media for the past three decades, Mark Hebscher is now co-hosting the "No Fun Intended" podcast with Liz West. "Square Off" had a 13 year run on CHCH TV in Hamilton Ontario, and now Mark and Liz have taken the show to the next level.
Mark is likely best known for his 16 years hosting the groundbreaking show "Sportsline" on Global Television, and later CHCH TV. He has been a radio disc jokey, sports talk show host, play by play man, color commentator, show presenter, TV sports anchor and has conducted close to 10 thousand interviews, from Muhammad Ali to Ed the Sock.
Mark Hebscher is a highly sought after Speaker and EmCee. You can always count on him to bring his infamous Hebsy Awards, an assortment of sports bloopers, that contributed towards two Gemini Award nominations as Canada's BEST sportscaster. He is a very unique, engaging, hilarious Speaker and is as entertaining as he is, informative. --
Topics & Categories
Celebrities & Media
Event Hosts & M.C.\'s
Humour & Variety
Sports Figures
Behind The Scenes Of Sports - Humour

Having spent the better part of 20 years hosting or co-anchoring sports shows on Global, Headline Sports and Sportsnet television, Mark Hebscher has had numerous encounters, interviews and direct access to athletes and coaches while traveling with them on the road. Suffice to say Mark Hebscher is uniquely qualified to bring and share behind-the-scenes adventures, dramas, stories and humourous anecdotes accumulated throughout his continuing broadcast career. +
He's seen it all, and has experienced such "events" as being slapped on the backside or having snow dumped on his head from professional Hockey players skating by, while conducting LIVE on-air broadcasts. As a joke, Wayne Gretzky once tried to disconnect his microphone cord during an on-air interview.
Because Mark hosted Global's "Sportsline" for 11 years, naturally he highlights this presentation with a mock sports broadcast from the year 2025. Try projecting yourself into the future and imagine how many teams are now in the NHL and where they're located? What will Don Cherry or Ron MacLean be up to? What famous athletes will become embroiled with the law or with fans? Mark makes some very entertaining predictions.
In addition, his extremely popular and trademark "Hebsy Awards" which are an extensive collection of hilarious sports bloopers, can be customized for any event and audience. --
Motivation & Leadership

Mark Hebscher examines the leadership qualities of championship Coaches as well as exceptional, award-winning athletes. This presentation is perfect for those seeking an entertaining and informative motivational presentation for sales and annual meetings, after luncheon or dinner presentation, character and team building events and more.
Mark Hebscher is represented by K&M Productions for speaking engagements, personal appearances & hosting/emceeing. To book Mark Hebscher as your event's guest speaker and/or host emcee, contact us. (Only booking-related inquiries receive responses.)