Scott Ward
Aboriginal & First Nations Comedy Hypnotist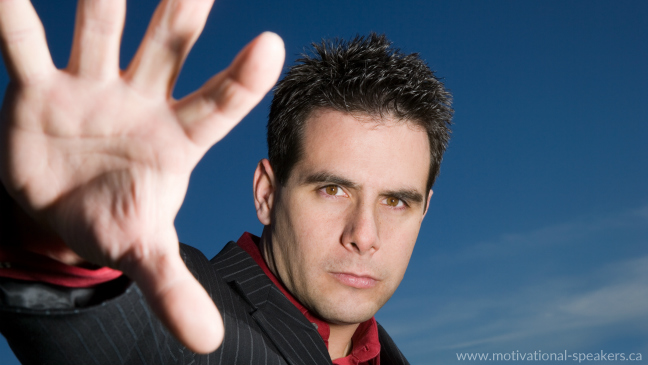 Bio
Scott Ward travels all across North America entertaining and educating youth and adults with his positive high-energy comedic hypnosis shows, as well as his empowering educational workshops. Performing at over 150 hypnosis shows a year and having hypnotized over 10,000 people, Scott is a full-time aboriginal, First Nation stage hypnotist and speaker. +

Scott's hypnotic eyes amaze and mezmerize his subjects on stage as they become the stars of the show. A former professional academic teacher and career counselor, Scott had more fun hypnotizing his students than teaching them so he decided to take his show on the road full time! After first performing for his co-workers at a staff wellness conference, Scott found his calling and has been amazing audiences everywhere with his wildly entertaining comedy hypnosis ever since.
Scott is well known for his work with youth of all ages in the various workshops he facilitates on issues affecting them today. As an educator with a background in drama and intercultural education, Scott combines his knowledge and hilarious hypnosis show to provide companies, associations, organizations and communities with an interactive, high-energy workshop/entertainment package suitable for all ages and events.
Hypnotist Scott Ward is the recipient of four generations of mystic native clairvoyance and spirituality. He follows his First Nations teachings and culture that he received from his "Kookum" or "Grandmother", his Father and his ancestors past. As an added bonus when booking Scott, he will begin by reading palms and eyes to connect with his volunteers.
You will be amazed and mesmerized by Hypnotist Scott Ward. He is a natural with the audience and provides a high quality, fully produced, hilarious hypnotist stage show that consistently results in repeat bookings at corporate as well as community events. --
Show Description
Comedy Hypnosis Show
Value-added reasons to book Scott Ward:
60, 90, or 120 minute Comedic Hypnosis shows;
Motivational Workshops for youth, communities or conferences;
Optional walk around magic and or palm reading before the show;
Optional sound system, wireless microphones & stage lights.
Scott Ward is represented by K&M Productions. For more information, fees & booking Scott Ward, contact us. Scott travels from Victoria, BC.

What Clients are Saying
You definitely delivered on your promise of an awesome show!
–RBC
[More..]
You definitely delivered on your promise of an awesome show!
–RBC
Scott Ward was the most outstanding performance that we have encountered.
–Alberta Union of Provincial Employees
Scott's performance was definitely first class entertainment!
–Purchasing Management Association of Canada
Our delegates really enjoyed the creative way you incorporated learning into a humourous and interactive show.
–MacEwan University
We would recommend Hypnotist Scott Ward to anyone that is looking for great entertainment that will get their crowd laughing until they are crying!
–Alberta Employment & Immigration
Scott is so personable and one of the most professional performers we have ever had the pleasure to work with.
–Permian Basin Fair & Expo, Odessa Texas
[Less..]