Craig Kielburger
Activist; Co-Founder of We Charity (Formerly Free The Children & Me to We)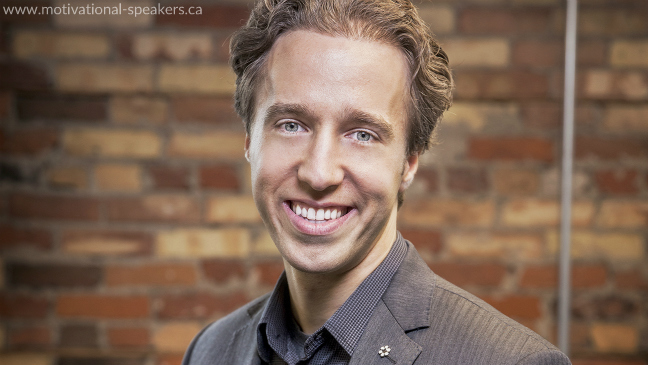 Bio
Craig Kielburger is a social entrepreneur and the co-founder of a family of organizations dedicated to the power of WE, a movement of people coming together to change the world. Along with his brother Marc Kielburger, Craig co-founded Free The Children, which provides a holistic development model called WE Villages, helping to lift more than one million people out of poverty in Africa, Asia and Latin America. +
Back at home in the United States, Canada and the United Kingdom, WE Schools and WE Day provide comprehensive service learning programs to 10,000 schools, engaging 2.4 million young change-makers. Lastly, he is the co-founder of ME to WE, a pioneering social enterprise, the profits from which help sustain the work of his charitable organization. His work has been featured on the Oprah Winfrey Show, 60 Minutes, and the BBC.
Craig is the youngest ever graduate from the Kellogg-Schulich Executive MBA program. He has also received 15 honorary doctorates and degrees for his work in the fields of education and human rights. He is a New York Times bestselling author who has published 12 books, as well as a nationally syndicated columnist.
Craig has received The Order of Canada, the Nelson Mandela Freedom Medal and the World Children's Prize, and was inducted into Canada's Walk of Fame for his humanitarian efforts and his work to empower youth to change the world. He was recently voted by Canadians as one of Canada's top most trusted influencers in a Readers Digest poll, and along with his brother Marc, he was named Canada's Most Admired CEO in the public sector in 2015. --
Topics
An Unconventional Education: What I Learned about Leadership from Nelson Mandela, Oprah, and My Grandma
Craig Kielburger and his brother Marc learned to lead at the ages of twelve and seventeen when they founded a global movement against child slavery. Part of the vanguard of young entrepreneurs, they didn't have formal training in how to build an organization. But they knew how to innovate and take risks, and they benefited from the mentorship and friendship of powerful, world-renowned leaders. +
The lessons Craig gleaned from these deep relationships, as well as his own experiences leading a global organization, are the basis for this speech.
In this engaging, interactive keynote, Craig delivers actionable leadership lessons as he weaves the tale of his journey from middle school kid to leader of a global enterprise. His savvy insights and advice are peppered with accounts of the extraordinary leaders who have coached and mentored him. But that's not all.
This speech takes audience interaction to a whole new level by letting the audience choose the stories they most want to hear. Whether it's an anecdote involving President Clinton or Kid President, Ed Bradley or Richard Branson, Mohammad Ali or Magic Johnson, Mother Teresa or one of the many top CEOs who have shared their wisdom, attendees of every age will benefit from these entertaining insights. --
Me to We: How One Person Can Make a World of Difference
Inspiring for all audiences
In their two decades of humanitarian work, Craig and Marc have visited dozens of countries, meeting people from all walks of life. They have learned from some of the greatest spiritual, political and social leaders of our time, including Mother Teresa and Nelson Mandela, and have shared simple meals with families struggling in the world's slums and war zones. Along the way, they have discovered a simple but profound truth—that real fulfillment starts with having the courage to reach out and help others. +
It all begins when we make the shift from me to we.
In this speech, Craig and/or Marc will help you discover the Me to We philosophy, described in their New York Times bestseller, Me to We: Finding Meaning in a Material World.
Tangible Takeaways:
Learn how to create your legacy while meeting the demands of a busy life
Achieve a deeper sense of gratitude for life's simple pleasures and moments.
Find inspiration in the teachings of the world's heroes and take your first step to making lasting change.
Equip yourself with practical tools for living the Me to We philosophy through daily choices and actions.
Take steps toward a greater sense of purpose and fulfilment in the workplace, in your relationships and in your family. --
The World Needs Your Kid: How to Raise Kids Who Care and Contribute
For all those who help to shape children's lives: parents, caregivers, educators, communities

Today, more than ever, the world needs your kids. Through their work with Free The Children, an international charity driven by youth, Craig and Marc have empowered more than two million young leaders to take action to better their local and global communities. +
Based on their international bestseller, The World Needs Your Kid: Raising Children Who Care and Contribute, this speech will provide key insights on guiding children to be compassionate and engaged global citizens. Their research is based on over a thousand interviews with experts on mentorship and early childhood development, and will help you guide young people through rites of passage, address materialism and foster empathy. --
What For-Profit Companies Can Learn from High Performing Non-Profits
Thought-provoking and informative for business leaders

For a new generation of business leaders and social entrepreneurs, making an impact means more than the bottom line. As the founders of Me to We, an innovative social enterprise, Craig and/or Marc will share insight on how to infuse your company with a sense of purpose, elevate your brand, differentiate your products and inspire your employees. +
In this speech, you'll discover how to celebrate the positive impact that your company and employees bring to the world. Me to We has partnered with leading companies such as KPMG and Virgin Atlantic to build robust corporate citizenship programs, resulting in more engaged employees and clients and an improved brand reputation.

Tangible takeaways:
Highlight your brand's social impact through storytelling, and celebrate this impact with your employees and customers.
Discover how to attract and retain the best talent and inspire employees by infusing your workplace with purpose.
Learn how the Kielburgers built one of the largest social media followings in the world and how to connect people to amplify your message.
Gain insight on communicating with the millennial generation of employees and consumers who seek to make an impactthrough their work and purchases. --
Me to We: Engaging the Next Generation of Change-makers
Thought-provoking and informative for philanthropic audiences

In the age where selfies and the "me" not "we" mentality is more prevalent than ever, how do we get kids to think it's cool to care? Fill a stadium with 20,000 youth who have earned their way to the 'Super Bowl' of service and an event that is known as 'the coolest classroom in the world,' where the hottest celebrities, most inspiring speakers and of course, young people, tell their stories. +
Leading social activists, New York Times best-selling authors and co-founders of Free The Children and Me to We, Craig and Marc Kielburger have a lifetime of experience working to inspire and empower youth across the globe. Annually over 200,000 students earn their free entry through service to We Day.
Craig or Marc will share an insider's perspective on empowering today's youth, becoming the largest charity on Facebook, how the ripple effect of positive content on social media really works and how we can use our time and resources to make the greatest impact both locally and globally. Discover more about the next generation of world change-makers. --
Craig Kielburger is represented by K&M Productions for speaking engagements. For more information, Craig Kielburger's speaking schedule, fees & booking Craig Kielburger, contact us. (Very SERIOUS booking-related inquiries only.)
Testimonials
Craig and Marc Kielburger have taught me a lot about leadership.
–Sir Richard Branson, Founder of Virgin Group
[More..]
Craig and Marc Kielburger have taught me a lot about leadership.
–Sir Richard Branson, Founder of Virgin Group
Craig and Marc Kielburger have been a great inspiration to me.
–Martin Sheen, Emmy-winning actor
Starting from the age of 12, Craig shows what entrepreneurship is all about.
–Steve Forbes, Editor in Chief of Forbes Magazine
Craig has shared his moving and educational messages to our clients, field sales groups and employees on over 30 separate occasions. Each time, Craig greatly exceeds our expectations and seldom have our events created the level of positive feedback and excitement that we have seen with these events. Perhaps, more importantly, at every event Craig has made himself available to spend time with each audience member who desired to speak to him after each presentation.
–Neil Taylor, Vice President, Marketing, Investors Group
Our guests were moved and inspired by Craig the other night at our annual Black Tie Dinner. Many commented that he was the best speaker we've had yet—and this was our 57th year! The difference, beyond his incredible energy and his ability to connect, was that he took the time to listen to our needs for the evening and tailor his comments specifically to this audience of insurance executives and brokers. It was an evening that many of us will remember for years to come.
–Sheila Reesor, Toronto Insurance Conference
Craig Kielburger's presentation was terrific—not only was it a fascinating and well-delivered story, but it was 'on-theme' by talking about how some of his innovative ideas (i.e. social entrepreneurship, We Day) were brought to life.
–CMA Business of Ideas Forum Delegate
[Less..]