Craig Kielburger
Activist; Co-Founder of We Charity (Formerly Free The Children & Me to We)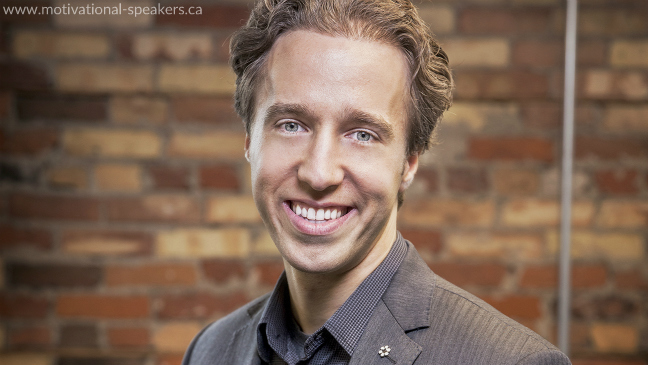 Bio
Craig Kielburger is a New York Times bestselling author, syndicated columnist read by millions, and social entrepreneur who co-founded the WE movement with the mission to make "doing good, doable". +

Over the past two decades, Craig, along with his co-founder and brother Marc Kielburger, has grown the WE movement to engage 4+ million people annually in service. The We Organization now includes the WE Charity, ME to WE Social Enterprise, and WE Day. Over 250,000 people earn their ticket to WE Day celebrations through volunteerism.
Craig and Marc's pioneering social enterprise model, ME to WE, sustains the work of their charitable mission with socially-conscious products purchased by millions of consumers. Their work has resulted in a holistic development model lifting more than one million people out of poverty.
Craig is the youngest-ever graduate from the Kellogg-Schulich Executive MBA program. He has also received 15 honorary doctorates and degrees for his work in the fields of education and human rights.
Craig has published 12 books, including his newest book, WEconomy: You Can Find Your Meaning, Make a Living, and Change the World. Co-authored with Marc Kielburger and Holly Branson, the book is a blueprint to drive positive impact and change the world through the combined mission of purpose and profit. Craig's work has also been featured on the Oprah Winfrey Show, 60 Minutes and the BBC.
Craig is the recipient of The Order of Canada, the Nelson Mandela Freedom Medal, and the World Children's Prize. --
Topics & Categories
Corporate Culture
Education & Youth
Entrepreneurship
Global Issues
Inspiring Stories
Leadership
Motivational
Politics & Current Events
Social Change/Humanitarian Issues
Social Entrepreneurship
Universities & Colleges
Unconventional Leadership: Lessons l learned from Oprah, Nelson Mandela, Grandma, and More +

Inspiring for corporate, non-profit, association and university and college business audiences
In this highly interactive keynote that pushes the boundaries of traditional speeches with stunning videos, visuals and a choose-your-own-adventure delivery allowing audience members to pick the stories they want to hear, Craig shares actionable leadership lessons that anyone can relate to and employ in their work, education or personal life.
Over the course of Craigs's dynamic presentation, he will share powerful stories and lessons of leadership he and his brother Marc have learned from their mentors and some of the world's greatest leaders, from Mother Teresa to Nelson Mandela. Relevant whether you are a company, association, community group, planning an educators conference or student leadership conference, participants will walk away with thought-provoking ideas and tips for creating personal and organizational change.
Weaving the journey of starting a charity in his parents' living room with his brother Marc Kielburger, to becoming the leader of a global enterprise with over 1,000 employees spanning five continents, Craig will share intimate stories that helped shape the strategic decisions that were made along the way. Craig will provide insights and lessons from the extraordinary leaders who have coached and mentored him in some of the most important leadership lessons one can receive – from taking big risks, to accountability, emotional intelligence and being a shameless idealist. This multimedia-rich speech asks the audience to pick which stories they want Craig to tell, creating an engaging experience that will resonate for large or intimate audiences, tailor-made to be relevant for the audience, whether it's the C-suite or junior employees, educators or business students.
This true choose-your-speech journey takes audience interaction to a new level. Featuring surprise gifts for participating audience members, this interactive experience lets the audience pick from over 100 well-known Nobel Laureates, heads of state, titans of industry and more to hear the stories they most want told.
Unlike any speech you've ever seen before, Unconventional Leadership mixes inspiration with strong educational value. This engaging and visually rich keynote experience delivers important lessons that everyone – from the C-Suite to the intern – from the educator to the student – needs to know.
As Craig weaves the tale of his journey to becoming leader of a global enterprise spanning five continents, employing over 1,000 people, his savvy insights and advice are peppered with accounts of the extraordinary leaders who have coached and mentored him. Whether it's an anecdote involving President Clinton or Kid President, Sheryl Sandberg or Richard Branson, Mohammad Ali or Magic Johnson, Mother Teresa or one of the many top CEOs who have shared their wisdom, attendees will be entertained, inspired and come away with actions and advice they can apply to their own professional and personal lives. --
ME to WE: Making Doing Good, Doable +

An uplifting and inspirational speech that will give you the tools to start making a difference today. Inspiring for all audiences.
In this uplifting, inspirational, and deeply personal speech that will bring forth laughter and emotions from all audiences, Craig will share his moving story about how he and his brother Craig started a movement to change the world at the young ages of 12 and 17, after Craig brought a newspaper clipping to class about a young boy in Pakistan who was killed for speaking up about child labour.
Their group of twelve 12-year-olds led to Oprah Winfrey's couch where she vouched to help build 100 schools, changing thousands of lives around the world. Over two decades later, Marc and Craig are the leaders of WE, an organization responsible for building thousands of schools and school houses around the world, helping millions of people lift themselves out of poverty.
In their two decades of humanitarian work, Craig and Marc Kielburger have visited dozens of countries, meeting people from all walks of life. They have learned from some of the greatest leaders of our time, including Nelson Mandela and Mother Teresa, and have shared simple meals with families struggling in the world's slums and war zones. Along the way, they have discovered a simple but profound truth—that anyone has the power to change the world, and that real fulfillment starts with having the courage to reach out and help others.
By sharing the ME to WE philosophy, described in their New York Times bestseller, ME to WE: Finding Meaning in a Material World, Marc will provide your audience with:
the inspiration for you to discover your own purpose and help you start your own journey to make a difference;
Provide tangible tips for anyone to make a difference – whether as a parent, student, front-line staff or CEO. --
The World Needs Your Kid: Raising Kids Who Care and Contribute +
Insights and tips on guiding young people to be engaged global citizens.
Ideal for social workers, coaches, families, educators, communities, parents, caregivers, ECE workers, and anyone who cares for children.
Raising kids in a complex, fast-paced social world can be challenging. In this speech based on their international bestseller, The World Needs Your Kid: Raising Children Who Care and Contribute, Craig will reflect on deep, personal stories about his parents – both educators – and provide key insights on guiding children to be compassionate and engaged global citizens.
Craig and Marc Kielburger are experts in creating opportunities to engage young people in service learning. Through their charity's WE Schools program, they annually engage over 25,000 educators and 15,000 schools around the world and give young people tangible ways to make a real difference locally and globally.
He will also share tips, stats and facts that he's learned through extensive research, over a thousand interviews with experts on mentorship and early childhood development, and methods to engage kids in service learned from over 20 years of experience working with students engaged in WE Schools programming. These tips will have huge benefits that not only help them succeed academically, but become leaders and active change-makers with an understanding and empathy for the issues that face the world today. --
The WEconomy: How Your Company Can Profit from Purpose +
Thought-provoking and informative for all levels of your company as well as business students. Great for professional development sessions, company retreats to celebrate the company's purpose and CSR efforts.
Purpose and profit are the greatest human motivators. WEconomy is the definitive roadmap for bringing the power of both forces together—achieving purpose with profit in your career, company, and changing the world.
We all inherently know that purpose is powerful, but in this speech, based on the revolutionary new book by Craig and Marc Kielburger and Holly Branson, WEconomy: You Can Find Meaning, Make a Living, and Change the World, Craig will share, how to unleash purpose within your career, company, and life goals. This speech will help you profit with purpose, whether you're the one calling the shots or a junior employee looking to advance.
Custom building from your company's unique mission, vision and values, Craig will celebrate with your team the inherent purpose of your company and the power you have to make a difference in the world. In this talk, he will outline strategies to:
Find a cause that drives your company and your career goals to new heights
Boost employee productivity and their love for the company and mission
Inspire brand fanatics to stay loyal to you, your company, and your cause
Add a halo to your product, grow your geographic reach, innovate for "the next big thing", engage Boomers to Gen Z, and much more!
Your audience will walk away feeling inspired and empowered with a road map of tips that can be implemented in your office today—either simple steps or a comprehensive plan, tailored to your needs. This is your blueprint for living by your personal values, achieving career success, and changing the world.
Craig will share his story about how he and his brother Marc founded WE, an organization with a start-up mentality that grew from 12 kids in the suburbs to a $50 million a year charity that makes doing good, doable. WE has partnered with some of the biggest companies in the world, helping them tap into their purpose, including KPMG, Unilever, Microsoft and Virgin. Craig will share learnings from some of WE's biggest supporters, from world-class business leaders like Sheryl Sandberg and Sir Richard Branson, to the methods of megastars he has encountered like Oprah Winfrey and Earvin "Magic" Johnson, who make the world a better place through purposeful—and highly profitable—business strategies. These cross-sector relationships aren't just good for the charity—WE partners are proven to gain increased brand recognition and intent to purchase. --
Making Caring Cool Again: Engaging and Inspiring Next Generation Philanthropists +

Thought-provoking and informative for intimate conversations or large audiences of philanthropic individuals, YPO families, and Giving Pledge families.
In the age where selfies and the "me" not "we" mentality is more prevalent than ever, how do parents raise caring and compassionate children and set them on a life path for success and start a family tradition of giving back?
WE is the answer. In this speech, leading social activist, New York Times bestselling author and co-founder of the WE movement, Craig Kielburger will share an insider's perspective on empowering today's youth and offer tips that will help families find their North Star in values that will engage kids in philanthropy for a lifetime.
With a life-time of first-hand experience working with young people, combined with a wealth of research and interviews with experts from the philanthropic and education worlds, and by learning from expert partners such as Foundation Source, Craig will help give families the tools to inspire families to find their cause, rally together and set up young people to become stewards of their family's legacy and become the next generation of world change-makers today.
Inspiring the next generation to find their place and change the world. --
Craig Kielburger is represented by K&M Productions for speaking engagements. For more information, Craig Kielburger's speaking schedule, fees & booking Craig Kielburger, contact us. (Very SERIOUS booking-related inquiries only.)
Testimonials
Craig and Marc Kielburger have taught me a lot about leadership.
–Sir Richard Branson, Founder of Virgin Group
[More..]
Craig and Marc Kielburger have taught me a lot about leadership.
–Sir Richard Branson, Founder of Virgin Group
Craig and Marc Kielburger have been a great inspiration to me.
–Martin Sheen, Emmy-winning actor
Starting from the age of 12, Craig shows what entrepreneurship is all about.
–Steve Forbes, Editor in Chief of Forbes Magazine
Craig has shared his moving and educational messages to our clients, field sales groups and employees on over 30 separate occasions. Each time, Craig greatly exceeds our expectations and seldom have our events created the level of positive feedback and excitement that we have seen with these events. Perhaps, more importantly, at every event Craig has made himself available to spend time with each audience member who desired to speak to him after each presentation.
–Neil Taylor, Vice President, Marketing, Investors Group
Our guests were moved and inspired by Craig the other night at our annual Black Tie Dinner. Many commented that he was the best speaker we've had yet—and this was our 57th year! The difference, beyond his incredible energy and his ability to connect, was that he took the time to listen to our needs for the evening and tailor his comments specifically to this audience of insurance executives and brokers. It was an evening that many of us will remember for years to come.
–Sheila Reesor, Toronto Insurance Conference
Craig Kielburger's presentation was terrific—not only was it a fascinating and well-delivered story, but it was 'on-theme' by talking about how some of his innovative ideas (i.e. social entrepreneurship, We Day) were brought to life.
–CMA Business of Ideas Forum Delegate
[Less..]