Ryan Walter
Former NHL Player, Leadership;
Team Work & Peak Performance Speaker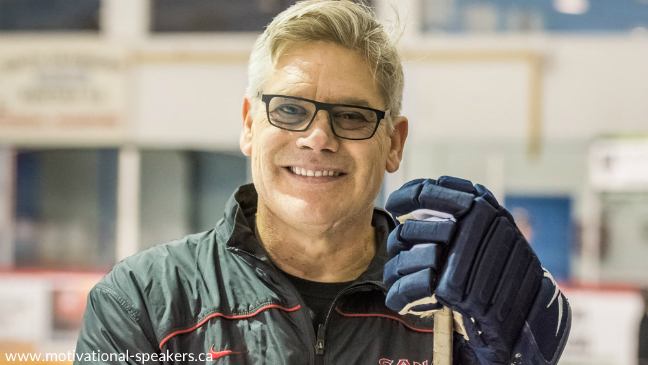 Bio
As an inspirational and content-rich Keynote Speaker, Ryan Walter draws directly from his Stanley Cup winning 15 seasons as an NHL player, subsequent broadcasting career, diverse business accomplishments, and NHL coaching experience to share the success strategies that must be applied in order for great performance to be achieved. With an emphasis on performance, leadership, team synergy and personal empowerment, Ryan charts a winning course for high performance, leadership and team achievement. +

Ryan Walter draws practical principles and stories directly from his Stanley Cup-winning 15 seasons as an NHL player, 3 year tenure as the President of a Professional Hockey Team, and NHL and IIHF coaching success to share unique strategies for achieving exceptional performance, leadership, and team synergy.
Ryan Walter played and coached 17 seasons and over 1100 games in the National Hockey League. Drafted second overall by the Washington Capitals in 1978, Ryan was named the youngest NHL captain in his second of 4 seasons, went on to play 9 seasons with the Montreal Canadiens, winning a Stanley Cup in 1986, and finally returned to his home town to play his last 2 years for the Vancouver Canucks. He was named Team Canada Captain in the World Junior Tournament, was selected to play in the NHL All-Star game in 1983 and for Team Canada in 3 World Championships, became a Vice-President of the National Hockey League Players Association, and was honoured as NHL Man of the Year in 1992.
Ryan has a Master of Arts Degree in Leadership/Business, is the author of 5 books, the creator of the board game Trade Deadline Hockey and electronic Transfer Deadline, and a regular contributor to both online and print magazines, newspapers, radio and television. In addition, he has been the co-founder and president of two start-up companies, an NHL and IIHF coach, a TV hockey broadcaster, a hockey adviser and actor for both television and movies, and President of a professional hockey team.
Ryan is a member of the board of directors of the Hockey Canada Foundation and sits on the Seton Hall Stillman School of Business Leadership Advisory Council. Hundreds of companies and organizations have leveraged Ryan's academic research and high performance history to develop their leaders, synergize their teams, and increase performance to activate positive change.
Ryan's practical applications are easily understood and implemented, and very hard to forget! Ryan creates an atmosphere that is fun, inspiring, and principle-driven, using power stories from his personal experience as an NHL captain, businessman, broadcaster, motion picture advisor and actor, and NHL coach. --
Topics & Categories
Business Management & Strategy
Change | Change Mgmt.
Inspiring Stories
Leadership
Morale Boosting
Motivational
Performance & Productivity
Sales & Service
Sports Figures
Team-Work & Collaboration
Trainers
Virtual Presentations
Workplace Safety
All presentations are personalized and focused for each client and their objectives.
Leading Change
Engaging Teams
Ryan begins his performance, leadership, and team development process by focusing on the INNER GAME… interactively creating higher awareness around the 5 Mindsets. After gaining an exciting understanding of the Thinking Tendencies Model (pictured below), participants will explore some specific ways to practically SHIFT the focus of their teams above the line, increasing energy and personal & cultural performance! +
Primary Focus:
UNDERSTANDING THE INNER GAME (How Leaders influence personal and cultural thinking)
Exploring Ryan's NEW Thinking Tendencies Model - Leading/Influencing your people's performance Mindset;




Activating the Personal Shift: Helping your people develop an awareness of how identifying & focusing on their best qualities immediately moves their energy and focus above the line. Interactive process: The Hero Exercise
Ryan will end this session with practical, personal stories & direct examples from 3 NHL coaches on how to quickly influence your team's Mindset and implement the Shift. --
Think - Talk - WIN!
Leading the Performance SHIFT
Primary Focus:
Introduce Ryan's Mindshift Thinking Tendencies Model (see above pic);
Connect sustained high performance to Mindset Awareness and how to shift above-the-line;
Give practical insights around increasing personal and cultural energy by increasing connection;
Help leaders develop a process to positively prime a winning culture culture
Why TEAMS WIN
NHL insights to inspire your team's NEXT Success!
Primary Focus:
Take your people inside high-pressured professional sports dressing rooms;
Explore Team Mindsets and how each impacts your HUNGRY culture;
Identify your Team's tendencies and learn how to increase connection and team-feel;
Help leaders fully activate practical next steps to coach winning cultural performance
COACHING HIGH PERFORMANCE
Coaching Compliance or Commitment?
Primary Focus:
Ryan's 4 P's process to Coach your people's Highest Performance;
Explore the Employee Engagement difference -inside out or outside in –new science;
Activate 5 "big ideas" for your people to stay and play HUNGRY;
Leadership principles to engage Resilient TEAM energy
Additional Topic Titles:
INNER GAME – OUTER GAME – TEAM GAME
GENERATIONAL LEADERSHIP
SAFETY IS A TEAM GAME
INNER GAME – PREPARING TO WIN
LEADING ME LEADING US
TEAM COMMUNICATION & IDENTIFYING YOUR CULTURAL STAGE
Ryan Walter is represented by K&M Productions. For more information on Ryan Walter's speaking schedule, fees & booking Ryan Walter, contact us.
Testimonials
We very much enjoyed the session with Ryan. You could feel the energy and focus from all the participants and it was very refreshing! THanks so much and we very much look forward to working with Ryan again soon.
–Canadian Forest Products Ltd.
[More..]
We very much enjoyed the session with Ryan. You could feel the energy and focus from all the participants and it was very refreshing! THanks so much and we very much look forward to working with Ryan again soon.
–Canadian Forest Products Ltd.
Thank you for your highly-effective presentation. Over the years, I have had the privilege to participate in several leadership workshops, and I offer that yours is top shelf. Your delivery is strong, engaging and dynamic, and your message is equal parts challenge, change and hope.
–Canadian Propane Association
[Less..]