Eric Termuende
Future of Work; Leadership Expert; Building Strong Teams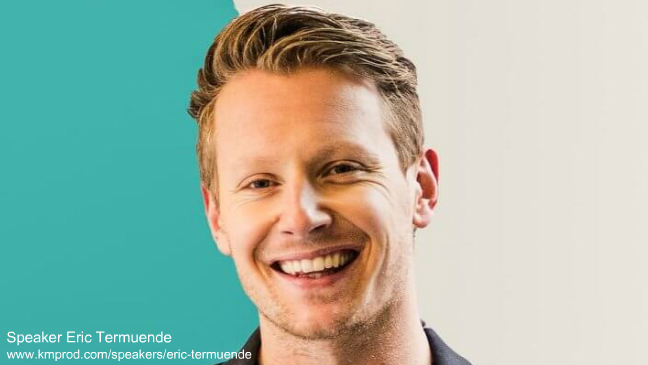 Bio
A globally-recognized thought leader, bestselling author, and speaker, Eric Termuende brings a fresh perspective to workplace culture and the future of work. His actionable and entertaining keynotes combine research, storytelling, and case studies to help leaders attract and retain top talent and build teams that thrive. Audiences will leave energized, empowered, and equipped with the tools needed to spark action and growth within their organizations.
Termuende has a deep understanding of the next generation of work and how to attract and retain the right talent. As co-founder of NoW Innovations, Eric advises industry-leading organizations, institutions, and associations on future-proofing their teams, talent management, and rehumanizing the workplace. His bestselling book, Rethink Work, has become a must-read for today's leaders.
Recognized as one of the Top 100 Emerging Innovators under 35 by American Express, Termuende's ideas have been featured in Forbes, Thrive Global, The Huffington Post, The Globe and Mail, and more. From the stage of TEDx to BUILDEX to Coca Cola and the Milken Global Conference, Termuende inspires, challenges, and opens minds to opportunity and doors to growth.
Topics & Categories
Business Management & Strategy
Corporate Culture
Employee Engagement
Future of Work
Future Trends
Generational Issues
Human Resources & Workplace Culture
Leadership
Most Requested Speakers
Most Requested Virtual Speakers
Team-Work & Collaboration
TED Speakers
Virtual Presentations
Virtual & Live Keynotes:
The Perfect Storm: What Is Really Causing the Talent Shortage and What to Do About It +
It is no secret that the world of work has evolved an incredible amount in the past two years. From how we communicate, where we work, and what is expected from our leaders, trying to keep up with the changes has been downright exhausting. And while managing the day-to-day has been challenging enough, a storm has been brewing and the clouds are rolling in. A talent crisis is on the horizon and COVID isn't the only thing to blame.
In this research-heavy, eye-opening, and actionable presentation, learn from leadership and workplace culture expert Eric Termuende as he shares what is really casing The Great Resignation, a looming national talent shortage, and the key steps we can take today to build incredible teams, sustain growth, and thrive in the future of work.
In this presentation, attendees will learn:
6 factors contributing to the talent crisis
Why COVID is only partly responsible for The Great Resignation
How to attract top talent and stand out
Why the best attraction strategy is a good retention strategy and how to build it
What key actions leaders can take to build trust, engagement, and belonging on their teams --
The Great Resignation: Why This is the Biggest Opportunity We've Never Seen to Attract and Retain Incredible Teams +
Regardless of which research we subscribe to; the outlook is bleak: employees coast-to-coast are transitioning jobs at rates we haven't seen since the Vietnam War. And while many of us think this is a threat to our workplace culture and organizational success, the truth is that the opportunity has never been greater to establish a one-of-a-kind culture that attracts and keeps an incredible team. Instead of calling it 'The Great Resignation', perhaps it should be called 'The Great Reconfiguration'. After all, people aren't leaving the workforce, they're aligning with a lifestyle that suits them. This is where the secrets lie.
In this head-scratching, insight-filled, and unexpectedly funny keynote, workplace culture and future of work expert Eric Termuende takes us on a journey filled with out-of-the-box ideas that are budget-free and immediately actionable as we work to not just survive 'The Great Resignation' but thrive through it. Just because there is a national talent shortage, doesn't mean our team has to have one too.
In this presentation, attendees will learn:
What it means to 'plant your flag' and how to do it
How to tell a better story to attract top talent
Why the best defence is a good offence and how to retain your best people
Where your best recruiters are (hint* they're closer than you think) and how to give them the free tools they need to build the team
What cilantro teaches us about workplace culture and attracting top talent
Why all of your eggs should actually be in one basket --
One-Degree Shifts: Building Tomorrow's Greatest Places to Work +
If there is one thing we've all learned in the past months, it is that the future is impossible to predict. Knowing that, how do we build teams that thrive in the weeks, months and years to come? The answer lies in one-degree shifts: small, consistent changes that enable teams to build trust, remove friction, and build a culture of innovation.
In this engaging, and takeaway-loaded presentation, workplace expert Eric Termuende shares what years of research, stories, and insights uncover about the one-degree shifts leaders use to adapt to an ever-changing world around them and build incredible teams. From Domino's Pizza to the British Cycling Team, discover how the consistent application of small, incremental changes improves camaraderie, belonging, psychological safety, and engagement. While the future of work is certain to be uncertain, there is nothing to say we can't still thrive in it.
In this presentation, leaders will learn the secret of a one-degree shift to:
Reduce friction and build trust
Increase effectiveness of remote/hybrid teams
Build a culture of innovation
Understand your role in creating a 'greatest place to work'
Discover what cilantro teaches us about strong workplace culture --
Leading Remote Teams: Maintaining Engagement, Productivity, and Happiness +
Having studied some of the world's best leaders and surveyed thousands of employees, workplace expert and bestselling author Eric Termuende knows that those who lead remote teams do three things effectively: They communicate well, reduce friction, and build a deep sense of trust. With the world changing at a break-neck pace, there are key steps we can take today to ensure that we're mitigating burnout and getting the most out of our teams whether working remotely or together in the office.
In this fully customized, insightful, and takeaway-filled keynote, Eric Termuende shares leadership stories from the Cleveland Browns to Chicago's Holy Cross Hospital to uncover what separates incredible hybrid workplaces from those that are losing talent and suffering as a result. Building stronger remote teams requires a deeper understanding of how we use our time, connect with our people, and tie recognition back to our values. While the future is anything but certain, the actions we take today are sure to prepare us for whatever the world throws our way.
Leaders will learn:
Three simple shifts to deepen trust, belonging, and psychological safety
A framework to boost innovation and creativity
What to expect in the future of work and how to evolve accordingly
The difference in communication with remote and in-person team members
How to get more smiles from the team and reduce friction --
Can You Make It? What a Race Across Europe Fuelled By RedBull Teaches Us About Leadership and Building Thriving Teams +
300 people on 100 teams with 7 days to get from London to Berlin. The catch? No communication with anyone outside your team, no currency or credit cards, no pre-arranged accommodation and no pre-arranged transportation - only 24 cans of RedBull. Would we make it? And what would it teach us about leading and cultivating an incredible team?
In this highly entertaining, always surprising keynote, hear from Eric Termuende as he takes you on his harrowing escapade across Europe. Learn how his team overcame new languages, new modes of transportation, and navigated their way across an unfamiliar continent before crossing the finish line and completing the journey of a lifetime.
Leadership and team development doesn't just happen in the office. A remarkable story with unforgettable lessons may be exactly what your leaders need to be energized, engaged, and equipped with a new set of tools to lead their team.
In this highly engaging, interactive presentation, you'll learn:
How to reduce friction across your team
What the difference between forced innovation and chosen innovation is and how to execute
Why choosing the road less travelled is more effective than the highway
How empathy, trust, and experimentation breed success
How to empower the team to rise to any challenge
Why failure almost always leads to success
And finally, how to travel 2,013 miles across a continent you've never been to before without anything to trade other than a few cans of a caffeinated sugar drink --
This virtual presentation includes a 45-minute presentation, plus Q&A. Length can be customized to meet your needs. --
Additional Keynotes:
Developing Soft Skills in Times of Change +
Wherever you look — the World Economic Forum's "Future of Jobs" Report, Royal Bank of Canada, McKinsey, etc. — it's becoming increasingly clear that to succeed in the workplace of the future, soft skills are critical; especially for leaders.
As leaders, we need to be better active listeners, problem solvers, critical thinkers, dynamic speakers, managers of time, and learners. We need this from our employees as well. The problem is that we aren't really equipped to assess soft skills, let alone set goals to improve them. It's impossible to judge or measure something that we can't set a baseline for.
Eric Termuende will walk attendees through strategies and practices needed to cultivate a better sense of trust, belonging, and communication in order to meet the demands of both the present and future work environments.
Attendees will learn:
Three best practices to boost soft skill development amongst team members.
How to proactively create a sense of belonging in the workplace.
How to unlock the secret to better feedback practices.
How to mitigate poor short turnover and high tenure.
This virtual presentation includes a 45-minute presentation, plus Q&A. Length can be customized to meet your needs. --
The Great Comeback: Building a Thriving Culture in a Post-COVID World +
The countdown is on and the days are numbered until we're back in the office again and it's "business as usual". Or is it? With five years of change happening in the past two months, there is no "normal" to go back to anymore, and the responsibility to create a culture of safety, experimentation, and belonging is more important now than ever before.
In this interactive virtual presentation, Eric Termuende walks audiences through how, in a post-COVID world, we can create a new normal together, foster cultures of experimentation, and build an intentional future for our organizations and teams.
Audiences will learn:
A clear framework and model to build a more intentional future.
How to build a deeper sense of trust across teams.
The two types of culture innovation and how to focus on getting ahead.
The one question we need to ask our team to build deeper, more meaningful relationships.
Where culture really lives and how we can leverage the past weeks of remote working. --
Winning the Talent War: Three Unorthodox Rules to Elevate Recruiting, Retention, Performance, and Organizational Success +
Gone are the days when a 250-300-word job description will do the work for us. Today, we must change the story we tell to attract (and keep) the best of the best. What does it look like to stand out from the competition to attract and retain top talent?
Through years of extensive research and practical experience, Eric Termuende has developed a systematic approach to winning the talent war. In this inspiring and actionable keynote, Termuende takes the audience on a clear and concise journey that reveals three counterintuitive and extremely powerful steps to boosting performance, beating back competitive threats, and driving long-term shareholder value.
Takeaways include:
Increase retention of top performers, while having low-performers self-select out of the organization.
Key strategies to increase belonging and trust.
A deeper understanding of culture and where it actually lives within the team.
Techniques to differentiate your story to new candidates and existing team members.
A radically new framework for recruiting. --
The One Degree Shift: Building an Intentional Future +
In a fast and dynamic world, the future is too unpredictable, which means our standard five- and ten-year strategy will no long work. Yet, standing still is the fastest way to watch our competition and goals race off into the distance. What we need to do, is focus on building an intentional future. What we need to do is embrace the small, one-degree shifts we make every hour of the day that will get us to where we're going with more confidence, intention, and experimentation. Change can be scary. Standing still can be paralyzing. The one-degree approach is the way forward, in business and in life. It is the new framework to plan and thrive.
In this interactive and humorous keynote, hear from Eric Termuende about how to build an intentional future, create opportunity and potential from every conversation and meeting, and realize that the future of work and life can be more optimistic than we ever thought possible.
Key takeaways include:
How to raise the level of consciousness on your decisions.
The ability to iterate and pivot faster.
Develop a deeper appreciation for the present moment and process rather than outcome.
Learn why practice development is more effective than habit development.
Become more resilient and persistent.
Be more in control of your future. --
Building a Thriving Community Rooted in Soft Skills, Belonging, and Psychological Safety +
Having surveyed and interviewed thousands of people across North America, Eric Termuende profoundly discovered that a team doesn't always equate to success — community does. Gone are the days when we could simply attract people solely based on what they can do and the experience they have. Competition is too fierce and employees need to be a part of something bigger than a group of people that share a common skillset; they need to share values, a similar way of working, and have a sense of community that many teams miss.
In this highly engaging, interactive presentation, you'll learn:
The components of a thriving community.
New best practices that allow your community to stand out.
How to tell a story that speaks to the right candidates.
The skills, competencies, and character traits of today's workforce and how these individuals are shaping the future of work.
A clear framework for building and nurturing an environment where people thrive, together. --
Eric Termuende is represented by K&M Productions (Toronto). For information on Eric Termuende's speaking schedule,* speaking fees, and booking Eric Termuende as your conference keynote speaker, contact us. * Fee range indicated is for "virtual" keynote presentations.
What Clients are Saying
Eric knocked it out of the park here in Kelowna. Rave reviews within minutes. The conference chair said it's one of the best they've have had in 20 years! Many of our training leadership folks from the USA in the audience were very impressed!
–United Brotherhood of Carpenters of North America (2022)
[More..]
Eric knocked it out of the park here in Kelowna. Rave reviews within minutes. The conference chair said it's one of the best they've have had in 20 years! Many of our training leadership folks from the USA in the audience were very impressed!
–United Brotherhood of Carpenters of North America (2022)
Eric hit it out of the park as our conference opener.
–MISA Ontario (Municipal Information Systems Assoc. - 2022)
In October 2020, in the middle of this Pandemic crisis, we had the pleasure to work with Eric for one of our episodes of our Dell Technologies Thought Leader Series. In addition to being a very fun person to work with, Eric was very generous of his time and an amazing presenter that our customers love!!!! His story was very inspiring and helped people with a di!erent perspective during these difficult times.
– Michel Lagace - Dell Technologies
We had the opportunity to bring Eric in as the keynote speaker for our annual strategic planning workshop with all of our Senior Leaders. Eric did an excellent job of helping us understand and connect the links between strategy and culture with some "one degree shifts" in our thinking
about people and process. This slight change in our thinking was a great catalyst for the subsequent discussions as we built out our strategies for the coming year.
–Dan Klassen, VP Human Resources, Toyota Material Handling
[Less..]