Frank O'Dea
Celebrated Entrepreneur & Humanitarian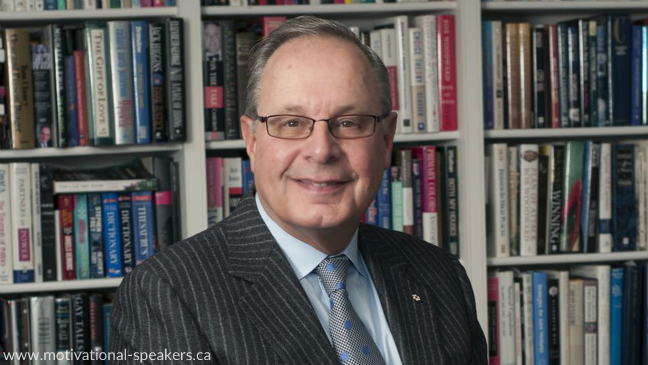 Bio

Frank O'Dea's story of triumph over adversity and raw ambition and determination in the face of dire circumstances has inspired audiences around the world. O'Dea went from being a homeless panhandler to a successful entrepreneur and a founder of The Second Cup chain of coffee stores. From there, he went on further to launch a number of other innovative and successful businesses and international not-for-profit organizations. He is also the author of two books: his memoir When All You Have is Hope and, in response to the demand from people who have reached out to him for help in dealing with their challenges: Do The Next Right Thing: Surviving Life's Crises. Frank O'Dea's powerful message inspires audiences to hope for a better future and learn from his example. +
As a young man, Frank O'Dea was a homeless person who lived on the streets. At the age of 23, he began fighting back and overcoming the barriers that had been closed to him. Within a few years, he co-founded The Second Cup, and later went on to co-found Proshred Security and Samaritan Air Ambulance Services.

In the not-for-profit arena, Frank O'dea was also successful as the co-founder of Street Kids International, an organization developed to help homeless children in third world countries, and the Canadian Landmine Foundation, an organization that raises funds for the dismantling of minefields around the world. Together with the United Nations and world figures such as Colin Powell and Sir Paul McCartney, he lead an international fundraising event, "Night of A Thousand Dinners," that was taken up in 29 countries around the world.

Among his many honours, O'Dea is an Officer of the Order of Canada and holds honorary degrees from two universities. His current ground-breaking projects include a youth employment program across Canada, and developing sustainable affordable housing in Brazil, using Canadian technology.

He is also the author of two books: his memoir When All You Have is Hope and, in response to the demand from people who have reached out to him for help in dealing with their challenges: Do The Next Right Thing: Surviving Life's Crises. --
Topics & Categories
Business Management & Strategy
CEOs & Business Leaders
Entrepreneurship
Inspiring Stories
Motivational
The Power of HOPE - VISION - ACTION
(From the Bowery to the Boardroom)
With hope - all things become possible. With hope, one has the courage to change the present into a very different future. With hope, dreams are possible; With hope one has the persistence to follow the dream and with hope one can - and will - become much more than you ever dreamed possible. +
Frank demonstrates this power by using his own story as a real-life experience of hope, courage, change and persistence. You will see from his biography that much has been accomplished. The story becomes remarkable when you add the real life story to that bio. In real life, Frank was in the bowery-- panhandling for nickels and dimes not so many years ago.
This is truly a motivational story. Audiences from all walks of life identify with this very real story of achievement, and Frank's warm style convinces his audiences that he is speaking directly to them, personally. --
Creating a Game Changer - Blue Ocean Strategy
This is a speech for CEOs and senior management of organizations in highly constrained industries where margins are under huge pressures. Creating a game-changer is all about new thinking and new applications in established industries. Henry Ford did not invent the automobile, Samsung did not invent the cell phone and Second Cup did not invent coffee. What they all had in common is that they created new applications for existing products and services and completely changed the game in their industries, dramatically outpacing their peers. +
Frank O'Dea, who has created game-changers in several industries, shares with his audience how any organization can outpace its peers, using excellent examples from his own businesses and from others, such as Casella Wines and Bosch Chemicals. This is a business strategy that was dubbed Blue Ocean Strategy and was first documented in a book by the same name by two professors at INSEAD University. O'Dea leaves his audiences with the blueprint on how they can find a "Blue Ocean" for their own organizations. --
Frank O'Dea is represented by K&M Productions. To inquire about Frank O'Dea's speaking schedule, fees & booking Frank O'Dea, contact us.
Testimonials
Frank O'Dea's presentation was wonderful and many members of our audience were quite touched by it - a testament to the standing ovation he received at the end. Thank you also to K&M Productions for bringing him to our attention.
–Health & Safety Conference Society of Alberta (HSCSA)
[More..]
Frank O'Dea's presentation was wonderful and many members of our audience were quite touched by it - a testament to the standing ovation he received at the end. Thank you also to K&M Productions for bringing him to our attention.
–Health & Safety Conference Society of Alberta (HSCSA)
Our people, all 400 of them, stood and applauded Frank when he ended his talk.
–Manulife Financial
On the way to the luncheon, one of my coworkers made the comment that events like these typically leave people feeling entirely inadequate with what little they have personally accomplished. Driving back to the office after hearing from you, we agreed that it was quite the opposite. Your approach of highlighting the potential of every day interaction as an opportunity to change the world was so refreshing and I truly left inspired.
–Canadian Western Bank
I have been anxious to tell you that we've received nothing but very positive feedback on Frank O'Dea. I watched the audience regularly and Frank held everyone's full attention from beginning to end. He masterfully wove FSGV throughout his speech and empowered everyone in the room to make a difference right there and then. Honestly, I couldn't have asked for anything more. It was perfect. The financial results show it. Preliminary numbers: more than doubled what we raised last year (not including a donation that was given in advance), tripled the number of people who came on board as monthly donors. This fund raising event was a huge success and my Board of Directors, our CEO, our volunteers and my team are very happy. Please also extend our thanks, once again to Frank. I believe this was the first of many years of growth at this annual luncheon, because of the confidence he instilled in our Board.
–Family Services Greater Vancouver
Our company spent a good deal of time looking at speakers for our annual conference as we wanted to ensure that our guests would be [exposed] to someone who was in line with our core beliefs and values and could convey the message we wanted to get across. We found Frank to be an engaging speaker, who was able to tailor his message to be relevant to his audience. As a result, we felt that our group was very connected to him as a speaker and we were able to look at Frank's experiences and draw relevant and realistic similarities and lessons.
Throughout the planning process, everyone at Frank's office was very helpful and Frank even took the time to visit some of our locations and referenced this in his speech. We were pleased with the attention to detail we were given and appreciated the pre-event meetings. It genuinely was a pleasure to work with Frank and his team!
–Toppers Pizza
You could have heard a pin drop when Frank was speaking, he had the audience spellbound with his emotional and inspirational message.
–Queensway Carleton Hospital
What makes Frank O'Dea a master is his virtuosity as a story-teller. As a former theatre critic, I appreciate the man's technique: the strong voice, the rhythmic pauses, the pacing, and the unerring sense of structure. As a member of his audience I am swept away like the rest of the room. Rapt, enthralled, moved. It's a heck of a combination. It's hard to recommend him highly enough.
–M. Burrows, former theatre critic
Frank O'Dea was one of the best and most inspiring motivational speakers we have ever had!
–Canadian Institute for Health Information (CIHI)
(His) message hit home and certainly got our folks out of the comfort zone.
–Canadian Mortgage and Housing Corporation
We had people from all across the country here, from the smallest to the biggest service departments, and they were all impressed with your message.
–Ford Motor Company
We received so much excellent feedback about your talk. You had a deep impact on us.
–Bristol Meyers Squibb
[Less..]