Jay Baer
Marketing & Customer Service Expert;
New York Times Bestselling Author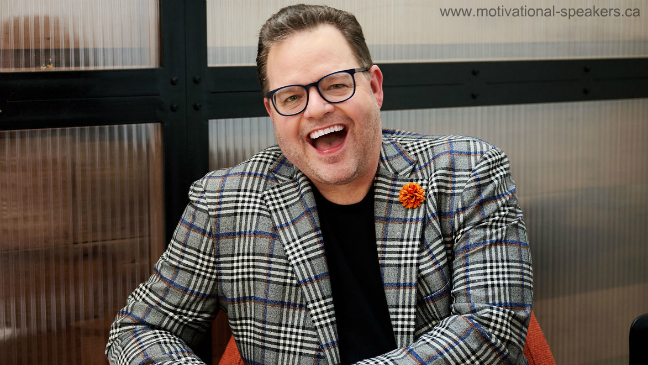 Bio
New York Times Best-selling Author
Internet pioneer
Entrepreneur and
The most inspirational speaker on marketing, word of mouth, and customer service
Jay Baer is a Hall of Fame Speaker (& CSP), renowned business strategist, a New York Times best-selling author of five books, and the Founder of five multi-million-dollar companies. Jay's programs help organizations everywhere rethink their approach to marketing and customer service, helping them gain more customers, and keep those they've already earned. He customizes each presentation by including relevant and targeted examples, oftentimes from people in the room! +
Jay has advised more than 700 companies since 1994, including Caterpillar, Nike, IBM, Allstate, The United Nations, and 32 of the Fortune 500. He is the Founder of Convince & Convert, a strategy consulting firm that owns the world's #1 content marketing blog and the world's top marketing podcast.
Inducted into the Word-of-Mouth Marketing Hall of Fame, Jay has been voted one of the Top 50 Trustworthy Digital Marketing Experts and is a go-to source for numerous news outlets.
Named "most likely to be a game show host" in high school, Jay is also a popular emcee and event host. --
Topics & Categories
Business Management & Strategy
Communication
Customer Service & Loyalty
Event Hosts & M.C.\'s
Information Technology (I.T.)
Inspiring Stories
Marketing & Branding
Sales & Service
Social Media | Internet of Things
Trainers
Internet pioneer, entrepreneur, and New York Times best-selling author Jay Baer shows you how to create marketing, customer service, and customer experiences that customers love enough to talk about. And when current customers talk, new customers follow.
Talk Triggers: Turn Your Customers Into Volunteer Marketers +
Great customer experience occurs when you exceed customer expectations. And when you do so, customers are COMPELLED to talk about you.

In this fast-paced, timely, dynamic presentation Jay teaches his customer experience excellence framework, showcasing how any business can turn customers into advocates.

Using customer service, operational excellence, and small (yet memorable) differentiators, Jay's customer experience formula is in use all over the world.

With hilarious and poignant storytelling, Jay teaches attendees the three primary ways to use customer experience to trigger word-of-mouth, illustrates mistakes to avoid, and inspires audiences to put new strategies into practice immediately.

Talk Triggers is a visceral, memorable program, and Jay has delivered it worldwide to B2B, B2C, government, small business, and corporate audiences. --
Hug Your Haters: How to Embrace Complaints and Keep Your Customers +
Haters aren't your problem … ignoring them is.

If it feels like there are more complaints than ever, and that you're spending more time and money dealing with negativity and backlash, you're right. But the rise of customer complaints is actually an enormous opportunity.

In this eye-opening presentation, Jay reveals brand-new, proprietary research into The Science of Complaints – why and where your customers complain, and how to turn customer service into a marketing advantage.

80% of companies say they deliver exceptional customer service. 8% of their customers agree. Jay teaches the critical steps necessary to retain and delight customers in this disrupted era when customer service has become a spectator sport. --
Youtility: Why Smart Marketing is About Help, Not Hype +
If you're wondering how to make your company seem more exciting, you're asking the wrong question.

You're not competing for attention only against other similar products. You're competing against your customers' friends and family and viral videos and cute puppies.

To win attention today, you must ask a different question… "How can I help?"

Youtility will cause you to rethink everything you thought you knew about marketing. Filled with relevant examples, you'll see why the Youtility system now powers the marketing programs of hundreds of major companies. --
Smarketing: Align Your Sales and Marketing to Achieve Hyper-Growth and Happy Teams +
Aligned sales and marketing teams achieve 19% faster revenue growth and 15% more profitability. But how do you actually do it? This fast-paced presentation filled with current examples will have you rethinking the roles of marketing and sales.

You'll learn practical ways to better integrate sales and marketing to drive growth and improve customer satisfaction. This session will also cover digital and social selling, and how it adds value to the customer buying journey. --
Emcee & Host +
Jay was named "most likely to be a game show host" in high school, and that dream may be fulfilled some day! Meanwhile, Jay thrives in the emcee/event host role, with real-time commentary, insightful questions, tons of humor and an approachable style. He'll take your event to a whole different level. Jay prepares vigorously, reviewing presentations of all main stage speakers with event organizers beforehand, but remains largely unscripted, to be able to connect the thematic dots on-the-fly. Jay also takes on many panel moderation assignments each year, and can easily pull double or triple duty at your event (keynote + emcee + moderator). He's even done several awards ceremonies, and loves handing out trophies! --
Jay Baer is represented by K&M Productions (Toronto.) For more information, Jay Baer's speaking schedule, fees & booking Jay Baer, contact us.
What Clients are Saying
Not only is Jay a killer speaker, but he played an integral role in facilitating connections between our customers on-site. He doesn't just go the extra mile, but MANY.
–Global Events, Oracle
[More..]
Not only is Jay a killer speaker, but he played an integral role in facilitating connections between our customers on-site. He doesn't just go the extra mile, but MANY.
–Global Events, Oracle
The minute Jay (literally) ran up on stage to inspire over 700 property managers, the energy level in the room reached phenomenal heights. His style—a perfect balance of humorous examples and educational insights—kept people engaged until the very end. It was informative, actionable, and personal—and incredibly valuable to our customers.
–Head of Marketing, Appfolio
Jay was the host for three days at our global IBM conference (thousands in attendance) and he was fantastic. He was very well prepared and turned a good event into an excellent event.
–Global Marketing, IBM
[Less..]