Jay Baer
Marketing & Customer Service Expert;
New York Times Bestselling Author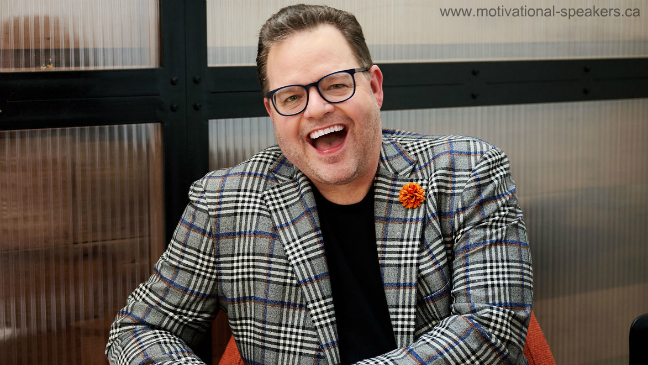 Bio
New York Times Best-selling Author
Internet pioneer
Entrepreneur and
The most inspirational speaker on marketing, word of mouth, and customer service
Jay Baer is a Hall of Fame Speaker (& CSP), renowned business strategist, a New York Times best-selling author of five books, and the Founder of five multi-million-dollar companies. Jay's programs help organizations everywhere rethink their approach to marketing and customer service, helping them gain more customers, and keep those they've already earned. He customizes each presentation by including relevant and targeted examples, oftentimes from people in the room! +
Jay has advised more than 700 companies since 1994, including Caterpillar, Nike, IBM, Allstate, The United Nations, and 32 of the Fortune 500. He is the Founder of Convince & Convert, a strategy consulting firm that owns the world's #1 content marketing blog and the world's top marketing podcast.
Inducted into the Word-of-Mouth Marketing Hall of Fame, Jay has been voted one of the Top 50 Trustworthy Digital Marketing Experts and is a go-to source for numerous news outlets.
Named "most likely to be a game show host" in high school, Jay is also a popular emcee and event host. --
Topics & Categories
Business Management & Strategy
Communication
Customer Service & Loyalty
Event Hosts & M.C.\'s
Information Technology (I.T.)
Inspiring Stories
Marketing & Branding
Sales & Service
Social Media | Internet of Things
Trainers
Virtual Presentations
Internet pioneer, entrepreneur, and New York Times best-selling author Jay Baer shows you how to create marketing, customer service, and customer experiences that customers love enough to talk about. And when current customers talk, new customers follow.
Most Popular KEYNOTES & VIRTUAL Presentations for 2021

Think Small: How to achieve big business growth results by improving the three specific things your customers truly care about +
You've heard it before. Over and over, in fact. "Improve your customer service." "Optimize the customer experience." But what does that even mean? Today, when the intersection points with your customers may number in the dozens (or even hundreds), tackling customer service or customer experience holistically is impossible. You can't magically get better at every customer touch point. But you CAN get better at the touch points that matter.
THINK SMALL is a fast-paced, dynamic, inspirational, and hilarious presentation that shows you how to gain and keep more customers by improving the only three things that really matter to your customers.
Audiences will learn:
Why customer experience is the fastest route to growth
The elements of your business that are non-negotiable for your customers, and where they'll give you a pass
What customers really expect from your business category — and how to exceed those expectations (without spending a fortune)
Specific, concrete plans you can put into practice tomorrow that will get you to THINK SMALL and produce big results --
Talk Triggers: Turn Your Customers Into Volunteer Marketers +
The best way to grow ANY business is for your customers to grow it for you. But that only occurs if you deliver a customer experience that creates conversations. Word of mouth influences 50% of all purchases, but we too often take this for granted. We just assume that our customers will talk about us. But they won't, unless you give them a story to tell. Jay teaches you how.
In this hilarious and interactive presentation filled with examples and research, Jay Baer teaches audiences how to create a unique story for their business; a tale that will turn their customers into their most effective sales and marketing advantage.
This powerful keynote creates real change among attendees. It alters the way they think about the intersection of customer experience, marketing, sales, and operations, yielding big growth and enhanced cooperation.
Audiences Will:
Learn how to grow their business with word of mouth
Discover why customers talk, and why they remain silent
Learn the definition of a Talk Trigger (an unconventional, operational choice that creates conversation)
Discover the 4 Requirements of a Talk Trigger
Learn the different types/categories of Talk Triggers
Be entertained and inspired by a minimum of 9 relevant, customized (and often hilarious) examples and case studies
Available as webinar or virtual summit --
Hug Your Haters: How to Embrace Complaints and Keep Your Customers +
Haters aren't your problem … ignoring them is. If it feels like there are more complaints than ever, and that you're spending more time and money dealing with negativity and backlash, you're right. But the rise of customer complaints is actually an enormous opportunity. Jay teaches the critical steps necessary to retain and delight now that customer service is a spectator sport.
In this eye-opening presentation, Jay reveals proprietary research into The Science of Complaints – why and where your customers complain, and how to turn customer service into a marketing advantage.
80% of companies say they deliver exceptional customer service. 8% of their customers agree. Jay teaches the critical steps necessary to retain and delight customers in this disrupted era when customer service has become a spectator sport.
Audiences Will:
Learn why customer expectations are rising faster than ever
Discover the huge disconnect between what customers and companies think about service
Learn the one, giant, recent shift that changed everything about customer service
Discover why praise is the most overrated thing in business (and in life)
Learn how to handle unhappy customers, online and offline
Be entertained and inspired by a minimum of 9 relevant, customized (and often hilarious) examples and case studies
Available as webinar or virtual summit --
Youtility: Why Smart Marketing is About Help not Hype +
If you're wondering how to make your company seem more exciting, you're asking the wrong question.
You're not competing for attention only against other similar products. You're competing against your customers' friends and family and viral videos and cute puppies.
To win attention today, you must ask a different question… "How can I help?"
Youtility will cause you to rethink everything you thought you knew about marketing. Filled with relevant examples, you'll see why the Youtility system now powers the marketing programs of hundreds of major companies. --
THREE DRAWBRIDGES - How to Cross Your Customer's Moat of Attention +
Today's consumers are a wary bunch. After all, they've beenthrough a lot. And approximately zero percent of customers aresitting quietly, secretly hoping for more brand-created content to be thrust upon them.
To win with content in today's world, you have to fundamentallyrealign your thinking and your expectations. Instead of assumingyour content will succeed, and trying to avoid mistakes that wouldcause failure, you now must assume your content will fail, and make CERTAIN you pass the three tests required for content lift-off.
These tests are called the Three Drawbridges of Content Success. Your customers constantly have their hands on the levers, deciding when and whether to drop the bridges and let you in to their hearts, minds, and wallets.
This fast-paced and funny presentation will entertain you, inspireyou, and scare you. Before this session ends, you'll be scheduling a team meeting to rework your content marketing strategic plan!

Key points in this program:
Learn how the global pandemic changed B2B and B2Ccustomer expectations and desires
Discover why content and communications success isn't foundinside a technology platform
Understand how "radical relevance" offers the key to customerhearts and minds
Learn about the Three Drawbridges of radical relevancy that willincrease sales
Be entertained and inspired by relevant, customized (and oftenhilarious) examples and case studies --
Emcee & Event Host +
Hall of Fame keynote speaker Jay Baer is also an in-demand emcee for complex, multi-day events, and has hosted events for IBM, Oracle and many other major brands for audiences as large as 15,000 attendees. He's an expert interviewer, a hilarious, on-the-fly host, and a master weaver together of event themes and key concepts.
He prepares vigorously, reviewing presentations of all main stage speakers with event organizers beforehand, but remains largely unscripted, to be able to connect the thematic dots on-the-fly. Jay even offers to create a closing keynote written DURING the event, that closes the show with key takeaways and lessons for the audience. He can easily pull double or triple duty at your event (keynote + emcee + panel moderator). --
Jay Baer is represented by K&M Productions (Toronto.) For more information, Jay Baer's speaking schedule, fees & booking Jay Baer, contact us.
What Clients are Saying
Not only is Jay a killer speaker, but he played an integral role in facilitating connections between our customers on-site. He doesn't just go the extra mile, but MANY.
–Global Events, Oracle
[More..]
Not only is Jay a killer speaker, but he played an integral role in facilitating connections between our customers on-site. He doesn't just go the extra mile, but MANY.
–Global Events, Oracle
The minute Jay (literally) ran up on stage to inspire over 700 property managers, the energy level in the room reached phenomenal heights. His style—a perfect balance of humorous examples and educational insights—kept people engaged until the very end. It was informative, actionable, and personal—and incredibly valuable to our customers.
–Head of Marketing, Appfolio
Jay was the host for three days at our global IBM conference (thousands in attendance) and he was fantastic. He was very well prepared and turned a good event into an excellent event.
–Global Marketing, IBM
[Less..]