Jennifer Moss
Workplace Happiness, Resiliency, Burnout & Post-Traumatic Growth Expert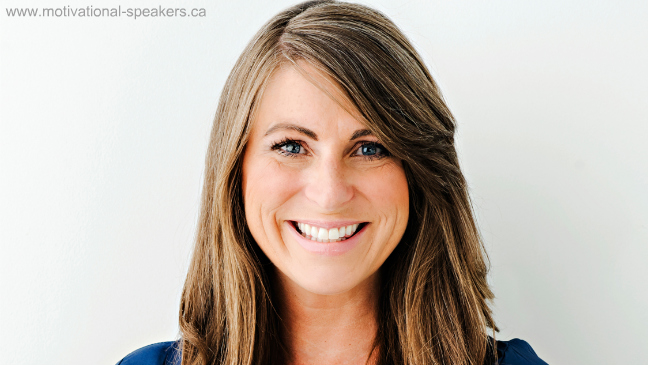 Bio
Jennifer Moss is the bestselling and award-winning author of Unlocking Happiness at Work and a regular contributor to Harvard Business Review including authoring one of their Top 5 articles for 2019 on the trend of Burnout. She's become the "go-to" media person on the topic of workplace burnout and how to unlock happiness/engagement with better wellness strategies.
To acknowledge her contributions to business and public service, Jennifer was named a Canadian Innovator of the Year, an International Female Entrepreneur of the Year, and recipient of the Public Service Award from the Office of President Obama. Her next book, The Burnout Epidemic, will be published by Harvard Business Press, launching globally in January 2021.
When the effects of workplace stress total more than $190 billion in North America alone, it's time for guidance in workplace wellness, performance and purpose-driven productivity. Jennifer Moss is an award-winning journalist, author and international public speaker. She is a nationally syndicated radio columnist reporting on topics related to happiness and workplace well-being, to employee burnout, resiliency and post-traumatic growth. Jennifer Moss is a Harvard Business Review contributor and her book, Unlocking Happiness at Work, received the distinguished UK Business Book of the Year Award. She also sits on the Global Happiness Council. +
She's a Canadian Innovator of the Year in her previous role as Cofounder of Plasticity Labs, a happiness and workplace wellness research, technology, and consulting company. Plasticity provided organizations with the tools to tap into individual sentiment and increase at-work satisfaction, with measurable results.
Her roles have included that of HR Chair of a world-renowned technology incubator, and is a member of the United Nations Global Happiness Council – a small group of leading scientists and economists that support the UN's sustainable goals related to global well-being and the Annual Global Happiness Policy Report.
Jennifer went from Silicon Valley working in PR during the rapid rise of social media, to leader of a social innovation tech startup, award-winning author and entrepreneur. She was on President Obama's California social team; a massively disruptive and historical moment for political galvanizing. This effort earned her an invitation to his inauguration and a Public Service Award from the Office of President Obama.
In her personal life, her sports hall of fame husband was diagnosed with a life-threatening rare autoimmune disease. They hacked his healing focusing on being grateful, and learning the neuroscience of mood and performance. He walked out of the hospital six weeks later. The moral of the story? Mood drives performance. When you have a transformational experience like this you are compelled to share it with the world.
Jennifer is fiercely committed to engaging and encouraging young women to lead in tech even if they can't code. Her work in this space has earned her an International Female Entrepreneur of the Year Award.
Jennifer speaks internationally as a thought leader in behavioral sciences. Jennifer regularly consults mid-sized to Fortune 500 companies, school boards and universities, lawmakers, and governments, on how to develop and measure their happiness strategies for improved performance. --
Topics & Categories
Change | Change Mgmt.
Corporate Culture
Employee Engagement
Health & Wellness
Human Resources & Workplace Culture
Leadership
Mental Health
Morale Boosting
Most Requested Speakers
Most Requested Virtual Speakers
Performance & Productivity
Resiliency
TED Speakers
Trainers
Virtual Presentations
Women of Influence
Work-Life Balance
Virtual Keynotes & Training:
Jennifer Moss will appear live from her home/studio to yours for your next virtual conference, meeting or webinar, to bring her experienced insights into workplace wellness, preventing burnout, happiness at work, resilience, post-traumatic growth and more. She'll customize to your group and engage in Q&A.
Preventing Burnout in a Pandemic +
The change to our work and home life happened rapidly and without notice. Since March 2020, many of us have. been operating in crisis mode; quick pivots, learning new policies, and processes on the fly, working from home while juggling family priorities all under the mental fog of chronic stress and fear. Burnout is real and its increased significantly since the pandemic struck.
As we wade into unchartered waters - unlike any other time in our careers – we need the resources to lead in this unique time. Jennifer Moss, globally recognized as an expert in burnout and author of the book, The Burnout Epidemic, published by Harvard Business Press, can provide us the strategies to navigate these challenging times. Jennifer will discuss the prevention strategies and tactics to manage burnout in a time of extreme stress. She will walk us through our current realities, and provide tangible solutions to battling burnout - helping leaders to distinguish between perks and prevention and where self-care is not the cure. Most notably Jennifer can offer hope for a healthy and high-performing workforce today and in a post-pandemic world.
Takeaways include:
How the 2019 World Health Organization announcement impacted the way we define burnout – what you need to know about that change
What are the root causes of burnout and how can we fix it
Current realities of burnout as a result of COVID-19 and how to manage differently and more effectively
What are the responsibilities of both the employee and the employer in how to identify and prevent burnout
Building the psychological fitness skills – particularly hope and resilience – to protect well-being during times of crisis --
Unlocking Happiness at Work +
​All of us want to be happy and engaged and satisfied with our job or in the career we've chosen. Loving work makes us less stressed, decreases our boredom, increases our motivation, and positively impacts our personal lives. As leaders, we want happier employees because they are more engaged and approach their work with enthusiasm and innovative perspectives. Studies show that employee disengagement increases anxiety and stress, negatively impacting health and well-being. Since we spend 120,000 hours at work in our lifetime, this is a critical issue for all of us.
​Award-winning journalist and author of Unlocking Happiness at Work, Jennifer will provide her audience with important strategies towards building a happier, healthier and higher-performing workplace culture.
Takeaways include:
How to measure the small data – based on anthropology and behavioral sciences – to increase trust and sense of community in the workplace
A deeper understanding of neuroplasticity and how to leverage it for a happier personal and professional life
how to turn positive actions into habits into permanent traits of wellbeing
the tools to reframe stressful experiences through cognitive resilience building
a set of easy-to-apply, five-minute daily habits that can increase psychological fitness --
For more information, Jennifer Moss's speaking schedule,*fees, and booking Jennifer Moss, contact us. *Fee range indicated is for "virtual" presentations.
What Clients are Saying
Thank you again for your amazing talk! I continue to get people stopping me telling how great your session was and I am seeing lots of comments on our internal social network. You really made an impact!
–TD Bank Group
[More..]
Thank you again for your amazing talk! I continue to get people stopping me telling how great your session was and I am seeing lots of comments on our internal social network. You really made an impact!
–TD Bank Group
Very engaging speaker with powerful message. She was ultimately fabulous.
–Canadian Health & Wellness Innovations Conference
I have attended many motivational/business/etc. presentations over my career. I can honestly say you are one of the best speakers (and by far the most genuine) I have experienced.
–Price Waterhouse Coopers
I was genuinely entertained by her storytelling and inspired by her message. She showed an authentic level of comfort with the audience and you could sense that everyone was highly engaged in her talk.
–President, GM Canada
In her speaking, Jennifer does a masterful job at weaving together the threads of personal experience with the art & neuroscience of motivation to deliver a compelling message, that causes the audience to reflect on how we think & interact not only in our careers, but also in our personal lives.
–Chief Financial Officer, Communitech
Jen stands apart from this field as someone who is not just passionate about the issue, a passion that makes her presentations shine, but has the data and the experience to back up her beliefs. She's a great speaker on an important topic. What more could you ask for?
–The Conference Board of Canada
[Less..]