Mel Robbins
Best-Selling Author, Award-Winning CNN Commentator;
Speaker, Influencer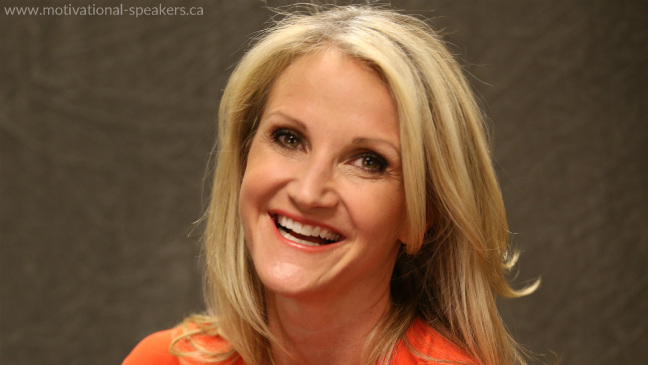 Bio
In her globally acclaimed TEDx talk, Mel Robbins wowed the world with the science-backed secret to change: The 5 Second Rule. Over 12 million views later, the 5 Second Rule has become a bestselling book and a life-changing movement that challenges thinking and accelerates personal and professional growth. A riveting, fun, and unforgettable speaker, Robbins has spoken to executives with many of the top leading brands, including Microsoft, JPMorgan Chase, Optum, Cisco, and AT&T. +

Robbins' bestselling book, Stop Saying You're Fine, has been translated into four languages and is listed as one of the "Top Five Most Read" and "Most-Sold" books on Amazon. Her digital platform inspires more than 20 million people a month with transformative videos, articles, positive psychology research, and inspiring content.
In the media, Robbins is one of CNN's most popular on-air commentators and opinion writers, where her articles drive tens of millions of page views for CNN.com. She has also appeared on Good Morning America, Dr. Phil, Dr. Oz, Oprah, The Today Show and Fox News, and was named America's Outstanding News Talk Show Host at the 2014 Gracie Awards.
Robbins began her career as a criminal defense attorney and went on to launch and sell a retail and internet technology company. --
Topics & Categories
Business Management & Strategy
Celebrities & Media
Change | Change Mgmt.
Communication
Corporate Culture
Creativity | Innovation | Disruption
Employee Engagement
Entrepreneurship
Human Resources & Workplace Culture
Impostor Syndrome
Inspiring Stories
Leadership
Motivational
Performance & Productivity
Sales & Service
TED Speakers
Women of Influence
From rooms full of executives and key stakeholders in companies to arenas of franchisee owners, every audience will receive Mel's message in a highly customized, interactive, and hyper-engaging way.

Every event is very different from the next, and each speech is tailored to send your audience into the world with actionable tools, confidence, and the power to fully step into the leaders, collaborators, closers and communicators your company strives to create.

Below are topics Mel has hand-crafted using the latest in neurological research, corporate development studies, and leveraging her expertise in human behavior delivered through riveting, surprising, and relevant personal and historical storytelling.
The 5 Second Rule: Achieve Break Through Performance In Your Career & Life +

Three million people have learned the secret to reaching their true potential -now it's your turn. You are meant to do extraordinary things in your career and your life and the 5 Second Rule will help you achieve it.
In her viral, globally praised TEDx talk, Mel demystifies neuroscience research on the brain and the latest social science research to explain why and how you screw yourself over every day. You'll learn how to identify the mistakes you're making and learn how to create lasting behavior change within yourself. You'll also discover one radical idea that will forever alter how you approach life.
Mel uses riveting videos, case studies and hilarious personal stories that will amaze and entertain you, all the while giving you the resources you need to soar. She leverages audience participation to demonstrate behavior change. The lessons and tools can be applied immediately and your audience will leave feeling deeply inspired, empowered and equipped to tackle their professional and personal dreams.
Learning Objectives:
Be inspired and motivated to reach your true potential.
Discover the two modes in which your brain operates.
Learn the three ways your brain uses "trickery" to stop action.
Practice the higher brain function that enables breakthrough performance.
Witness Mel turn fear into action.
Learn To Use the 5 Second Rule To Alter How You Approach Life. --
From Successful To Satisfied: How to Become the Leader You Want To Be +
Leaders at every level have to deal with a sobering reality: the world has changed more in the last five years than in the last fifty. What worked in the past, will often fail with customers and colleagues today and you must achieve more with less time, less resources and higher stakes. Plus, the more successful you become, the harder it is to change.
In this motivational experience, Mel will explain how rapid change has impacted your role as a leader and guide your audience through the process of identifying key areas and opportunities to raise their professional game.
Mel utilizes social science research, peer-to-peer coaching exercises, audience interaction and captivating videos to teach your audience what it takes to move from being merely successful to being deeply satisfied with work, life and the impact you make in the world.
You'll leave this motivational experience with key objectives for professional and personal growth, and the knowledge and inspiration to become the leader you want to be.
Learning Objectives:
Identify key areas to raise your leadership game.
Practice peer-to-peer coaching.
Discover the three traps every leader faces.
Examine the true power of feedback.
Learn the secret to driving engagement and satisfaction with your team.
Takeaway the action steps necessary to create lasting behavior change. --
Influence: The New Rules of Coaching High Performance Teams +
What does the rise of the "selfie" have to do with developing and managing teams? A lot. The world has changed profoundly and so has the psyche of your teams. To be an effective leader, you have to master and understand the powerful new drivers of human behavior.
Armed with the most recent research in the field of human behavior and technological advancements, Mel will explain how the "democratization of information" has changed the rules of influence. She'll guide your audience through these new rules to help them become more effective leaders.
Mel will leverage your audience to demonstrate coaching exercises and breakthroughs, live. She'll use videos and breaking news as a device to teach leaders how to use coaching to increase employee engagement, performance and satisfaction. Your audience will leave this experience excited to hit the ground running and empowered to be a better coach and more effective leader of their teams.
Learning Objectives:
Explore The Difference Between Being the MVP and the Coach.
Learn the new rules of influence.
Introduce 3 Behaviors Every Manager Must Eliminate.
The Importance Of "what" not "how".
Discover the power of "being a fan".
Practice peer-to-peer coaching exercises. --
How Women Lead: The Exciting New Science behind Women, Success and Work +

Women may outnumber men in college, graduate schools and the workforce, but we continue to make critical mistakes that hamper our success in business. Companies across the world recognize the need to empower women leaders, but will we seize the opportunity and be able to change?
Armed with surprising new research, original videos and tactical advice, Mel Robbins will teach women executives what they need to know to raise their hand and participate, raise their voice and be heard, and raise their professional game and be rewarded.
Yes, bias is real, but the greatest forces stopping women today are often self-imposed. This enlightening and highly interactive speech will help women raise their professional games and compete for their dreams.
Learning Objectives:
Demonstrate how to adopt a "Contender Mindset".
Explore Visible vs. Invisible Work.
Introduce the 3 Essential Questions Women Leaders Must Ask.
Illustrate the Importance of Half-baked Ideas, Failure and Imperfection.
Discover the power of "being a fan".
Learn the New Principles of Success. --
Selling: The New Science on Selling In The Information Economy +

In this fascinating talk, Mel reveals how the "Information Economy" has fundamentally changed the rules of selling in three significant ways. With the latest sociological research and case studies specific to your industry, Mel will teach your audience how living in a multi-screen world, with the web at our fingertips has completely shifted the selling cycle, the customer psyche and the role of a salesperson. To sell big your audience must understand how the democratization and accessibility of information has changed the rules of influencing behavior. Mel uses custom videos and real-time breaking news as essential educational tools and leverages audience participation to reveal how power and fear play a crucial role in guiding a customers' journey from consideration to close. Mel will teach your audience how to exploit the changing sales environment to accelerate effectiveness – instantly.
In today's world, we are all responsible for influencing behavior and this eye-opening motivational experience will help all audiences become more masterful at influencing people in all aspects of life.
Learning Objectives:
Discover how the democratization of information has fundamentally changed sales.
Explore the shifting dynamic of power in selling.
Examine the new research on the buying cycle in your industry.
Learn how to influence the new mindset of customers.
Practice peer-to-peer selling exercises. --
Communication: The Secret to Getting People To Listen, Care and Take Action +

We live in a very distracted world where it gets harder every day to get other people to pay attention and take action. You'll only cut through the noise if you understand the secret to getting people's attention and inspiring them to care and take action. As one of CNN's most popular On-Air Commentators and Opinion Writers, Mel has mastered the art of attention grabbing and how to make someone care and influence what actions they take. In this provocative talk, Mel reveals the relevant drivers of human behavior, intriguing research and data outlining what people pay attention to online, and the new power dynamic at play. She'll give you the surprising insights and strategies you need to become effective influencing the different personalities on your team, your customers, your spouse and your kids.
This is an eye-opening motivational experience that will help every type of audience become more effective and masterful communicators.
Learning Objectives:
The powerful role listening plays in effective communication.
Peer-to-peer communication exercises.
How the selfie has changed psychology and influence.
Discover how online behavior can improve your offline communication.
Learn how to package your ideas to break through the noise.
Explore the rise of "click baiting" online and what it means for offline communication.
Mel Robbins is represented by K&M Productions. For more information on fees, Mel Robbins' speaking schedule & booking Mel Robbins contact us. (Very SERIOUS booking-related inquiries only.)
What Clients are Saying
I have been doing what I do for over 20 years - almost 8 with HFMA - and in that time I have never worked with a speaker as engaged as Mel. Her commitment and investment in making ours a successful event is unprecedented. I look forward to working with her on the rest of our program.
–Healthcare Financial Management Association
[More..]
I have been doing what I do for over 20 years - almost 8 with HFMA - and in that time I have never worked with a speaker as engaged as Mel. Her commitment and investment in making ours a successful event is unprecedented. I look forward to working with her on the rest of our program.
–Healthcare Financial Management Association
I want to take a moment to send my personal appreciation to Mel for not only her outstanding presentation, but for taking the time to get to know about the culture of our company and personalizing the message to our audience. She gave the last keynote speech for our convention and brilliantly summarized our objectives for our attendees; [they left] feeling motivated and empowered to accomplish their personal goals for both their businesses and their lives. In fact, many in attendance described it as "life-changing." In my 20 year business career, which has included starting successful companies and also working as a senior executive for Fortune 100 companies, I can honestly say I have never seen another outside speaker spend that much time and energy to personalize the message to a specific audience.
–President, United Real Estate
It was so great meeting you and getting to work with you on our Corporate Leadership Group Summit. Your high energy presentation really brought our theme of leadership in action to life. Along with valuable insight, you provided attendees with realistic takeaways. In fact, survey results indicated that this year's summit was one of the best yet, and your presentation, specifically, was hailed as a fantastic way to pull the two days of the summit together. On behalf of everyone at Lincoln Financial, I'd like to express my sincere appreciation to you for your participation and for helping to make the summit a success.
–Lincoln Financial Group
[Less..]