Michael "Pinball" Clemons
Speaker, Canadian Sports Hall-of-Famer | Founder, Pinball Clemons Foundation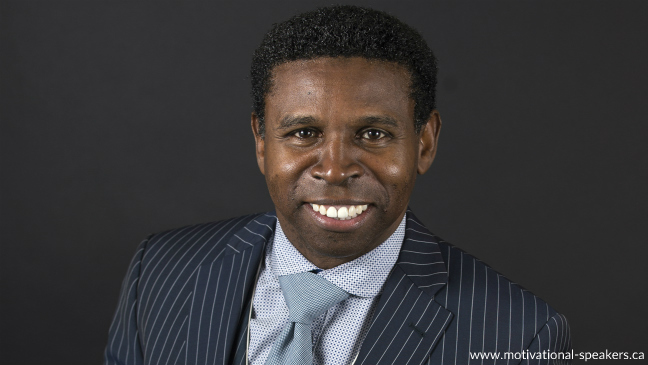 Bio
Speaker Michael "Pinball" Clemons, exemplifies the qualities of teamwork, personal excellence, community leadership and overcoming the odds. With boundless energy and moments of quiet introspection, "Pinball" engages audience members and delivers an unforgettable, often emotional speech that touches on the potential in all of us to achieve anything to which we set our minds. His speaking presentations consistently receive rave reviews and overwhelming audience enthusiasm. +
Pinball joined the National Football League in 1987, and the Toronto Argonauts (and the CFL) in 1989. He was nicknamed "Pinball" because of his running style: his diminutive size and extraordinary balance allowed him to "bounce" between defensive players, drawing comparisons to a pinball machine. In 1990, he was honoured with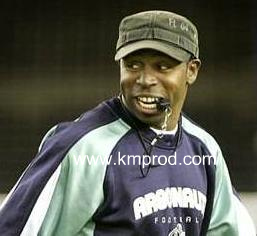 the CFL's "most outstanding player" award, after setting the single-season record for all-purpose yards. He played his last game as an Argonaut in 2000, before becoming head coach of the team. He was inducted into the Canadian Football Hall of Fame in 2008 and in 2016, Pinball was inducted into the Canadian Sports Hall of Fame.
In 2007, Pinball stepped down as head coach to become the Chief Executive Officer; In 2009, he was appointed to Vice-Chair of the team. That same year, he founded the Michael "Pinball" Clemons Foundation, which is dedicated to helping disadvantaged youth. He is also currently working with Marc and Craig Kielburger, founders of Free the Children, in an initiative to build schools and clean water systems in Africa.
"Pinball" Clemons is a member of The Order of Ontario and a Queens Diamond Jubilee Medal recipient. --
Topics
Michael "Pinball" Clemons Speaking Presentations:
ALL HEART
It is impossible to overstate just how dynamic, how energizing Michael Clemons is on stage. Contrasting boundless "pinball"-like energy with moments of quiet dignity, he engages audience members, literally, to deliver an unforgettable, often emotional speech. One of the most in-demand speakers in Canada, he talks with unabashed passion about teamwork, about the potential in each of us to achieve anything we set our minds to, and about putting your heart—fully—into everything you do.
THE IMPORTANCE OF TEAMWORK
Drawing on his own life and storied career, Michael "Pinball" Clemons shows us how people can overcome obstacles and achieve success. Discussing leadership and demonstrating what it means to beat the odds, his moving and inspirational talk shows us much about personal perseverance and the importance of teamwork, which is relevant to any industry.
WINNING AGAINST THE ODDS
At only 5 feet 6 inches and 170 pounds, Michael "Pinball" Clemons inspires his audiences by illustrating what is possible and what it means to beat the odds. In this moving talk, he shares some heartfelt stories with his passionate spirit and his patented contagious smile. Corporations, associations and youth groups continue to respond to this presentation with rave reviews and overwhelming enthusiasm.

K&M Productions are honoured to represent Michael "Pinball" Clemons. To inquire about Michael "Pinball" Clemons' speaking schedule, fees & booking Michael "Pinball" Clemons, contact us.
What Clients are Saying
"Pinball" was fantastic, very motivational! We received excellent feedback from all of the delegates. We are so pleased that we were able to have him speak. Thanks again to K&M Productions for all of your assistance.
–OPBA (Ont. Public Buyers Assoc.)
[More..]
"Pinball" was fantastic, very motivational! We received excellent feedback from all of the delegates. We are so pleased that we were able to have him speak. Thanks again to K&M Productions for all of your assistance.
–OPBA (Ont. Public Buyers Assoc.)
We have had several speakers over the past two years, but you are the best! Your passion, energy, humility and great sense of humour really resonated with the group–I know they left the room pumped!
–CIBC
Oh my gosh...he was FANTASTIC! I would highly recommend him and hope that we can see him again in the near future. Everyone LOVED his speech.
–Affiliated Distributors
Everything was great. He did an amazing job, everyone at our conference thoroughly enjoyed having him speak.
–United Food and Commercial Workers Canada (UFCW)
It was a fantastic night and "Pinball" was a huge success with our employees! Great presentation enjoyed by all.
–Stackpole International
The event went very well, and Michael's presentation was outstanding! We also really appreciate how he took the time to incorporate what our members do into his presentation. We really enjoyed having him at the conference, and he was kind enough to hang around for a bit after his session to meet and take pictures with delegates.
–Canadian Society of Customs Brokers
Michael was absolutely amazing and did exactly what we asked him to do with the Closing message, he took the delegates on a roller coaster ride of emotion and left every one of the delegates on a high when they left the conference. He was so dynamic and touching at the same time. He was able to relate to the delegates and the importance of what they do for their organizations and communities. His message hit the mark. Michael was an absolute delight to work with.
–Alberta Culture
Thanks for the opportunity to have Mike Clemons come and speak to our team. He was simply amazing! I knew he would be a very inspirational speaker to have join us for this meeting and I am so pleased he was able to help us out.
– Hoffmann - La Roche Ltd.
I knew Michael was going to be great, but he exceeded all expectations. He was absolutely amazing. The nicest man I have ever met. Everyone commented on how touched they were by his speech. The room was filled with laughter and tears. His stories were touching and hit close to home for a lot of us. I have never seen my team as excited about something has they were after Michael's visit! I will be recommending Michael to friends and family, and other organizations as well. We were extremely pleased and blessed to have him attend our meeting.
–HD Supply Canada Inc.
It was a pleasure having you as a guest speaker at our Franchise meeting in Las Vegas. The meeting was a huge success and your participation and presentation was one of the key highlights. Thanks again.
–Bulk Barn Foods Limited
Just superb! He did an excellent job at tying in our sales training with coaching. In addition, he was EXTREMELY motivational.

–Bell Mobility
In short, Pinballl was terrific! The presentation was high energy entertainment for all participants, including those who are not sports or football fans. He truly is an engaging speaker - he did a tremendous job of "weaving in" the information about Allstate that we'd provided for him. He used our conference theme, corporate data/statistics, information about our President, etc. He also got the audience involved, which made a big difference.
–Allstate Insurance Corp.
Pinball was enthusiastic, humorous and presented a very human side to not only his own career and life but to business and getting the job done. The feedback from our staff was excellent...he got his message across while thoroughly entertaining the audience.
–RBC
[Less..]