Mike Walsh
Futurist & Authority on Digital Trends in Emerging Markets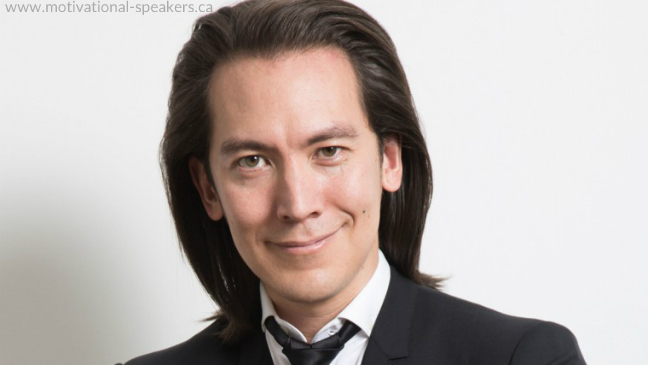 Bio
As the CEO of Tomorrow, a global consultancy on designing companies for the 21st century, Mike Walsh prepares business leaders for what's next. A leading authority on digital transformation and disruptive innovation, Walsh expertly distils his insights into tailored keynotes that empower his audiences to influence the future direction of their industry, and thrive in this new era of machine intelligence. +

A prolific writer and commentator, Walsh's view of have appeared in a wide range of international publications including Harvard Business Review, Inc. Magazine, BusinessWeek, Forbes, and the Wall Street Journal. Walsh is also the bestselling author of three books: Futuretainment, The Dictionary of Dangerous Ideas, and his latest book The Algorithmic Leader: How to Be Smart When Machines are Smarter Than You. He is also the host of a weekly podcast "Between Worlds", where he interviews provocative thinkers, innovators, and troublemakers.
Mike has been a pioneer in the digital space since the 1990s, running both successful start-up ventures as well as holding senior leadership positions in established media organizations. With a background in corporate law and management consulting, he began his career at XT3, a spin out from McKinsey and one of the first digital consulting firms created to help major companies embrace the web.
During the first dotcom boom, Mike launched the technology publishing group internet.com in Australia, which went on to become the leading local technology news and events platform in the country. He also founded and ran Jupiter Research in the Asia Pacific, one of the first research agencies to track the early adoption of e-commerce and digital business models by online consumers, and spent five years in senior strategy roles at News Corporation where he helped shape their digital strategy.
Always in demand for his fresh insights and practical future-focused strategies, Mike has advised the CEOs and senior management teams at multinational companies including: the BBC, Fujifilm, Richemont, MSN, Star TV, Televisa, Philips, and HSBC. --
Topics & Categories
Artificial Intelligence (A.I.)
Business Management & Strategy
Change | Change Mgmt.
Corporate Culture
Creativity | Innovation | Disruption
Customer Service & Loyalty
Digital Transformation
Entrepreneurship
Future of Work
Future Trends
Global Issues
Human Resources & Workplace Culture
Information Technology (I.T.)
Inspiring Stories
Leadership
Marketing & Branding
Motivational
Networking
Performance & Productivity
Sales & Service
Science & Technology
Social Entrepreneurship
Social Media | Internet of Things
Virtual Presentations
VIRTUAL / LIVE KEYNOTES:
The Algorithmic Leader +

We live in an age of wonder – cars that drive themselves, platforms that anticipate our needs, and robots capable of everything from advanced manufacturing to complex surgery. Automation, algorithms and AI are transforming not only business, but every facet of daily life. While many fear that robots will take their jobs, the rise of machine intelligence begs a more important question: what is the true potential of human intelligence in the 21st century?
In this inspiring keynote, Mike Walsh, futurist and author of The Dictionary Of Dangerous Ideas will present a vivid portrait of a brave new world orchestrated by machines that think, and how tomorrow's leaders can upgrade their capabilities to survive and thrive in an age of accelerating technology.
Audiences will walk away with an insight into the companies, technologies and global forces shaping the age of machine intelligence, as well as a set of tailored next actions on how to redesign their organizations, reimagine their roles and reinvent the way they make decisions. --
Designing Your Business for the 21st Century +
The companies that thrive in the near future will be the ones that not only embrace change—they are also the first ones to break the rules. If you could start with a clean sheet of paper, how would you design your company? Should your youngest staff member be making coffee or running your R&D team? Is Big Data something for your IT department to worry about, or a weapon to be wielded by your management team? Do you ban social networks or use them to collaborate more effectively?

Most companies are simply not designed to survive. They become successful on the basis of one big idea or breakthrough product. That early success then becomes a rigid code, and as customer habits and markets change, many fail to see that everything that made them successful is exactly what will destroy them later. --
Mike Walsh is represented by K&M Productions. To inquire about Mike Walsh's speaking schedule, fees & booking speaker Mike Walsh, contact us.
What Clients are Saying
Fantastic presentation! An extraordinary perspective on trends and insights which can realistically be converted to actions today.
–VP Retail, American Express
[More..]
Fantastic presentation! An extraordinary perspective on trends and insights which can realistically be converted to actions today.
–VP Retail, American Express
For any company that wants to remain relevant and embrace change – Mike's presentation will be of benefit. Mike's presentation was thought provoking and very engaging. He provided examples that left us with some great take-aways which we've already started to implement in our daily work lives. I would highly recommend him.
–Verizon Wireless
Amazingly fresh presentation with tons of thought leadership and practical actions to take the next step in evolving our teams.
–Red Bull
Mike has a unique insight into how tomorrow will change today. His eye opening content and engaging presentation make him a must see for anyone who wants to know what lies ahead. A brilliant presentation!

–Managing Director, Fuji Xerox Australia
Mike was a pleasure to work with. His presentation was perfectly pitched reflecting his research prior to the event to tailor his presentation to our audience and he also took the time to meet with some of them prior to the presentation. We would highly recommend Mike to anyone interested and would love to work with him again.
–Roche Products Pty Limited
Dynamic, highly relevant and stimulating, with fresh and unique insights.
–Chairman & CEO - Grey Group Asia Pacific
[Less..]