Neil Pasricha
Happiness Expert & Bestselling Author of The Book of Awesome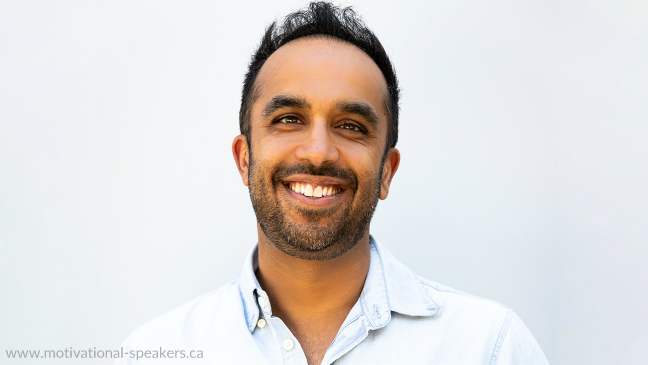 Bio
A Harvard MBA, New York Times bestselling author, award-winning blogger, and one of the most popular TED speakers in the world, Neil Pasricha is "a pied piper of happiness" who dazzles audiences with ideas that skyrocket happiness into the stratosphere. With infectious enthusiasm, heartfelt authenticity, and a "what works" authority, Pasricha draws on the latest research in happiness to increase individual performance and create a more positive and productive workplace. +

Pasricha spent a decade with Walmart, the world's largest company, directly working for two CEOs and as the organization's director of leadership development. He now travels all over the globe sharing messages on happiness to Fortune 500 companies, schools, and non-profits. His Ted Talk "The 3 A's of Awesome" has been ranked as one of the most inspiring of all times with more than 3 million views. He has spoken to Royal Families in the Middle East, Ivy League Deans, and to CEOs at organizations such as Google, Audi, American Express, and GE.
His first book, The Book of Awesome, is a runaway #1 international bestseller with millions of copies sold. His newest book, The Happiness Equation: Want Nothing + Do Anything = Have Everything (also an international bestseller), provides step-by-step guidelines to illustrate how to improve your time, your career, your bottom line, your relationships, and ultimately (of course), your happiness. His intentionally acclaimed blog, 1000 Awesome Things, has scored over 50 million hits and twice won the Webby Award for "Best Blog in the World."
Pasricha partnered with Harvard University to design one of the first global leadership development programs inside a Fortune 10 company. And, as a management consultant, he advised Fortune 50 companies on top level leadership strategies. He earned his Master's degree from the Harvard Business School, focusing on Leadership and Organizational Behaviour.
Pasricha's writing and work has been featured in Harvard Business Review, Forbes, CNN, BBC, The Guardian, The New Yorker, The Sunday Times, China Daily, The Jakarta Post, The Sydney Herald, and Wired. --
Topics & Categories
Business Management & Strategy
CEOs & Business Leaders
Change | Change Mgmt.
Corporate Culture
Employee Engagement
Human Resources & Workplace Culture
Inspiring Stories
Leadership
Mental Health
Morale Boosting
Most Requested Speakers
Most Requested Virtual Speakers
Motivational
Resiliency
TED Speakers
Trainers
Trust & Ethics
Virtual Presentations
Work-Life Balance
VIRTUAL:
Cultivating Calm During Coronavirus Chaos +
In an all-new virtual keynote, Neil Pasricha responds to the spiking anxiety, stress, and mental health challenges we're all facing today in our new "normal".
The bestselling author of You Are Awesome: How to Navigate Change, Wrestle with Failure, and Live an Intentional Life, Pasricha will share three research-based practices to ground and centre yourself on a daily basis, as well as key phrases to use when speaking to yourself and loved ones during the pandemic. This session can include an optional Q&A to help participants connect with their peers while learning Pasricha's empathetic tools, grounded in research and case studies.
Pasricha's virtual event comes with a tailored "care package" available to each participant post-session. It includes:
A tailored video from Pasricha.
A nine-part video series on resilience.
A resilience self-growth workbook.
Two new articles from Pasricha: "49 things to Do if You're Home Due to the Coronavirus" and "25 of the Best Books to Read if You're Home Due to the Coronavirus".
A "Nine Steps to Resilience" poster.
A list of additional free online resources.
This virtual presentation is 60-minutes long, including a Q&A. Length is flexible depending on a client's needs. --
KEYNOTES:
The Subtle Art of Happiness +
Why can so few people at work genuinely say, "I love my job"? Gallup reports 87% of the global workforce is disengaged. But what if there were subtle, secret weapons that could turn employees into their most powerful, engaged, and productive selves? It's not crazy talk. It's actually happening. Using his unique blend of counterintuitive research and sidesplitting stories, Neil illuminates a clear path forward into workplaces where people show up inspired, do great work, and leave with full minds and full hearts. Raw, hilarious, and heartwarming, this is the perfect keynote to kick off or close your conference with the ultimate high. Past clients include: Audi (national dealer teams), AstraZeneca (sales agents), and TD Bank (top global leaders). --
The Science of Positive Growth Mindset +

Does great work lead to happiness? Or… does happiness lead to great work? Neil Pasricha shares counterintuitive research-based answers in this fun, fast-paced, research-grounded tour of the emerging neuroscience and positive psychology landscape. He challenges your audience by asking: "Would you press a button and have 31% higher productivity, 37% higher sales, and 300% greater creativity on Monday morning?" When heads start nodding, he shows how to get there. Based on fresh research Pasricha published in Harvard Business Review together with the latest in neuroscience and positive psychology, this speech is not true motivation – it's application. Perfect for left-brained, analytical, or even skeptical audiences. Past clients include: Google (engineers), Kaiser Permanente (physicians), Citigroup (investment bankers). --
Be Happy First: Breakthrough Performance In Times Of Change +
After Neil Pasricha's wife left him and his best friend suddenly took his own life, he crash-landed in an empty downtown bachelor apartment. Just twelve months later, he was working directly for the CEO at Walmart, running the International Academy of Digital Arts and Science's "Best Blog in the world" which was on its way to garnering over 50 million hits, and had just published The Book of Awesome which stormed the New York Times bestseller list and has now sold over a million copies. The lesson was clear: resilience, change, and growth can came from times of challenge. This inspiring talk is for anybody looking for simple practical ways to lift performance to new heights. In Neil's case, he realized before life could change, he had to change. Leadership ultimately comes from within. When company execs would ask him "How did you get so happy?" he'd say the secret is to "Be happy first" and let the mindset you cultivate ultimately enable your success. Neil's presentation leaves audiences with the tools they need to achieve their biggest goals. (Past clients include: Uber (marketing), Momenta (bioscience execs), University of Texas (students and faculty). --
Lead Yourself First, Before You Lead Others +

Which company is #1 on the Fortune 500 today and has been for more than a decade? Walmart. The retail behemoth's rise to half a trillion dollars in sales with over two million employees spread across the globe has been well-documented. But what hasn't been documented is how they develop, nurture, and grow leaders up through those ranks. Neil Pasricha served as Director of Leadership Development inside Walmart for the past ten years – working directly for two CEOs and partnering with Harvard Business School to develop the first global executive program inside the retail giant. Join him as he shares a window into what his research and work reveal about what truly makes leaders tick and walk away with clear takeaways on how they can drive you and your teams. How do you lead a team of two, two hundred thousand, or even two million people? It starts with yourself. Let Neil show you how. --
Building Trust in Distrustful Times +

According to the Edelman Trust Barometer, trust in media, business, and government are at an all-time low. We have never believed less, agreed less, or trusted less. Yet, building trust, and developing the community that surrounds it, remains imperative for any art project, online influencer, startup, or brand. So, what are the new ways to build trust and community online in an era of mistrust? What works? What doesn't? And how do we figure out who to really believe and rally behind? Join New York Times bestselling author Neil Pasricha as he answers these questions. --
For more information, Neil Pasricha's speaking schedule,* fees & booking Neil Pasricha contact us. *Fee range indicated is for "virtual" keynotes.
What Clients are Saying
Neil is a rock star! He visited the Googleplex and you could hear a pin drop while he was speaking. Everybody loved his models for living happier lives. Many people commented that he was the best speaker we have had in some time!
–Google
[More..]
Neil is a rock star! He visited the Googleplex and you could hear a pin drop while he was speaking. Everybody loved his models for living happier lives. Many people commented that he was the best speaker we have had in some time!
–Google
Neil Pasricha was a 10/5. He knocked it out of the park! Neil was so humble and easy to work with. He is super engaging and had the audience glued to his discussion. I would recommend him to anyone. He is very gracious and stayed behind to sign books and connect with people.
–Greater Toronto Area Contact Centre Association
Thank you for an outstanding key note at our Marketing Excellence event and it was such a pleasure to meet you in person. The buzz after you left was how & when we could get you back to share your message with an even broader group. You clearly struck a chord with our audience; it is rare to find a speaker that can ignite such passion and unify the audience on a common theme that transcends generation and function. Please keep writing books. Yours changed my life.
–3M
Neil has such great energy and his positivity is incredible and infectious. We've held our event for years and thanks to Neil we had the best one so far. We have nothing but great things to say!
–WestJet
Success was defined yesterday by my engaged team and 200 smiling faces around the room. Neil captured us and inspired each of us to exit the room better people then when we walked in. Grateful.
–Morgan Stanley
Very engaging, spoke from the heart, and really connected with everyone!
–American Express Global Travel
[Less..]