Stuart Knight
Expert Communicator, Thought Leader, Disruptor, Visionary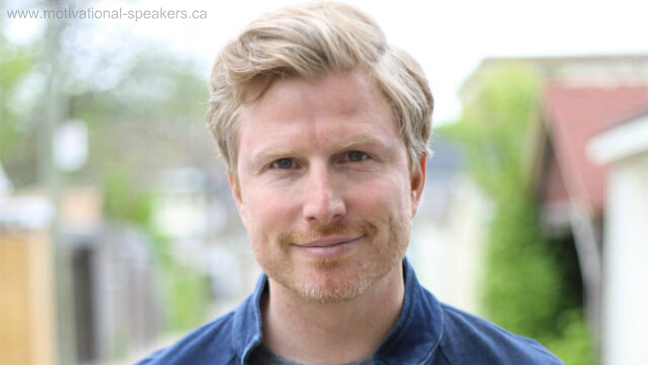 Bio
Stuart Knight helps the world's biggest companies reach new levels of success. An award-winning entrepreneur, communications expert, and critically acclaimed author, Stuart's clients are the "who's who" of business — from Nike and Telus, to Kraft and BMO — with his presentations seen by over one million people worldwide.
When he is not on the road speaking, you may have seen or heard him on some of Canada's biggest TV and Radio stations where he is often asked for his expert opinion on high level communication.
Believing that organizations are only as strong as their people, Stuart uses hilarious stories and well-earned insights to motivate everyone to achieve their goals in both their professional and personal lives. +
The author of You Should Have Asked: The Art of Powerful Conversation, and The Madness of My Mind, Stuart also writes a weekly blog followed by over ten thousand people.
The founder of The Top Ten event, one Canada's biggest speaking extravaganzas, Stuart brings together many of the world's most interesting people to share their stories in support of charitable causes. --
Topics & Categories
Business Management & Strategy
Communication
Corporate Culture
Creativity | Innovation | Disruption
Customer Service & Loyalty
Employee Engagement
Entrepreneurship
Human Resources & Workplace Culture
Inspiring Stories
Leadership
Most Requested Speakers
Most Requested Virtual Speakers
Motivational
Networking
Risk & Risk Management
Sales & Service
Team-Work & Collaboration
TED Speakers
Virtual Presentations
Stuart Knight offers a wide variety of high impact "virtual" keynotes and workshops. He will always customize each presentation to meet your needs to ensure your audience is entertained and walks away with tools they can immediately use to become more successful in business.
VIRTUAL / LIVE KEYNOTES:
More Human, More Often: How to Connect After a Pandemic +
A silent pandemic was brewing years before the one we all know today, and yet it was Covid that helped us finally see it. For decades the world has faced a crisis in human connection, and it's been the root cause of every challenge faced by humanity. On a macro level, it has created international conflicts, national divisiveness and community breakdown. Individually, our disconnection from each other is behind a wide range of physical and mental ailments including chronic pain, anxiety, depression, greater stress and so much more. Governments, companies and organizations can no longer ignore the reality that without human connection, we can survive, but we will never truly thrive.
Stuart Knight has over twenty-five years experience travelling the world teaching audiences about the power behind meaningful human connection. In his latest keynote, he provides a scientifically backed "wake up call" for people ready to acknowledge the truth that without each other, we have nothing. In this hilarious, entertaining and deeply thought provoking presentation, Stuart Knight unveils the elephant in the room we all knew was there, but didn't know how to see. Incorporating meaningful human connection into your culture, and individual lives, is the change the world has been waiting for! --
The Choice: Five Decisions All Leaders Make During A Crisis +
It's not about how you are coping, but rather how you are "coviding" during the pandemic. Let's face it, some companies will "covid" better than others, and the ones who inspire their leaders to make powerful decisions will come out on top. During this presentation, Stuart takes your team through the five decisions they have to make in order to thrive during a crisis.
Pride
During challenging times it's easy to lose sight of what gets you out of bed in the morning and even easier to focus your attention on the negative. If there was ever a moment to pause and remind yourself of the direct impact you have on others, it's during chaotic times. Stuart will help your team remember what matters the most and to let that feeling motivate and guide them through the fog.
Fear
Ask any expert on fear and they will tell you the same thing. Most of it is made up and the rest of it can be channelled into something great. Unfortunately, not everyone seems to get that, and this is where Stuart comes in. He will help your team identify the biggest fears, concerns and worries that are causing stress and anxiety and will show them how to redirect that energy into a pretty awesome life force.
Creativity
In the midst of uncertainty, organizations often make the mistake of only relying on practices that have been tried, tested and true. While it's important to make calculated decisions during unsure times, it's just as critical to consider the questions no one is thinking to ask. Doing so will lead you to an unexpected reinvention of ideas that will separate you from the pack.
Thicker Skin
True leaders know that it's not about avoiding the calamity, but rather embracing it as the incredible opportunity that it is. Being knocked down in life is a beautiful moment that most people miss because they focus their attention on the collateral damage from the explosion and not the lesson to be learned. Stuart will teach your team how to look past the smoke and use the pain of any experience as a chance to develop the thicker skin you need to be a great leader.
Aiming for the Impossible
Anyone can aim for the stars when the stars are aligned, but it's a much harder thing to do when the rules of the game have changed. Since the history of time it has always been the excitement of a better future that has driven people to create great change. It is for this reason that Stuart will inspire your team to set goals that seem a little crazy today, but will give them an exciting tomorrow to look forward to and strive for. --
Four Conversations for Success +
Anyone can talk business. When was the last time you talked life? How do you feel when the guy behind the counter remembers your name? Why do people work hard for some managers and not others? Do your clients look forward to seeing you? What do you know about your customers that your competition doesn't? Do you see them? They're everywhere. That's right, they are called people and if you don't really know them, you're just another company trying to survive. (Also offered as a workshop) --
The Choice: 5 Decisions All Winners Make +
Do you know why some companies are more successful than others? Here's a hint. It has nothing to do with their people waking up earlier, working harder or having prestigious degrees. They simply have leaders who make five decisions every single day. Do you know what they are? Don't worry, Stuart Knight does, and he'll inspire your team to make them. Warning: This will lead you to greater success. (Also offered as a workshop) --
Stuart Knight is represented by K&M Productions. For more information,* fees, Stuart Knight's speaking schedule & booking Stuart Knight contact us. *Fee range indicated is for live, in-person events. Contact us for pricing on "virtual" events.

Keywords: Business Management & Strategy, Communication, Leadership, Corporate Culture & Creating a Winning Corporate Culture, Creativity/Innovation/Disruption, Customer Service & Loyalty, Employee Engagement, Relationship Building, Entrepreneurship, Office & Workplace Culture, Inspiring Stories, Most Requested Speakers, Motivational Speaker, Networking, Risk & Risk Management, Sales & Service, Team-Work & Collaboration, TED Speakers, Employee Morale, Group Collaboration, Success, Motivation, Team Work,
What Clients are Saying
Stuart was such a hit at our Conference that we made it a priority to have him back in for a Province wide tour.
–Insurance Brokers Association of Ontario
[More..]
Stuart was such a hit at our Conference that we made it a priority to have him back in for a Province wide tour.
–Insurance Brokers Association of Ontario
Stuart Knight has an uncanny ability to connect with his audience. At one moment you are laughing hysterically, and the next moment you are on the edge of your seat as he shares profound insights into the world we live in.
–Sun Microsystems
Stuart is an amazing talent – inspirational, motivational, wickedly creative, and best of all funny! I highly recommend his shows or corporate speaking engagements to everyone or anyone.
–Redux Media
I received GREAT feedback on your session. The majority of the delegates have been coming to this for over 10 years and many people told me personally you were the best speaker we have ever had.
–Canadian Employee Relocation Council
We just had Stuart Knight as our opening keynote for a leadership retreat and he was the highlight of the conference. The audience loved his high energy, humor and relevant messages that they use every day in their businesses. He was a joy to work with and took the time to make the talk personalized to our industry. I would recommend Stuart to any organization ready to teach their team to how to build better relationships!
–Eye Recommend
Stuart's presentations are a combination of entertainment, education, inspiration and fun. They provide a unique environment for individuals to maximize their inter-connections thus promoting ideas and alliances, while generating real momentum within the group.
–Emerson
Stuart Knight had the challenge, at our national conference, of engaging an audience of franchisees and head office staff who have 'heard it all before' in terms of motivational speakers. He knocked it out of the park. Stuart's command of the stage, his masterful skills as a moderator and his entertaining style of delivery compelled people to see things in new ways — and to think about and experience the art of interaction and the power of meaningful conversation as critical success factors in their business and personal lives. I would highly recommend Stuart as a keynote speaker for anyone looking to engage attendees, entertain and offer them actionable insights for living a fuller and richer life.
–Pita Pit
[Less..]