Tod Maffin
Digital Technology & Marketing Expert | Mental Health in the Workplace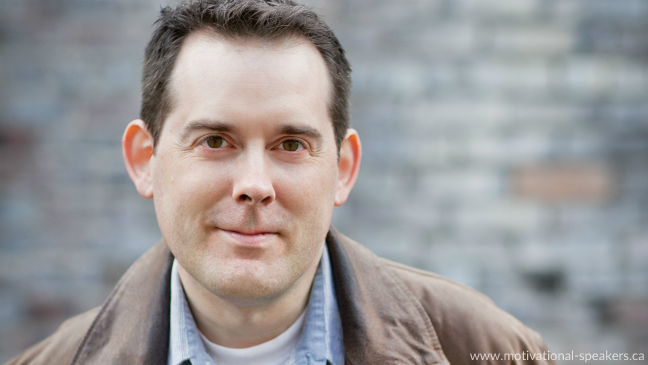 Bio
Even at seven o'clock in the morning, technology speaker Tod Maffin's upbeat and enlightening presentations on digital technology and marketing bring audiences to their feet. Recognized as a thought leader in online business innovation and strategy, he sheds light on trends and technological advancements, specializing in campaigns for specific sectors, from human resources to social media to real estate to education. His comprehensive understanding of high-velocity change and competition, hyper-innovation, and the accelerating pace of the world offers an insider's viewpoint of what lurks around the corner—whether it's six months, a year, or 10 years away. +

Maffin is president of engageQ digital, and one of Canada's go-to commentators on the impact of accelerated technological change and innovation on the business and economic environment.

As one of Canada's podcasting pioneers, Maffin writes a blog that is followed by thousands of people in the media, in technology, and in business communities around the world. He also reports on national technology trends for CBC Radio, and was the past host of todradio dot com, and Real Life Chronicles. --
Topics & Categories
A.I. (Artificial Intelligence)
Business Management & Strategy
Communication
Corporate Culture
Creativity | Innovation | Disruption
Customer Service & Loyalty
Employee Engagement
Future Trends
Human Resources & Workplace Culture
Information Technology (I.T.)
Leadership
Marketing & Branding
Mental Health
Performance & Productivity
Retail
Sales & Service
Science & Technology
Social Media | Internet of Things
Trainers
Urbanism | Cities
Some of Tod Maffin's Speaking Presentations:
Taking Crazy Back: Mental Health in the Workplace +

With depression rates soaring in the workplace, do we need a radical new way of providing mental health services to our employees? Tod Maffin thinks so.

Once the founder and CEO of a multi-million dollar technology firm, Tod's workload and always-on personality finally caught up with him and over the following years, he was crippled by a devastating depression and addiction — all the while struggling to appear to be productive to employers and colleagues, and happy and healthy to his friends and family.

In this provocative keynote speech, Tod will reveal to your delegates how this always-connected landscape has seduced all of us into endless multitasking and infinite email — all the while pretending that this increasing workload is the best thing for "productivity."

In fact, this hyper-connected economy may be both destroying the productivity of workplaces and eroding the mental health of companies' most valuable asset — their people.

Tod will outline his own bold strategy for bringing mental health discussion out of the shadows in a way that will challenge your attendees for years to come.

Tod's story is emotional — at once funny and poignant, sad and hopeful. Nearly all audiences give him a standing ovation for his work on the podium. He has spoken for the Canadian Mental Health Association, universities, companies, and many more.

After attending this session, your attendees will know HOW TO:
Train staff on factoring "intuition" into their decision-making processes
Create a workplace culture where asking for help is rewarded
Abolish "presenteeism" from the workplace
Use technology to actually gain time (not spend it fixing the technology!)
Develop a simple sticker-based mentorship plan at your workplace --
BEYOND SOCIAL: The Future Is Only Scary If You're Not In It +
So. Here We Are.
It took a while, but your organization has finally embraced social media. You're listening, posting, and engaging in real conversations. And it's starting to pay off. You're seeing some modest growth and the VP of marketing is happy to have pretty new metrics to measure. Nice work.

But What's Next?
Meanwhile, your competitors have been quietly working on reaching people in a world beyond social. They're using technology to identify high-value customers as they walk in the store. They're popping up offers on the smartphones of people near their location. And it's working. Shouldn't your company be there too?

Marketing Beyond Social
Social media sites have figured out they're hugely valuable. And they're making brands pay plenty to reach customers. In a world beyond social, you will build your own "social" networks, redefine your KPIs, and overhaul your entire sales funnel.

Influence Mobs
It's true. The smart brands no longer spend their time trying to reach a broad range of prospects. In a world beyond social, you'll need to form a new "mob mentality" — turning influencers into brand advocates with pinpoint precision.

Smartphone Culture
They're finding you on their phones. On their watches. On their glasses. Is your organization meeting them in these new channels? Tod will share industry-specific case studies on how other brands are exploiting this new technology to grow faster.

Predictive Response
Until now, it's all we had — models based on past behavior. Stop looking in the rear-view mirror. Now that we're beyond social, we can use biometric technology to identify people most likely to take action at the most opportune moment.

This high-energy keynote presentation can be in formats from 60 to 90 minutes in length. It's best suited for groups involved in marketing, leadership, sales, product design, and IT. As with all Tod's presentations, attendees will be able to download the complete presentation and additional material after. --
TOUCH: Five Factors to Growing and Leading a Human Organization +

In a world filled with complicated web forms and digital marketing services, have we lost the "human" element in how we run our organizations?

Tod Maffin is the co-author of TOUCH: Five Factors to Growing and Leading a Human Organization.

In this information-packed keynote presentation, Tod will walk your audiences through the seven primary areas your organization needs to focus on to bring the humanity back into how you do business. The Five Factors are:
Technology

Outcomes

Uniqueness

Clarity

Humanity
Topics covered:
Leadership: Defining your organization's human values, the business language of humanity, becoming a "Chief Humanizing Officer"
Customer Service: Combating the death of loyalty, fostering a new ethic in your call centres, the role of the "brandividual," etc.
Human Resources: The new world of benefits, turning goals into games, launching a results-first program, social recruiting tools, the power of workplace senses
Web/Social: Understanding the new human digital metrics, creating a people-based online experience, web workflow done the right way
Sales and Marketing: Identifying influencers and leading brand advocates, exploiting our personal datapools, next-gen human marketing
Crisis Communications: Responding to those with "digital personality disorder," the SWARM system, managing your brand reptuation the human way
R&D: Crowd-sourcing your research, developing products with personality, and more.
It's time to drop the former focus on "Product, Place, Promotion, and Price" — and instill a new 4P ethos in your organization: People, Promise, Pride, and Pace. --
Deconstructing Viral: How to Build a Killer Viral Marketing Campaign +
Can blind luck be reproduced? Absolutely, says engageQ digital's Tod Maffin.

Today's viral campaigns may seem like jackpots in a one-in-a-million lottery, but it turns out they are well within the reach of any marketing team's grasp. All it takes is knowing the secret ingredients behind some of the world's most talked-about campaigns.

By reverse-engineering each element of a successful viral campaign in your industry, Tod Maffin will show your audience the key markers that can launch a campaign into the viral stratosphere — markers that can be programmed into the smallest budgets.

He will literally "deconstruct" a viral campaign, piece by piece, then show your group how to re-assemble a campaign for their own organization.

And, using his methodology, he'll detail for your attendees each of the six action steps required for launching an impactful and measurable viral campaign.

You will never look at a viral campaign again the same.

After attending this session, your attendees will know HOW TO:
Develop a marketing campaign that is much more likely to "go viral"
Convert a brand takeover attempt to a viral mini-campaign
Create your own ACC-Matching grid to microtarget exactly the right viral influencers
Craft the right Stunning, Serious, or Silly tone which will resonate with your targets
Reward and incentivize people who help spread your campaign
Deliver continued successive rounds to dramatically boost virality --
Smart Communities, Engaged Citizens +
They're already there. Your citizens and businesses are engaging with each other, talking about your community, and doing business with each other.

And your community's voice is, well, is an aging web site.

It doesn't have to be this way.

Using the same web sites that your civic stakeholders are already using, you could be helping lead the dialogue, getting important information to people, collecting opinion on issues from zoning to schools to property tax. And all with safe, secure, and standards-compliant tools.

Tod Maffin will show your attendees how successful cities and communities your size are already using mobile and social media to be more effective in their communications, cutting costs, and — most importantly — developing an engaged, active citizen base.

He'll break down three successful campaigns for re-election and walk your group how the elected representative used specific digital tactics.

The keynote is fast-paced, information-packed, and fun!

After attending this session, your attendees will know HOW TO:
Build real connections with socially influencial citizens and voters
Create a community-needs viral idea platform
Avoid the big "tweet mistakes" which have taken down politicians' careers
Deploy the key online relationship-building ethos (authenticity, opinion-seeking, and humanity) in your communications
Ensure your messages are reaching your targets on Facebook's busy news feed (without buying ads)
Use social tools to get elected or re-elected (with lots of successful campaign case studies)
Develop a "social influencer outreach" campaign team --
SWARM: Crisis Communications in the Social Space +

Key Takeaways
After attending this session, your attendees will know HOW TO:
Monitor for negative brand feedback
Get instantly alerted to potential problems
Respond to attacks in social media
Convert "enemy combatants" to advocates
Now that you've got your company's social media platforms in place and staff trained, how prepared are you for when you're attacked on those same platforms, either by angry customers, Internet "trolls," or ill-informed pressure groups? In a session that can work as a full keynote or intimate session for senior leaders, attendees will learn:
Tod's company's highly effective PEDB (Praise/Escalate/Delete/Ban) flow-strategy for managing your brand's social media presence
How to create a Negative Response Strategy for your firm
The most effective, compliance-safe social media policies for employees
How one of the most talked-about social media campaigns ended up nearly destroying its brand
Tod's model of a "web swarm," and his five-step methodology for responding to a swarm
How your legal and marketing teams should deal when your brand falls victim to "Twitterjacking"
Case studies of instances where organizations in your industry have faced attacks online, how they dealt with them, and the results
Why your organization's next hire needs to be a Chief Humanizing Officer and what that role would entail
How to monitor the state of your brand's reputation daily, with almost no technical expertise
Each attendee will also walk away with a detailed information kit containing regulatory-safe social media policy examples, a sample Negative Response Strategy, a flow diagram of Tod's PEDB (Praise/Escalate/Delete/Ban) strategy for immediate implementation in your firm, a copy of Tod's slides, and more.

What you learn at this session may save your brand millions. Or its life. --
Tod Maffin is represented by K&M Productions. For more information on Tod Maffin's speaking schedule, speaking fees & booking Tod Maffin, contact us.
What Clients are Saying
Tod's presentation on Recruiting the Facebook Generation was to say the least, engaging, relevant and inspiring. His knowledge regarding the Facebook Generation is bang-on. His use of media and language throughout the presentation captivated the audience and kept you at the edge of your seat wanting to learn more. I walked away from the presentation inspired and motivated for change.
–LCBO
[More..]
Tod's presentation on Recruiting the Facebook Generation was to say the least, engaging, relevant and inspiring. His knowledge regarding the Facebook Generation is bang-on. His use of media and language throughout the presentation captivated the audience and kept you at the edge of your seat wanting to learn more. I walked away from the presentation inspired and motivated for change.
–LCBO
He's not about the cookie-cutter application or speech, rather his ability to listen and identify a company's specific needs and then tailor his approach to its stage of readiness is really unique to most gurus in this area. He is an absolute professional who will enthusiastically tell you your present and future, if you're ready to hear it.
–CBC (Canadian Broadcasting Corporation)
Thank you so much for your presentation in Calgary at The Conference Board of Canada's Workplace Health Conference. Your presentation was really excellent! Your professional and personal messages are powerful, engaging and moving. You truly are a very gifted speaker and a resilient individual! It is a great pleasure to work with you.
–Alberta Mental Health Board
[Less..]