Valerie Pringle
Award-Winning Television Broadcaster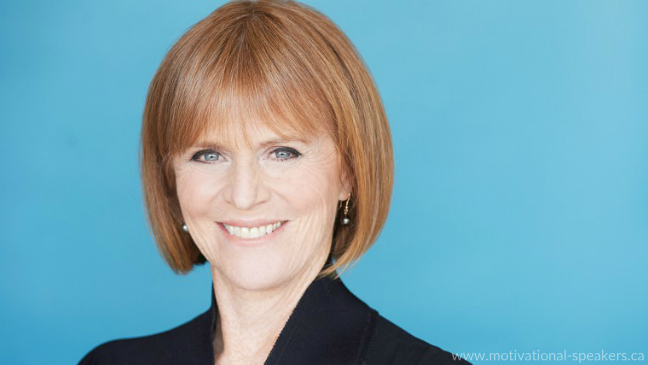 Bio
Valerie Pringle is one of Canada's best known and most respected broadcasters, television hosts, public figures and volunteers. Chosen as one of the "Fifty Famous Faces of Fifty Years of Canadian Television," by the Banff Television Foundation, her astute questions and charming wit make her an outstanding moderator, host, or featured speaker for any type of event. +

She started her career at age 19 as a student reporter with CFRB Radio in Toronto after graduating from Radio and Television Arts at Ryerson. She helped launch the CBC-TV news and current affairs program, MIDDAY. Valerie moved to CTV in 1993 and co-hosted Canada AM until 2001.
Valerie then helped produce, write and host documentaries and series including "Valerie Pringle Has Left the Building" for CTV, "Test of Faith" for Vision-TV and "The Canadian Antiques Roadshow" for CBC-TV.
She is now involved full-time in not for profit work. She is co-Chair of the Trans Canada Trail Foundation. She is a member of the Foundation Board of the Centre for Addiction and Mental Health Foundation, The Ontario Brain Institute, the Stephen Lewis Foundation and the International Festival of Authors. She is a mentor for the Pierre Elliott Trudeau Foundation.
Valerie was awarded an honourary doctorate from Ryerson University and was appointed as a Member of the Order of Canada in 2006 for her contributions to communications and her volunteer work. --
Topics & Categories
Celebrities & Media
Event Hosts & M.C.\'s
Health & Wellness
Inspiring Stories
Mental Health
Motivational
Women of Influence
Valerie Pringle's Speaking Presentations:
Growth Is The Only Evidence of Life: A Career Path +
Valerie Pringle will describe how she began her career in journalism on radio and television while balancing a busy home life with three children. She will describe the arc that led her from broadcasting to the non-for-profit world where she now volunteers as a Board Member and fundraiser and who her heroes and inspiration have been. How do we manage and embrace change and who are the examples of this? She will talk about making transitions and figuring out when to leave and what is worth spending your time on. She now works very hard as an advocate fighting for improved treatment and access to care for the mentally ill and addicted and against stigma which prevents 2/3 of the people with mental illness and 90% of people with addictions from seeking help. As well Valerie is working to connect the Trans Canada Trail, a 23,000 km recreational Trail from coast to coast to coast for Canada's 150th birthday. --
Life Lessons and the Ring of Truth: My 5 Favourite Interviews and What They Taught Me +
Valerie Pringle shares the five favourite interviews she's conducted in her extensive career with some of the world's most celebrated personalities in the fields of television, the arts, religion and social activism. Valerie describes the lessons and insights she took away from these conversations, and how we can all learn from their words of wisdom. She also relates stories of the wonderful and not-so-wonderful people she interviewed and why we all need (s)heroes in our lives. --
Why I Am An Advocate For Mental Health (Give Your Head a Shake) +

Valerie explains why she chose to become a mental health advocate:
What was her daughter Catherine's experience of mental illness?
How did she get help and how does her daughter look back on the experience now?
What has Valerie learned from helping her daughter after being what she describes as "pretty clueless" for many years as to what Catherine was experiencing?
Why does she feel people are hungering for honesty and openness as stigma around mental illness is as damaging as ever?
Why is the shame so great and what will make it better?
What are the most important lessons she has learned about dealing with mental illness and addiction?
Valerie speaks with honesty, concern and humour about going public about mental illness and the difference it has made in her life, and shares four key pieces of advice for those suffering in mental illness or supporting loved ones as they go through it. Valerie's daughter, Catherine, joins her for this talk when she is available. --
Valerie Pringle Has Left the Building... +
As the former host of Valerie Pringle Has Left the Building, Valerie had the unique opportunity to travel to some of the world's most interesting places. Using video clips from some of her favourite trips, Valerie discusses the wonder and importance of travel. --
Hosting & Emceeing
Celebrity & Personal Appearances
Valerie Pringle is represented by K&M Productions. To inquire about Valerie Pringle's speaking schedule, fees & booking Valerie Pringle, contact us.
Testimonials
Valerie Pringle connected with her audience in a way few speakers have. Her charm, openness and ability to make even the most difficult subjects easy to talk about, well … it made for a hugely engaging evening.
–Ramsay Inc.
[More..]
Valerie Pringle connected with her audience in a way few speakers have. Her charm, openness and ability to make even the most difficult subjects easy to talk about, well … it made for a hugely engaging evening.
–Ramsay Inc.
Valerie was speaking to an audience of professionals - mental health court judges, social workers, psychiatrists, correctional officers, policy makers and senior government officials to name a few. She acknowledged their expertise and to some degree I imagine, her talk reminded them of how their decisions and guidance affects families dealing with mental illness. She got a standing ovation!
–International Institute on Special Needs Offenders & Policy Research
[Less..]