Vikram Mansharamani
Speaker; Harvard Lecturer; Global Equity Investor; Bestselling Author of Boombustology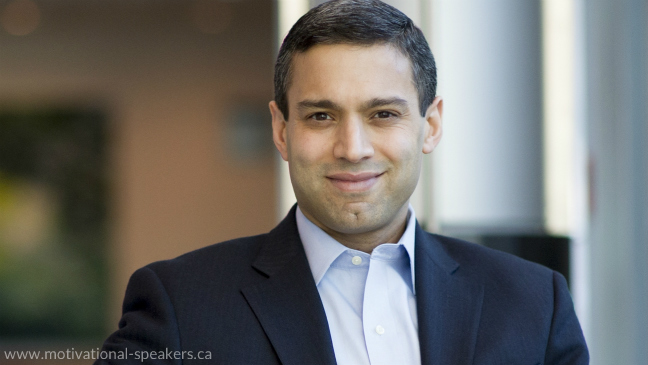 Bio
Dr. Vikram Mansharamani is a global trend watcher who shows people how to anticipate the future, manage risk, and spot opportunities. He gained widespread attention with the release of his first book, Boombustology, which provided a framework for spotting bubbles before they burst. Since then, he has been a frequent commentator on issues driving disruption in the global business environment. In his engrossing talks, Mansharamani applies his unique multi-lens approach to connect seemingly irrelevant dots. He analyzes the business impact of global economic, political, and social trends to forecast opportunities ahead specific to his audiences.
Mansharamani has been an active participant in the financial markets for the last 20 years, with experience in management consulting, investment banking, and asset management. Today, as an advisor, he works with numerous boards and Fortune 500 CEOs to help them navigate radical uncertainty in today's business and regulatory environment. His thematic analysis and risk management is always focused on identifying opportunities within the risks.
In 2020, Mansharamani released his second book, Think for Yourself: Restoring Common Sense in an Age of Experts and Artificial Intelligence. He is also a frequent contributor to top media outlets and publications such as Bloomberg, Fortune, Forbes, and The New York Times, and the host of the podcast, Navigating Uncertainty. Mansharamani has been named one of LinkedIn's "Top Voices in Money and Finance" and one of the 100 most powerful people in global finance by Worth Magazine.
Mansharamani has a PhD and two master's degrees from MIT and a bachelors degree from Yale University. Up until June 2022, Mansharamani was a lecturer at Harvard University, where he taught students to use multiple perspectives and systems thinking to guide their process. He has also taught at Yale University. In 2022, Mansharamani was a candidate for the United States Senate.
Topics & Categories
Economics & Finance
Energy Issues
Future Trends
Global Issues
Health Care & Medicine
Risk & Risk Management
Virtual Presentations
Navigating Uncertainty: An Unconventional Approach +
In this stimulating and entertaining talk, Dr. Vikram Mansharamani applies a unique combination of practitioner experience and academic perspective to help audiences navigate the seemingly unending crosscurrents of global economic, financial and geopolitical uncertainty. He explains how we got to the current world of protectionism, nationalism, populism, and currency conflicts and explores how the combination of political, social, technological, demographic, and economic pressures will impact future trends. After presenting several scenarios, he considers the risks and opportunities emerging from a recession or an escalation of global tensions. While audiences often find themselves agreeing with Dr. Mansharamani each step of the way, they're frequently surprised by what turn out to be unconventional conclusions. --
Think for Yourself +
In a fast-paced world driven by complex and changing factors, connecting the dots is often more important than developing them. As a result of the overwhelming flood of information that pours at us daily, we run headlong into the arms of experts and technologies. We've stopped thinking for ourselves and now habitually – perhaps unconsciously – outsource our thinking about important decisions. Rather than turn to specialists, Dr. Mansharamani guides us to think bigger and look across the silos of expertise, leaving listeners empowered and energized to think for themselves. This memorable talk is filled with stories from a variety of industries and settings about how we got to where we are and how we can reclaim control. --
Boom or Bust: Spotting Bubbles Before They Burst +
Our dynamic global economy seems to be producing boom and bust cycles more frequently than in the past. There's always something that seems ahead of itself, having reached unsustainable levels. In direct contrast to the prevailing academic thinking, Dr. Vikram Mansharamani believes it's possible to identify financial (and other) bubbles before they burst. Drawing on entertaining examples from art markets, architecture, and popular culture (as well as economics and politics), he powerfully demonstrates that you need not be an expert to anticipate the future. Audiences leave this talk feeling empowered to think independently and connect the obvious dots to generate not-so-obvious conclusions. --
Vikram Mansharamani is represented by K&M Productions. For more information, speaking fees, date availability & booking speaker Vikram Mansharamani contact us. Very serious, booking-related inquiries only. Travels from New Hampshire USA.
What Clients are Saying
Vikram was fantastic. He's such a nice man; really personable and genuine. Our conference attendees loved his presentation–and I mean loved! I suspect that he will be the highest rated speaker at this event.
–Credit Union Central of Canada
[More..]
Vikram was fantastic. He's such a nice man; really personable and genuine. Our conference attendees loved his presentation–and I mean loved! I suspect that he will be the highest rated speaker at this event.
–Credit Union Central of Canada
Dr. Mansharamani is a talented speaker who connects with his audience. He is able to distill broad themes into relatable bites through illustrative and effective storytelling and use of visual images. He invites the audience to engage directly with him and they do! He is adept at and seems to enjoy responding to questions and challenges to his point of view. Dr. Mansharamani was among the best speakers we'vve had in our Author Series – evidence: the long line of people who sought to meet him and ask more questions following his presentation.
–Federal Deposit Insurance Corporation
One of the most important topics in global economics today was presented with enthusiasm and humor, supported by well-researched analysis. This attention-grabbing presentation is a must for anyone who's looking ahead to the Next Big Boom (or Bust).
–External Equities Department, Abu Dhabi Investment Authority
Thank you again for working with us for the Industry Business Forum and Convening leaders. Quite simply you were GREAT. The content was enriching for all, high level and you forced us to think differently.
– Professional Convention Management Association
Vikram is a wonderful speaker. He engaged the audience from his opening comments and kept them entertained and informed until the end. The Q and A session was equally beneficial. He handled all the questions with colorful concise answers and encouraged everyone to participate. The audience clearly enjoyed the presentation and gave him great reviews in the survey. I would certainly recommend him to any group that needs insight into Bubbles and the Global Economy.
–Program Chair, CFA Virginia, Richmond, VA
Rare is the speaker that offers a perspective culled from a variety of disciplines. Seeking such a person, we booked Vikram to speak to our group, which is comprised of CFA charter holders with a wealth of experience in financial markets. He was someone we thought would inspire outside-the-box thinking, and he delivered in spades. Vikram offered a broad, macro-level presentation that exposed our audience to potential opportunities and threats facing the world. He's an incredibly knowledgeable, dynamic speaker whose presentation just might change your worldview – he certainly changed a few among our group.
–CFA, President, Sagacious, Programming Chair, CFA Society of Iowa
[Less..]