Vikram Mansharamani
Speaker; Harvard Lecturer; Global Equity Investor; Bestselling Author of Boombustology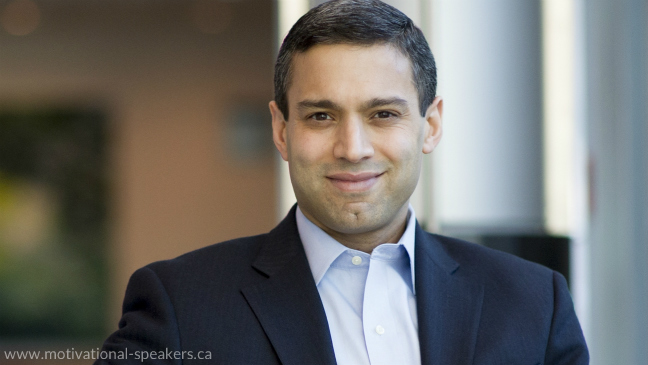 Bio
Dr. Vikram Mansharamani is a global trend-watcher who shows people how to anticipate the future, manage risk, and spot opportunities. He gained widespread attention with the release of his first book, Boombustology, which provided a framework for spotting bubbles before they burst. Since then, he has been a frequent commentator on issues driving disruption in the global business environment. In his engrossing talks, Dr. Mansharamani steps back from complex market dynamics and uses a multiple-lens framework to look at disparate data to provide actionable insights and indispensable information. +
Dr. Mansharamani has been an active participant in the financial markets for the last 20 years. His experience includes positions in management consulting, investment banking, and asset management. In 2020 he released his second book, Think For Yourself, which argues for the importance of a return to common sense and autonomy in the face of a flood of data, expert opinions, and AI-controlled helpers.
Currently a lecturer at Harvard University, Dr. Mansharamani teaches students to use multiple perspectives in making tough decisions. Previously, he was a lecturer at Yale University. In addition to teaching, he also advises several Fortune 500 CEOs to help them navigate the radical uncertainty in today's business and regulatory environment, and he also regularly advises sovereign wealth funds, endowments, foundations, and family offices on how to manage their allocations in the face of overwhelming uncertainty.
Dr. Mansharamani is also a frequent contributor to top publications such as Bloomberg, Fortune, Forbes, The New York Times, and many others. So valuable are his insights, that LinkedIn named Dr. Mansharamani #1 on their "10 Top Voices in Money and Finance" list in both 2015 and 2016, and Worth Magazine profiled him as one of the 100 most powerful people in global finance.
He has a PhD and two masters degrees from MIT and a bachelors degree from Yale University, where he was elected to Phi Beta Kappa. --
Topics & Categories
Economics & Finance
Energy Issues
Future Trends
Global Issues
Health Care & Medicine
Risk & Risk Management
Virtual Presentations
Zoom Out! - The Generalist Advantage
A New Way to Navigate Uncertainty & Risk +

Every day, we are confronted with radical global uncertainty — new policies and regulations, the impact of populism and protectionism on global business, fluctuating commodity prices, shifting political influence, interest rate and currency risk, and a myriad of other trends. To cut through the noise and confusion, we have increasingly come to rely on hyper-specialized experts. This trend has helped us to solve important problems, but not without a cost. The result is that we live in a world that overvalues expertise and specialization. Has the pendulum swung too far? Vikram Mansharamani thinks it has – and it's impacted our ability to manage risk, navigate disruption and uncover hidden opportunities.

In this speech, Mansharamani offers scores of compelling real-life examples showing how expertise, while useful, leads to tunnel vision. Psychological studies have demonstrated that overreliance on the heavily-focused vision of experts can lead us to miss the most important signals—the ones we're least primed to see. We can be blinded by focus. Instead, Vikram advocates cultivating a broader view – a generalist's mindset. When most people encounter seemingly irrelevant information, they think "So what?!" Generalists think "isn't that interesting!" Compiling these moments and connecting the dots often results in very different conclusions from the "experts." Vikram's real-life examples of this reveal an effective approach to anticipate the future.

Mansharamani explains why we need to supplement the overwhelming dependence on specialists with a self-reliant generalist mindset. Generalist 'foxes,' more than specialist 'hedgehogs,' as Isaiah Berlin classified them, are psychologically open to ideas that are radically different from what they've encountered before. In fact, in our increasingly interconnected, dematerialized economy, the future may belong to the generalist. Those who connect dots rather than generate them will be better suited to navigate the uncertainty. Indeed, research has shown that generalists may be better at predicting the future than experts—likely because they are not bound to a single lens or framework, and they have a profound awareness not primarily of what they know, but of what they don't know. With colorful examples from economics, aviation, sports, dieting, and detective fiction, Vikram shows audiences how intellectual humility, flexibility and breadth of perspective beat depth of knowledge. To succeed in the 21st century, he notes, we need to keep experts on tap, just not on top.

Building on insights from the research he conducted at the Harvard Kennedy School and from his current book project, Vikram shows the importance of thinking like a generalist, from the boardroom to the household to the operating table. Entertaining and empowering, Vikram Mansharamani helps people be mindful about the appropriate times to zoom in and zoom out—and thus to become better prepared to manage risk and achieve a greater self-reliance. Audiences will leave knowing how to embrace the power of foxy thinking. --
The Global Consumption Boom
Why Everything Is About To Change +
As the middle-class balloons in emerging nations, a global consumption boom will have an unprecedented impact on food, fuel, precious metals and other commodities. The likely impact on the global standard of living will drive geopolitical and economic uncertainty. Vikram Mansharamani untangles the dynamics and helps audiences think differently about the nature of global prosperity and how it will shape their business. --
The End of Cheap Food
A Forecast +
Food is emerging as one of the future's most volatile assets. Shifting political, economic, climatic and societal change all factor into the equation. Vikram Mansharamani shows that the era of cheap food is over and describes the geo-political and geo-economic ramifications—from Wall Street to Pudong. The implications of land grabs, fertilizer availability, climate change, water scarcity, and price-related food (in)security will have profound impact on our world. --
The Global Economy
An Unconventional Look +
Europe falling apart? China collapsing? Treasury bubble popping? Japan's economy imploding? Energy dynamics creating geopolitical unrest? Vikram Mansharamani applies his multi-lens approach to help people manage the cross-currents of rapidly-changing global economic, financial and political developments. His customized content incorporates information that's fresh and relevant. --
Spotting Bubbles Before They Burst +
Vikram contends the ability to identify financial (and other) bubbles before they burst is easier if you step outside your expertise. Narrow focus can lead to tunnel vision. Instead, look broadly through multiple lenses—to art markets, architecture, popular culture, economics, politics and more. Vikram empowers audiences—assuring them that they don't need to be an expert to effectively anticipate the future. --
Vikram Mansharamani is represented by K&M Productions. For more information, speaking fees, date availability & booking speaker Vikram Mansharamani contact us.
What Clients are Saying
Vikram was fantastic. He's such a nice man; really personable and genuine. Our conference attendees loved his presentation–and I mean loved! I suspect that he will be the highest rated speaker at this event.
–Credit Union Central of Canada
[More..]
Vikram was fantastic. He's such a nice man; really personable and genuine. Our conference attendees loved his presentation–and I mean loved! I suspect that he will be the highest rated speaker at this event.
–Credit Union Central of Canada
Dr. Mansharamani is a talented speaker who connects with his audience. He is able to distill broad themes into relatable bites through illustrative and effective storytelling and use of visual images. He invites the audience to engage directly with him and they do! He is adept at and seems to enjoy responding to questions and challenges to his point of view. Dr. Mansharamani was among the best speakers we'vve had in our Author Series – evidence: the long line of people who sought to meet him and ask more questions following his presentation.
–Federal Deposit Insurance Corporation
One of the most important topics in global economics today was presented with enthusiasm and humor, supported by well-researched analysis. This attention-grabbing presentation is a must for anyone who's looking ahead to the Next Big Boom (or Bust).
–External Equities Department, Abu Dhabi Investment Authority
Thank you again for working with us for the Industry Business Forum and Convening leaders. Quite simply you were GREAT. The content was enriching for all, high level and you forced us to think differently.
– Professional Convention Management Association
Vikram is a wonderful speaker. He engaged the audience from his opening comments and kept them entertained and informed until the end. The Q and A session was equally beneficial. He handled all the questions with colorful concise answers and encouraged everyone to participate. The audience clearly enjoyed the presentation and gave him great reviews in the survey. I would certainly recommend him to any group that needs insight into Bubbles and the Global Economy.
–Program Chair, CFA Virginia, Richmond, VA
Rare is the speaker that offers a perspective culled from a variety of disciplines. Seeking such a person, we booked Vikram to speak to our group, which is comprised of CFA charter holders with a wealth of experience in financial markets. He was someone we thought would inspire outside-the-box thinking, and he delivered in spades. Vikram offered a broad, macro-level presentation that exposed our audience to potential opportunities and threats facing the world. He's an incredibly knowledgeable, dynamic speaker whose presentation just might change your worldview – he certainly changed a few among our group.
–CFA, President, Sagacious, Programming Chair, CFA Society of Iowa
[Less..]