Decor Themes >>>
50's Diner

In order to commemorate our Client's 50th Anniversary, we transformed the Imperial Room at Toronto's Fairmont Royal York Hotel into the Imperial Diner. Ricky, Lucy, Marilyn, Elvis and vintage paparazzi helped to establish the timeline, while cocktails were celebrated amidst stainless steel stools and cruisers topped with retro candy-filled popcorn boxes, and the entrance was camouflaged with custom signage and a themed arbor.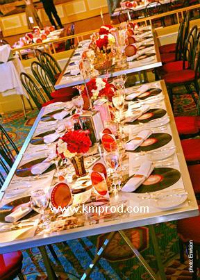 The reception tables were accented with a custom runner of 50's black and white imagery, branded menus, LP place mats and napkin rings and domes of red and white roses which sat atop retro Coca Cola glasses. Finally, guests placed their order for dessert at a retro diner counter complete with costumed staff, swivel stools and ambient décor.
Similar themes can be produced outside of the Toronto Ontario area but components may differ. All depicted prop decor components are rental items only and are not available for purchase or as singular rental items. Our preference is in working with our clients in creating and transforming an entire event space.
For more information on this theme simply contact us.