Human Statues for Corporate Events
(Toronto & GTA)
K&M Productions offers the best in body-painted living statues in Toronto and southern Ontario (Canada).They combine stunning decor and live entertainment all in one.



One of the most defining aspects of a company is their logo. It separates you from the rest and leaves a personal image in the minds of your guests and consumers. Combining the creativity and detail of your logo with the sensual appeal of the human body, they to bring your company logo to life.

There are very few things that stand out like a company logo painted on the canvas of a muscular human body. They can replicate virtually any logo, picture or text including clothing. Most surfaces can be also be reproduced allowing for a human body to be painted into an environment, for instance against a wall or painting.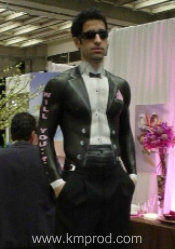 Gold statue look for "Oscar" themed & awards events: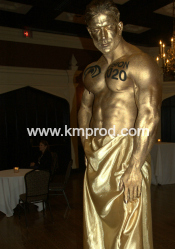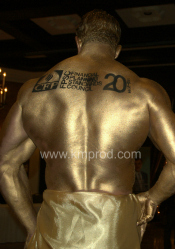 Human Statues offer several unique features including:
Their eloquent silence is able to transcend any language barrier;

Rather than enter your guests' space our entertainment can be appreciated from afar at the will of the viewer.

For well over a decade audiences around the world and on TV have been amazed by the humanl statues. They provide an exciting addition to any corporate function. A refreshing break from the norm. The shock that comes from guests when the once frozen statue flexes a pec or subtly moves a hand, is truly electrifying. Let your imagination soar!
For more information on booking human statues, simply contact us.