Decor Themes >>>
Mardi Gras

Once again, a non-descript venue space was transformed into the streets of New Orleans at Mardi Gras. The essence of the festival theme is conveyed using a variety of masks, historical street signs/lamps, costumed musician/models and colourful banners.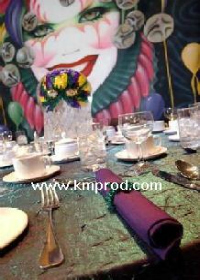 Similar themes can be produced outside of the Toronto Ontario area but components may differ. All depicted prop decor components are rental items only and are not available for purchase or as singular rental items. Our preference is in working with our clients in creating and transforming an entire event space.
For more information on this theme simply contact us.