Decor Themes >>>
Moroccan

The monochromatic approach to this event décor is offset with the layers of various textures, creating a breathtaking tented table setting as well as our stunning Moroccan "walking table" and hostess.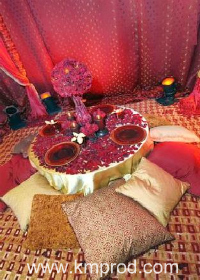 Similar themes can be produced outside of the Toronto Ontario area but components may differ. All depicted prop decor components are rental items only and are not available for purchase or as singular rental items. Our preference is in working with our clients in creating and transforming an entire event space.
For more information on this theme contact us.