Decor Themes >>>
Casino & Las Vegas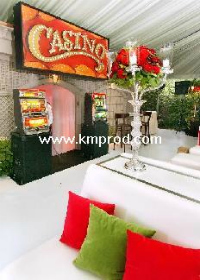 What better setting for entertaining, than that of the world famous adult amusement park; Las Vegas! Luxury and lights accent the white canvas of this event, while vibrant Vegas showgirls greet arriving guests, celebrities (look-alikes) mingle with the guests, a great Sinatra style tribute show entertains, as the casino floor comes alive with enjoyable edibles, colourful cocktails and a selection of favorite casino games.
Similar themes can be produced outside of the Toronto Ontario area but components may differ. All depicted prop decor components are rental items only and are not available for purchase or as singular rental items. Our preference is in working with our clients in creating and transforming an entire event space.
For more information on this theme contact us.