Fee Range
PGgzPkZlZSBSYW5nZSBmb3IgQWNyb2JhemlhPC9oMz48cD48YSBjbGFzcz0nYnRuLWRhcmsgbWFpbC1jb250YWN0LXNwZWFrZXInIGhyZWY9J21haWx0bzpjb3Jwb3JhdGVfZXZlbnRzQHJvZ2Vycy5jb20/c3ViamVjdD1GZWUlMjBSYW5nZSUyMHJlcXVlc3QlMjBmb3IlMjBBY3JvYmF6aWEnPkNsaWNrIGhlcmUgZm9yIG1vcmUgaW5mb3JtYXRpb24gb24gdGhlIGZlZSByYW5nZSBmb3IgQWNyb2JhemlhPC9hPjwvcD4=
Request More Information

Acrobazia
Strength Balancing Duo: Personifying Teamwork, Trust, Strength, Performance, Power & Balance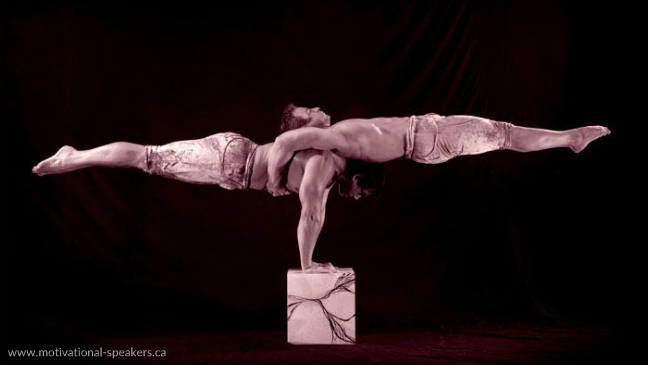 Show Description
Acrobazia is an unbelievable (6-7 min.) physical performance, staged to an original music score, that defies the laws of human possibility. Jean-Francois Martel of Acrobazia also offers his impressive Mystic Cube presentation, which is available alone or in addition to "Acrobazia." In 2021 they introduced their version of the "Russian Bar" balancing segment.

Handling with grace and agility a cube which is said to be the heaviest to have ever been used in a Mystic Cube act, this is a stunning and eloquent program addition and perfectly compliments Acrobazia's strength/balancing segment. +

This duo, composed of former gymnasts Guillaume and Jean-François Martel, have created an act of pure strength and balance that is widely considered to be the finest act of its kind in North America.
Internationally acclaimed, among their numerous career achievements, they were guest stars in MYSTERE by Cirque du Soleil in Las Vegas, performed at the India Film Awards in Bombay, were part of the XXXIV Super Bowl, invited three times at the Grandstand Show of the Calgary Stampede and astounded thousands of fans at NBA half time shows.
Your organization relies on teamwork, motivation, performance, strength, trust, achievement, motivation, power and balance - all attributes which Acrobazia symbolizes.
They transform your words and corporate messages into living images. Add impact to your business presentation, sales conference or any type of corporate event with Acrobazia - and inspire your audience to achieve their goals! --
Acrobazia are represented by K&M Productions. For more information, date availability & booking Acrobazia, contact us.
LIVE events only. (Not available virtually.)
Testimonials
The best half time act we had in years!
–NBA Toronto Raptors
[More..]
The best half time act we had in years!
–NBA Toronto Raptors
We couldn't have found a better way to represent the STRENGTH of our company.
–Investors Group
Acrobazia was a huge hit and the feedback has been great!
–Concord Adex
People are still talking about it!
–AT&T
[Less..]