Dueling Pianos
The ORIGINAL Canadian Dueling Pianos Show with Mark & Randy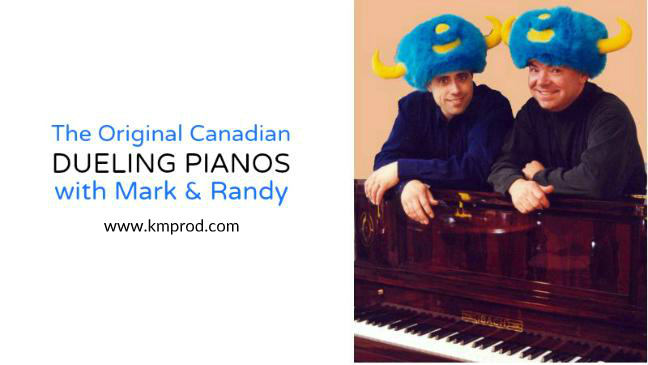 Bio
Based in Toronto, Mark Kersey and Randy Vancourt are The Original Canadian Dueling Pianos show and have been performing together for more than 16 years. In addition to their collective keyboard wizardry, near-psychic chemistry and improvisational talents, their fun-filled, fast-paced cabaret style presentation and interpretation of the Dueling Pianos show, is widely regarded as the most fun as well as entertaining. A huge favourite with corporate clients - it is also one of our most-requested corporate event & conference entertainment programs! +

Thanks to discriminating clients and thoroughly-entertained audiences, they remain one of the most requested entertainment programs for corporate events, conventions, conferences, banquet entertainment, customer appreciation events, hospitality suites & receptions.
Make no mistake. Although the infectious energy eminating from the stage may seem free-wheeling at times - this, is an entirely structured show with content carefully crafted and honed over the years to provide consistently-excellent, clean, fun, politically-correct entertainment for a wide variety of corporate, conference & special event programs!
The Original Canadian Dueling Pianos Show is a one of a kind live entertainment experience. Enjoy the show - or be a part of it! This entertainment concept incorporates "outrageous" high-energy, music of all styles, requests, improv comedy and audience participation! Great for all types of corporate and special events! --
Show Description
This stage show show is a perfect fit for a variety of corporate & special events; banquet entertainment; client & customer appreciation events, hospitality suite & reception environments (it always draws a crowd!) and just about anywhere people congregate and are looking for a fun and interactive way to unwind. +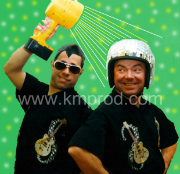 Mark and Randy are two very funny guys who just happen to be two very excellent pianists, and a whole lot more. Together with their twin pianos, they bring you a show filled with music, comedy, skits, flashy piano pieces, sing-a-longs, tons of audience interaction and ... championship yo-yo tricks!
They have scoured libraries, television, the internet, and just about any other place possible to find interesting and unusual songs, then perform them in interesting and unusual ways. Some of their featured bits include:
Using an oversized eye-chart and having the entire audience follow along as it amazingly turns into a song!
A tribute to television theme songs!
Their unique disco medley! (with a very fetching mirror-ball helmet)
Championship yo-yo tricks!
A Cajun medley with both tenor and soprano washboards! --
The Original Canadian Dueling Pianos are represented by K&M Productions. For more information, fees & booking the original Canadian Dueling Pianos show, contact us.
Save
What Clients are Saying
Dueling Pianos were absolutely Fantastic! Nothing but great feedback on the event from everyone!
–JTI-Macdonald Corp.
[More..]
Dueling Pianos were absolutely Fantastic! Nothing but great feedback on the event from everyone!
–JTI-Macdonald Corp.
The show was great!
–Wallenstein Feed & Supply Ltd.
The feedback has been overwhelmingly positive! Our attendees thoroughly enjoyed the show & there was LOTS of audience participation. All in all a great time! Thank you again.
–Guelph Hydro
Everything went great!! They were awesome entertainers, and the crowd had a blast. Thanks for making it a sucsess.
–AVERTEX Utility Solutions Inc.
Absolutely amazing and the best show we've ever had at our conference. We want them back next year!
–Ontario Regional Common Ground Alliance
They were a great fit for our group and it was amazing to see those who normally are quite reserved, join in with the sing-alongs and the interaction. The overwhelmingly positive feedback has been tremedous! Thanks again!
–Ontario Telecommunications Association
They were a big hit at our broker reception and people really enjoyed them!
–Farmers Mutual Insurance Company
Fabulous show and highly entertaining.
–Fieldgate Homes
They were great! Very funny and talented, they truly were!
–First Canadian Title
Everything went great with the guys last weekend. The show was lots of fun and very engaging!!
–Director of Pharmacy Services - OnPharm Inc.
Our guests thoroughly enjoyed themselves and the show. We would have no reservation in recommending them to anyone looking for a great after-dinner program at their event.
–Ontario Hockey Federation
Mark and Randy put on a very entertaining show for us. They put forth a tremendous effort and we really enjoyed their performance. Thanks for your outstanding customer service, it was a pleasure to do business with you.
–Great Blue Heron Charity Casino
We had a great time with them and I enjoyed myself. Thanks again.
–Municipal Finance Officers Association of Ontario (MFOA)
[Less..]