Lynn Crawford
Celebrity Chef; Iron Chef Canada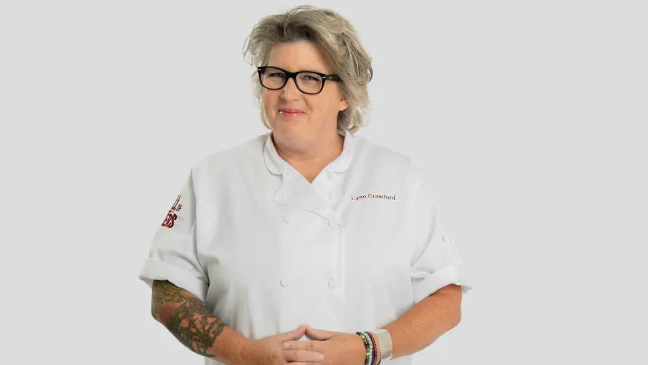 Bio
Acclaimed Food Network celebrity chef and bestselling author, Chef Lynn Crawford has over 25 years of culinary experience, including many years as executive chef for the Four Seasons Hotel in Toronto and New York. One of the highest profile chefs in the country and a genuine household name, she is continually sought after as dynamic host, public speaker, brand ambassador, and spokesperson, across numerous digital and multimedia platforms. Please review the fee range link found at the bottom of this page - before contacting us with any booking inquiries.

Currently starring on Food Network's newest primetime cooking competition series Wall of Chefs, she can also be seen as an Iron Chef on Iron Chef Canada, Iron Chef America, Top Chef Masters (Season Five), Top Chef Canada, Chopped Canada, The Great Canadian Cookbook, and Restaurant Makeover. She starred in Food Network's 2010 series Pitchin' In, which was nominated for a Gemini Award, both as a series and for her dynamic hosting, in 2010, 2011 and 2013. +

The show's success resulted in her first best-selling cookbook, Pitchin' In: More Than 100 Great Recipes from Simple Ingredients in 2012. At Home with Lynn Crawford was released the following year, and quickly became a best-seller as well. 2017's Farm to Chef: Cooking Through the Seasons took home multiple awards (National Winner, Gourmand World Cookbook Awards 2017 – Women Chef, Winner of the 2018 Taste Canada Awards - General Cookbooks), and continues to lead in top sales.
Chef Lynn, a longtime supporter of the farm-to-table movement and sustainability, has over 25 years of culinary experience, including many years as executive chef for the Four Seasons Hotel in Toronto and New York. Whether appearing on The Marilyn Denis Show, traveling to Tuscany with Debbie Travis, or speaking at a sold-out performance at Roy Thompson Hall, her passion for food and seasonal cooking comes shining through.
Invited to cook, speak, and mentor chefs and food lovers across North America, she's worked with many esteemed companies and brands including Air Miles, Fisher-Price, Unilever, Wm. Wrigley Jr. Company. She recently teamed up with Waterview Market to create a signature line of eight delicious sauces and marinades that pair with the high quality shrimp. She's also Chef Ambassador for Egg Farmers of Canada, and a dedicated philanthropist, giving back by participating in several charitable initiatives. --
Topics & Categories
Celebrities & Media
Entrepreneurship
Event Hosts & M.C.\'s
Food
Marketing & Branding
Most Requested Speakers
Most Requested Virtual Speakers
Universities & Colleges
Virtual Presentations
Women of Influence
Virtual or Live:
Lynn Crawford's speaking presentations may include:
Entrepreneurship - trials and tribulations; overcoming challenges & obstacles to generate success;
Behind the scenes stories from the TV shows;
Buidling & Marketing your brand;
Interactive Cooking Demo & sharing her insights for cooking and eating well during these challenging times.
Interactive Cooking Workshops

Chef Lynn Crawford is represented by K&M Productions for speaking engagements. For more information, appearance fees and booking Chef Lynn Crawford contact us. (Very SERIOUS, booking-related inquiries only.)