Ryan Estis
Business Performance Expert for the New Economy & Speaker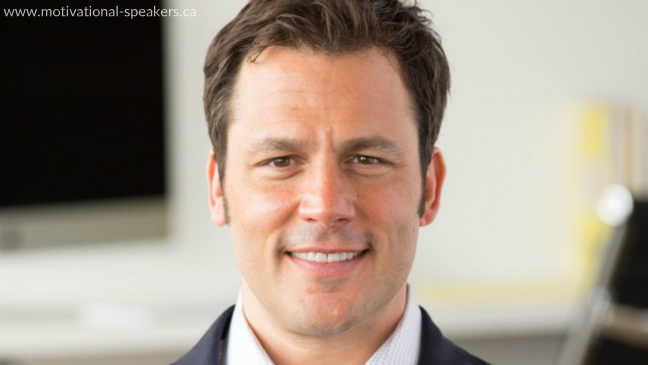 Bio
Speaker Ryan Estis helps progressive companies embrace change, attack opportunity and achieve the next level of breakthrough performance. Recognized as one of "the best keynote speakers seen or heard" by Meetings & Conventions Magazine, Ryan works with the world's best brands, including AT&T, Motorola, MasterCard, Adobe, the National Basketball Association, the Mayo Clinic and Prudential. +

Ryan Estis challenges conventional thinking on corporate culture, communication, client acquisition, brand ambassadorship and change. The former chief strategy officer for the marketing division of McCann Erickson, he helps companies, leaders, and sellers more effectively connect to their two most important audiences: employees and customers. Guiding audiences through the realities of the new economy, Estis blends interaction, energy, and actionable content to transform and elevate your business outcomes.
Ryan Estis is a faculty member for the Institute for Management Studies, a senior associate with Employer Brand International, an advisory member on the SmartBrief Workforce Council and a certified Human Capital Strategist.
Recently recognized as "one of the best keynote speakers seen or heard" by Meetings & Conventions Magazine alongside Tony Robbins, Bill Gates, Al Gore, and Marcus Buckingham, his clients have included AT&T, Mayo Clinic, CDW, Cabela's, Giant Eagle, Hewitt, Microsoft, Medtronic, Equifax and BlueCross BlueShield.
His work has been featured in Electronic Recruiting Exchange, Workforce Management Magazine, HR Professional Magazine, HR Times, SHRM, Business News Network, Crain's Business, Staffing Management Magazine, and the books Your Employer Brand and Employer of Choice. He is also the author of the ebook, Leading Breakthrough Sales Performance, which addresses how customer behavior is evolving, and how the best sales organizations respond. --
Topics
Ryan Estis Speaking Presentations:
Branding
Business Growth/Strategy/Trends
Change: Managing/Leading It
Communication Skills
Consumer Trends
Corporate Culture
Customer Relationships/Loyalty
Employee Engagement
Human Resource Issues
Leadership
Peak Performance
Personal Growth
Sales Skills and Motivation
Workforce Issues
Sample Keynote Presentations:
Passion on Purpose: Turning Corporate Culture into a Competitive Advantage
This keynote reviews how to cultivate a high-engagement, high-performance work culture. As we prepare for the next growth cycle in business, leaders need to understand the needs and expectations of the modern workforce. Ryan pushes back on conventional thinking with new research and case studies from category-leading companies that succeed at maximizing human potential and elevating performance. +
To win in today's market, you need a healthy organization: tuned-in employees, authentic leadership, open communication and trust. Leaders are called to cultivate the kind of workplace where people come first and performance and profit follow.
Most organizations leave too many opportunities on the table and waste a huge amount of their people's potential. This keynote offers practical advice to help you reverse that trend.

After this keynote, audiences and organizations will understands what it takes to elevate engagement, unleash human potential and compete to win in the new world of work.

LEARNING OBJECTIVES:
Embrace change in the new economy;
Learn from global workforce trends and forecasting from our research portfolio;
Building high trust, high value relationships;
Connect employees to a shared vision and set of values;
Effectively use emerging technology to improve communication, culture and work life. --
Next Level Leadership: Managing For Breakthrough Performance In The New Economy

This keynote prepares leaders to thrive in today's increasingly connected, competitive business environment. Ryan challenges conventional leadership practices and explores progressive techniques and technology that pace with the evolving needs of today's knowledge worker. +
As our workforce and customers evolve, the approach to effective leadership also needs to transform. Traditional command and control leadership is giving way to a more connected, collaborative and flexible approach to managing people and performance.
This interactive keynote delivers new ideas, information and actionable insights that leaders can leverage immediately to drive productivity and performance.
The outcome of this keynote will be leaders who are prepared to capture employee commitment, elevate productivity and performance and drive business growth.

LEARNING OBJECTIVES:
Learn from global workforce trends from our research portfolio;
Understand how leaders can embrace and lead change;
Discover four key leadership competencies for progressive leaders;
Hear case studies on how leading companies have built a winning work culture. --
The Brand Experience: Accelerating Business Growth Through Remarkable Experiences

This keynote focuses on how you can elevate the relationships you have with your most important stakeholders: your customers. Ryan teaches organizations how to create remarkable experiences and earn customers for life. +
Customer expectations have changed. For buyers, an alternative choice is usually just a click away. Today, customers want an experience, and the best brands step up and deliver, consistently. This keynote examines how category-leading companies start with their people, aligning employees around a common mission and empowering them to create memorable customer experiences.
Ryan explores current trends and shares standout customer stories from his portfolio of case studies. He will demonstrate how technology and social connectedness are influencing consumers' thinking and changing the way we engage with a brand. He helps participants shift their thinking and emerge with new ideas about both customer and employee relationships that will impact the business.
The outcome of this keynote will be an audience prepared to capture employee commitment and customer loyalty to drive business growth.

LEARNING OBJECTIVES:
Learn global workforce trends from our research portfolio;
Understand how to capture your unique How Advantage;
Explore what it means to be a chief experience officer;
Examine the importance of brand evangelism;
Understand the impact of social connections and technology on the brand experience. --
The Communication Revolution: Driving Growth Through Social Business

The world of work is changing. This keynote explores the ongoing evolution in how we connect, communicate and collaborate to accomplish meaningful work. Global, economic, generational and technological changes have left us with new expectations about how work should happen. As a result, the traditional approach to workplace productivity and performance isn't working. +
This keynote examines how progressive companies are staying ahead of the competition and responding to these changes by making their business more social. Ryan prepares participants to leverage the social revolution and get connected to compete in the new world of work.
The outcome of this keynote will be an audience that understands the implications of new media and the benefits of embracing social business.

LEARNING OBJECTIVES:
Learn trends and forecasts about the global workforce and the future of work;
Understand the impact of social technology on business relationships;
Find out how to adapt and embrace social business in a way that benefits the bottom line;
Get to know millennials, today's digital natives and the next generation of leaders. --
Unleash Your Inner Superhero: Keys to Achieving Breakthrough Performance

This keynote helps attendees tap into their deep reservoir of potential and unleash their unique capability into the world. Ryan helps people see new opportunity through techniques that remove the barriers of fear, doubt and uncertainty that threaten to inhibit performance. +
This important message introduces key insights about productivity and performance. Ryan coaches the audience through embracing change to achieve more meaning, mastery and momentum in their work life. He introduces several real-life superheroes, examples of the incredible results you can expect when you embrace your own potential.
The keynote serves as a call to action for those who are looking for fulfillment from their work and are determined to achieve their full potential. Participants will emerge better prepared to become their very best and achieve their next big, breakthrough moment.

The outcome of this keynote will be an audience inspired to take action and become the very best version of themselves.

LEARNING OBJECTIVES:
Learn how to leverage change as a catalyst for growth and success;
Discover transformation techniques designed to unleash peak performance and become your very best;
Find out the keys to building high-trust, high-value relationships;
Explore the superhero ethos: "Be humble. Stay hungry. Always hustle." --
Rock Star Selling: Selling Value in the New Economy
This high-impact keynote examines the dramatic evolution in professional sales. Ryan, a former chief sales officer, dissects how the best sales organizations are meeting the expectations of more sophisticated and demanding customers. +
This keynote can easily align with an existing sales methodology and demonstrates how an entirely new set of sales competencies are required to compete and win business in complex and competitive sales engagements. Ryan explores proven habits of today's top producers. He challenges conventional sales wisdom and offers the audience practical ideas they can immediately leverage to drive business growth.
Earning attention, opportunity and partnership with today's customer requires a sophisticated sales strategy. Ryan inspires sales organizations to work toward a new seller competency with a focus on category expertise and consultative skills.
The outcome of this keynote will be a sales organization more prepared to compete and win business in competitive and complex sales engagements.
LEARNING OBJECTIVES:
Explore the evolution of customer buying behavior;
Study the shift in seller competency required to compete in the new economy;
Learn the keys to building high-trust, high-value partnerships;
Walk through sales preparedness and pre-call planning techniques;
Discover the three key questions you should be asking to assess and earn customer commitment. --
Ryan Estis is represented by K&M Productions. For more information, speaking fees, Ryan Estis' speaking schedule & booking Ryan Estis, contact us.
Testimonials
I've worked in sales leadership in the sports industry for almost 15 years and Ryan Estis was the most dynamic, energetic and relevant keynote I have ever seen. His presentation resonated with sales managers at every level of our business, everyone took practical examples back to their teams to install immediately. The NBA is looking forward to working with Ryan again and again.
–NBA
[More..]
I've worked in sales leadership in the sports industry for almost 15 years and Ryan Estis was the most dynamic, energetic and relevant keynote I have ever seen. His presentation resonated with sales managers at every level of our business, everyone took practical examples back to their teams to install immediately. The NBA is looking forward to working with Ryan again and again.
–NBA
Thank you, I told others and will tell everyone reading along you were the best speaker we had in my 7 years of attendance hands down.
–Caldwell Banker Commercial
The team was buzzing today. They were all so complimentary of you and are ready to put to action the tools you provided. You have quite a gift and I'm thankful that you were able to spend time with my team today! You rocked it.
–Equifax
Ryan Estis is absolutely one of our favorite conference speakers. He has been a keynote for us two years in a row and regardless of whether he was scheduled at the end of day two or the beginning of day one (we have a three day event), Ryan showed up with dynamic energy and super compelling content. He is very engaging with relevant stories that connect the audience on an emotional level. He has talked about leadership, customer service and brand experience (great stories around this one!), and core values – customized for our audience members who are independent pharmacy owners. I would say you certainly cannot go wrong with Ryan Estis on your speaking agenda. Please let me know if you would like any other specific feedback – as you can see, we at PDS are huge Ryan fans!
–Pharmacy Development Services
Your were AWESOME at the session on Wednesday at AHRMM. I could have listened to you all day and you were spot on. I currently work at HealthTrust and do hope we can have you speak at our annual meeting or one of our meetings. Great work on employee engagement!!! You really inspired me so much! I do communicate with my team, but have my first weekly email ready to send tomorrow to talk about my meeting at AHRMM, our accomplishments, and other information. Such a great idea. Thanks again!!
–Association for Healthcare Materials Management
I had the pleasure of hearing you speak at SilkRoad Connection's conference last week. I gotta tell you, your one hour presentation was life changing. My hats off to you for being able to grab and keep the audience. Here's to changing lives – one at a time. I hope and pray for all the best for you — and may you continue to meet many Lily's in your journeys ahead.
–SilkRoad User Conference
I thought Ryan was just terrific. He was fresh and had great specifics to back up what he was saying. Those stories resonate more than just a list of buzz words. Clearly he was a professional speaker and for the caliber of audience our chapter is – it was perfect. I can imagine he was more than we "usually" spend, but so worth it. And geez – with attendance like that – we can afford to spend more once in a while (I hope). Honestly, so worth my time to be there for him alone – besides all the good friends and networking. He hit a HOMERUN.
–SITE CA
First and foremost THANK YOU for delivering exactly what this audience needed. You not only engaged out client audience, but my MassMutual senior leadership team and colleagues all complemented your content and delivery and I feel they too all had a great "experience" to take away with them. One of the most challenging, yet rewarding parts of my job is trying to find a keynote speaker that will not only deliver something of value, but do so in an energetic way with such integrity and enthusiasm. I was actually sitting on my couch one February day, snowed in when I found you on the internet and the rest was history. Thank YOU for actually delivering something that my senior leadership trusts in ME to bring to our events!
–Mass Mutual
Thank you very much for sharing your thoughts and inspiration at our closing session of the SHRM Conference today. It was an outstanding ending to two jam-packed days. Your knowledge, sincerity and authenticity shone through in a way that elevated everything that you said. Specifically, I appreciated your admonition to make a "TAN" plan, and the suggestion is keeping me from rushing back to home and work today. Instead, I am going to find a quiet place to think, process what I learned, marinate with some ideas that have come up for me, and make my own TAN plan to guide my actions in the coming weeks. Thank you for the ways you have inspired me today. It was the perfect ending to the conference. Go have a lovely time with your mother, and be sure to tell her that you KNOW you impacted lives and changed the world today!
–SHRM
[Less..]