The Dance Company
Toronto's Award-winning Dance Ensemble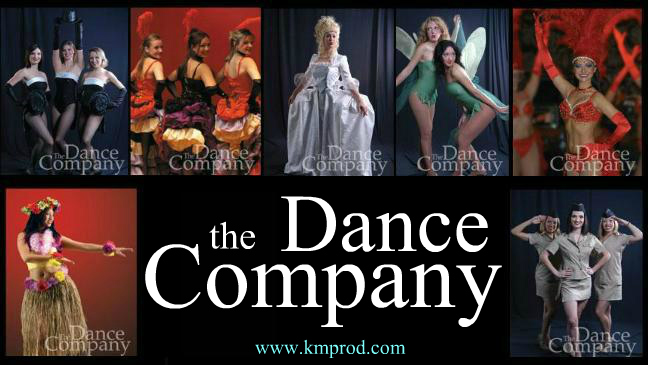 Show Description
... If you can dream it they can create it! ...
~ Completely Choreographed Performances ~
~ Stunningly Beautiful Costuming ~
~ Amazing Artistry ~
The Dance Company is a multi award-winning company known for its exciting shows, professionalism and outstanding service. Your guests will be thrilled by their spectacular shows, gorgeous custom costumes, infectious energy, outstanding talent, creativity and beautiful entertainers. Whatever the requirements, they will make it happen! +

Behind the sequins, feathers and lavish productions, these performers are seasoned veterans of the entertainment industry and consummate professionals that have been selected for their superior talents and diverse skills.
The Dance Company's extensive list of themes and shows grows almost daily. Even though they are based in Toronto, their performances have taken them all over the world including such exotic locations as the Virgin Islands.
Their commitment to providing the best entertainment in Canada has lead to The Dance Company being voted Entertainer of the Year by the Canadian Special Event Industry.
Services provided by The Dance Company >>>
Entertainment for large and small scale events;
Custom Dance Shows;
Break Out Sessions;
Models & Freeze-Pose Models;
Hostess/Hosts;
Greeters;
Interactive Dances;
Dance Instructors;
Interactive Family Shows
Where to use The Dance Company >>>
Corporate Events;
Product Launches;
Grand Openings;
Theme Parties & Gala Theme Events;
Outdoor Festivals;
Casino Events & Shows;
Bar-B-Q Themed Events;
Multicultural Events & Themes;
Fundraising Galas;
Stage Shows;
Dinner Theatres;
Resort Entertainment;
Touring Engagements;
Conferences;
Meetings & Conventions;
Trade Shows
Photo & Costume Samples >>>
The Dance Company is represented by K&M Productions. For more information on booking The Dance Company, simply contact us.