Michael Kerr
Award-winning Humourist, Motivational Speaker and Workplace Energizer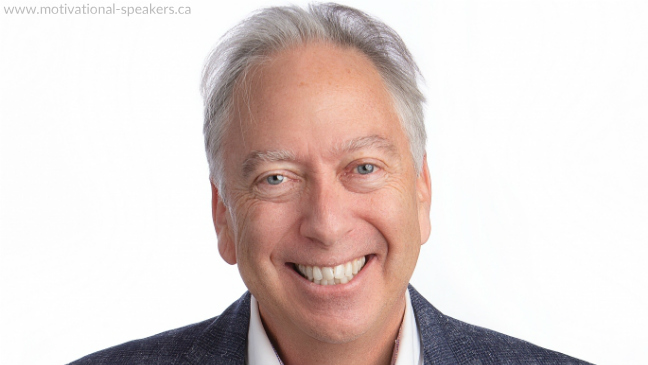 Bio
Michael Kerr, Speaker, CSP is one of North America's leading authorities on fostering innovative and inspiring workplace cultures. His presentations - known for introducing practical ideas that audiences can put to work immediately — are delivered in a truly unforgettable manner through his memorable brand of clean, high-energy humour. Why choose between humour and content when you can have both? +
A "Hall of Fame" and award-winning international business speaker, trainer, and bestselling author, Mike has delivered his captivating keynote presentations and workshops to thousands of audiences around the world, from the US to Iran to Austria.

A former government manager and business owner for more than twenty years, Michael's ideas on building great workplaces have been featured in hundreds of publications worldwide. He is also the author of six bestselling books, including Inspiring Workplaces: Creating the Kind of Workplace Where Everyone Wants to Work, The Humor Advantage: Why Some Businesses Are Laughing All the Way to the Bank, and his latest Hire, Inspire, and Fuel Their Fire: How to Recruit, Onboard, and Train New Employees to Live Your Culture Out Loud! --
Topics
Michael Kerr's Speaking Presentations:
Most Requested & "Signature" Keynote:
HUMOUR IN THE WORKPLACE: "Putting Humour to Work for Less Stress and More Success!" +

Why choose between content and fun when you can have both? Putting Humour to Work presentations offer practical, relevant ideas delivered in a fun, energetic and memorable style.
You will laugh as you learn:
It's not about being funny: How humour can help you choose a more positive workplace attitude
Why humour at work makes dollars…and sense: The compelling business case for more fun at work
Three reasons why humour is one of the most powerful stress busters
The "3 R's" of putting humour to work to manage stress and deal with change in the workplace
Using humour to communicate effectively: It's not always what you say, it's how you say things in the workplace that matters
The humour advantage: Using humor stand out from the herd to be heard and to turn customers into raving fans for your business
Why teams that laugh together, work better together
Sparking creative thinking through the power of humour: Why HA + HA = AHA!
Practicing "safe" workplace humour: Humour that laughs with people, not at people --
INSPIRING WORKPLACES: "The Way Work OUGHT To Be" +

Inspiring Workplaces offers practical, relevant ideas geared towards creating more inspiring, innovative, fun and successful workplaces, delivered in a humorous and memorable style.
You will laugh as you learn:
Choosing your workplace attitude before it chooses you
Why inspiring workplaces value their values and what it means to truly honour your workplace values
Dreaming of a better future: Why a compelling vision matters
Why (and how) inspiring workplaces put humour to work for great success
Creating an inspiring customer service mindset towards customer and employees
Inspiring creativity and innovation at work to manage change and prepare for the future
Inspiring communication in the workplace: The difference between efficient communication and truly effective communication
Inspiring employees: the top five motivating influences in any workplace
Thanks a lot! Creating a culture of celebrating, recognizing and rewarding
Guiding lights for creating more inspiring workplaces --
PUTTING CREATIVITY TO WORK: Ideas Are the Currency of Success +

Do you want to get more ideas from your employees? And better ideas? Do you want to eliminate "but-headed thinking" ("But, we can't do that!")? Putting Creativity to Work offers simple, practical ideas on how to foster a more creative workplace, delivered in a fun, memorable style.
Audiences will learn:
Why creativity is one of the most valuable workplace commodities
The creative process simplified
Creating a culture of questioning, a culture of curiosity
Storming the brains: how to inspire more creativity
The humour connection: Why HA + Ha = AHA!
Simple ways to get generate more ideas
Eliminating idea-squashing language and behaviour
Turning failure on its heads
What blocks ideas, what helps ideas
Advancing and selling your ideas: turning your best ideas into winning results --
INSPIRING LEADERSHIP +

What does it REALLY take to inspire, motivate, and engage employees, especially during difficult times?
How do you create a "WANT to" kind of workplace, rather than a "HAVE to" kind of workplace? How do you develop future leaders? What's the difference between being a manager and a truly INSPIRING leader?
And how do you make sure your workplace doesn't end up in tomorrow's Dilbert strip? Inspiring Leadership is designed specifically for supervisors and managers with any level of experience. Inspiring Leadership is packed full of relevant ideas that leaders can immediately implement. And as a bonus that audiences have always appreciate: Michael's thought-provoking ideas are delivered in a unique, high energy and hilarious style.
Audiences will learn:
The "vision thing": how inspiring leaders inspire an inspiring collective vision
The truth about those workplace values you value so much
Inspiring communication: Why great leaders don't necessarily have to speak like Winston Churchill (sure it'd be nice, but it's not necessary…and here's why)
Inspiring creative thinking: Why great leaders ask a lot of leading questions
Leading with laughter: Why your sense of humour may be your best secret weapon
Thanks a lot! Recognizing all the obvious and not-so-obvious ways we recognize employees at work
The real truth about workplace motivators and de-motivators
Getting to know you, getting to know all about you (No, you don't have to be best buddies, but inspiring leaders really do need to get to know their employees…and here's how)
"He shoots! He scores!" How goal setting, workload, work-life balance, and the meaning of life impact inspiring leadership
Take me to your leader: are you part of the problem or part of the solution? --
INSPIRING IDEAS FOR INSPIRING PRESENTATIONS +

It's not so much WHAT you say that matters, it's HOW you say it! How you say it, how you make that sales pitch, how you deliver that speech at the annual conference or how you present an idea in the boardroom, means the difference between success and failure. Or at least between being mediocre and brilliantly effective.
It can mean the difference between boring your audience into a catatonic stupor and keeping them awake; the difference between alienating your audience and connecting with the audience; the difference between having absolutely no impact on your audience (and really, how depressing is that?) and inspiring your audience to action, whether it be an audience of 3 or 3,000.

Inspiring Ideas for Inspiring Presentations workshops offer practical tips designed to help any level of speaker improve both their confidence and their speaking skills. Here's what audiences will learn from a veteran professional speaker and presentations coach with more than 25 years experience:
Mastering your nerves before they get the best of you;
Preparing the presentation, why 90% of the presentation is in the plan;
Getting to know your audience: why you need to know your audience;
How audiences learn best;
Organizing your talk: Why structure and editing is critical;
Using PowerPoint effectively: The do's and definitely don't do's!;
Adding spice to the mix: How to use humour, anecdotes and other tricks of the trade to keep people engaged and to make sure your messages pack a punch;
Keeping it simple: why direct language matters;
Managing a Q & A effectively;
Introducing introductions: the best ways to poem;
Conclusions about conclusions: Your best exit strategies --
Michael Kerr's Learning + Development Workshop: +
Inspiring Leadership: Creating a Purpose-Driven, Values-Based, Innovative and Yes, Fun Culture for a 21st-Century Workforce

Duration: Half day, full day or two day workshop
Target Audiences: Frontline supervisors, middle managers and senior leaders looking to re-energize their workplace culture to drive phenomenal results. A version is also available for all employee events that include front line employees.

Culture drives success. In fact, when I ask inspiring leaders from around the world what's been more important to their success – business strategy or culture, 95% say it's their culture.

But great cultures don't happen by accident. You can't fake a great culture, and you sure as heck can't buy it. An inspiring culture requires a dedicated commitment by every leader in an organization. The Human Capital Institute suggests that 70% of a leaders' time should be focussed on talent development and culture building – culture is just that important. So if you want an inspiring culture, there's no getting around it – you need to invest in making that happen!

Why Invest in Inspiring Leadership Training?
Providing your leaders with the insights, inspiration and tools to focus intentionally on building an inspiring culture will help you:
Build a culture that delivers better bottom line business results. (After all, if you're in business, isn't this what it's ultimately about?)
Foster a culture that will attract more who are a better fit for your organization.
Improve your employee retention rates and reduce employee absenteeism rates.
Build greater resiliency in the face of unexpected change.
Build a culture where leaders and employees actively seek out change, challenge assumptions, and become restless with the status quo.
Build a culture that thrives on ideas and turning ideas into action.
Build a culture that puts people first and service first.
Reduce silos and improve teamwork.
Reduce stress and conflict in the workplace.
Increase happiness levels of nearly everyone in your workplace ("nearly everyone" because, let's be honest, no matter what you do, there's just no pleasing some people).
And ultimately…create a "want to" kind of workplace instead of a "have to" kind of workplace. A workplace where people want to show up on a Monday morning and enthusiastically contribute their ideas and their passion towards building a better YOU. The kind of workplace where everyone who comes in contact with you – be it your customers, employees, partners, suppliers, or family members, walk away thinking: "That is a remarkable place. The kind of place I'd like to work."*

*Okay, if you think I'm being a little over the top then we need to talk. After all, there are organizations out there that have achieved this lofty goal (or at least come close) – Zappos, Google, AFA JCDecaux, SAS, just to name a few. And no, it's not going to happen overnight and yes, maybe you won't ever get to those dizzying heights, but isn't that the direction you should at least be aiming for?
What Participants Will Learn
With dozens of real-world, relevant examples, and through interactive exercises that get people engaged and, at times, up on their feet, participants will learn:
Why culture is everything and everything is culture.
5 "killer" questions to keep asking about your culture.
Leadership vs. manager-ship: What's the difference and why does it matter?
How your culture connects with your branding.
Recruiting and hiring: Why finding the right people is critical, hiring for attitude, and hiring for a culture fit.
The on-boarding process: How to teach your culture to new employees.
The role of mentoring, training, and coaching in building a strong culture.
Being on purpose: Why "why" matters now more than ever and why your vision statement might be giving everyone a case of the "blahs."
Shifting attitudes: Shifting employees from a job mindset to a calling mindset.
Valuing your values: How to communicate your values, celebrate your values, and make sure your values actually mean something.
Motivating the troops: Why money isn't always honey, what most organizations get dead wrong about this topic, and 5 powerful Ps for more effective motivation.
Creating a "service-first" culture where everyone understands that some of their most important customers are sitting right next to them!
Communication is everything and everything is communication: Shifting from being merely efficient to being truly effective with your communication.
Getting your meetings right. How daily team huddles can strengthen your culture and why getting your meetings "right" is critical!
How to drive more creativity and innovation: Building a culture that challenges assumptions, questions everything, creates a safe space for ideas, and turns passion and ideas into action.
The humor advantage: Why leaders need to demonstrate a healthy sense of humor and how humor both drives and reflects an inspiring culture.
Five effective ways to jumpstart a culture shift.
Take Away Resources and Follow Up

To help keep the messages and ideas alive in your workplace, the workshop also includes a whole suite of electronic resources for participants, including:
E-books:
"Inspiring Questions for Inspiring Workplaces"
"340 Ways to Put Humor to Work"
"Inspiring Workplaces: Creating the Kind of Workplace Where Everyone Wants to Work
Culture Handouts:
"Why Culture is Everything and Everything is Culture"
"6 P's of Powerful Workplace Motivation"
Article: "Lessons from a Workplace Where Everyone Smiles"
Article: "Zapped By Zappos"
Communication at Work:
"Effective, Inspiring Communication in the Workplace"
52 Meeting Opener Ideas checklist
24 Awesome Meeting Ideas
"How to Turn Complainers Into Explainers"
Humor at Work:
"Putting Humor to Work"
"How to Jumpstart More Fun at Work"
"Laughing Your Way to the Top"
Putting Creativity to Work:
"25 Ways to Keep Ideas Flowing in Your Workplace"
Additional options that we'd be happy to discuss with you include:
Signed copies of Michael's latest, raved about book, "The Humor Advantage: Why Some Businesses Are Laughing All the Way to the Bank." Michael's book is packed with relevant ideas on building a great culture, making it not only an invaluable resource, but also a memorable gift for Incredible bulk discount rates are available for Michael's clients.


The 30-Day "Inspiring Workplace Culture" video program. A 2-minute video featuring Michael's voice and messages delivered to your every participants' e-mail inbox each day for 30 days. A great way to reinforce the messages and stay inspired.


Follow up video messages from Michael customized for your team to talk about your specific challenges. Monthly or quarterly video options are available. --
Michael Kerr is represented by K&M Productions. For more information, Michael Kerr's speaking schedule, fees & booking Michael Kerr, contact us.
What Clients are Saying
Michael's presentation yesterday was fantastic!! It was exactly what we were looking for....humourous, upbeat, inspiring and conveyed our objectives for the meeting. Thanks to K&M Productions for suggesting Michael Kerr and we look forward to working with you again in the near future.
–Atlantic Packaging
[More..]
Michael's presentation yesterday was fantastic!! It was exactly what we were looking for....humourous, upbeat, inspiring and conveyed our objectives for the meeting. Thanks to K&M Productions for suggesting Michael Kerr and we look forward to working with you again in the near future.
–Atlantic Packaging
We were drowning in tears of laughter – Michael is a very dynamic and upbeat speaker. His presentation was an excellent way to end our conference.
–Industry Canada
THANK YOU very much for making our company's 25th Anniversary conference so memorable. I received nothing but glowing, rave reviews for you and your presentation from all the attendees. Your message of Inspiring Workplaces was one of the most effective, enlightening, and entertaining presentations we've ever had at a conference (and we've had a lot!) Thanks again to you and K&M Productions.
–Executive Director / ClimateCare Co-operative
One of the best and one of the most highest rated speakers we've ever had at our annual confderence.
–Farm Credit Canada
He was fabulous. What a fantastic speaker!!
–Association of Yukon Communities
You received the highest evaluation out of any speaker we've ever had. Well done!
–Mr. Safety Shoes
Michael, your presentation was beyond excellent! I cannot thank you enough for all of your hard work prior to and at our conference last week. You have the unique ability as a speaker to both entertain and educate people. Our audience all felt you had a good understanding of our business challenges, and were darn funny at the same time. Your presentation was the perfect mix of a serious business based message, along with a very funny and engaging delivery. Michael Kerr is a very talented, entertaining and compelling speaker. I would strongly recommend Michael Kerr to any company as I would use his services again without question.
–President, Sandvik Canada, Inc.
A heartfelt thank you for helping to make the National Wholesale Conference an event to remember. Your keynote was exactly what we were looking for to kick things off - high energy, packed with great ideas, and laugh out loud funny. The feedback from the Store managers was incredible, and you left everyone with positive energy to take back to the workplace.
–Loblaw Companies Limited
Michael Kerr was amazing! Not only was he thoroughly entertaining but he also delivered a valuable, pertinent message at the same time. His delivery was great. It was well received by the audience. I would confidently recommend Michael to anyone looking for an incredible and inspiring speaker. Great job!"
–Bell Canada
Your name and topic brought a record crowd to our dinner meeting. Your presentation not only provided us with an opportunity to laugh, but also with a chance to look at how we can use humor to make our workplaces truly exciting and fun places to be!
–Human Resources Management Association of Manitoba
You had our delegates on the edge of their seats with your anecdotes.
–Canadian Registered Safety Professionals
You were absolutely sensational yesterday! Magical! Inspiring! Outrageous! Mesmerizing! I only heard the absolute best comments about you...WOW! Thank you for ending our year in such a phenomenal way!
–Canadian Association of Professional Speakers
The delegates were truly entertained, educated and enlivened by your presentation. The fact that we could acquire someone of such high calibre as yourself was a true bonus!
–Toastmasters International
To anyone looking for a humourous and educational speaker - Mike was outstanding. Not only was he very funny and entertaining, there was a lot to learn about humour in the workplace. We will see him again ... no question about it!
–Canadian Association of Pharmacy Technicians
We made the right decision. Michael's talk was both enlightening and entertaining. Michael delivered everything we hoped for and more. 83% of our delegates rated him as excellent, the other 17% as good. How many speakers earn ratings like this? I recommend Michael without reservation, he will NOT disappoint.
–Independent Community Bankers of America
Your talk was a HUGE success, I have received many compliments on my choice of keynote speaker. Your topic was an excellent compliment to the more technical nature of the conference, and was both entertaining and thought provoking.
–Canadian Petroleum Tax Society
I have never heard so many compliments for this type of session. Michael presents valuable, pertinent and USEFUL information in a manner that is highly effective.
–Sustainable Resources Development
Michael Kerr did an excellent job of demonstrating how humour can influence a positive attitude, relieve stress, build stronger teams, spark creativity and improve morale.
–Allstate Canada Group
[Less..]