Elaine Charal
Hand Writing Analyst, Keynote Speaker & Entertainer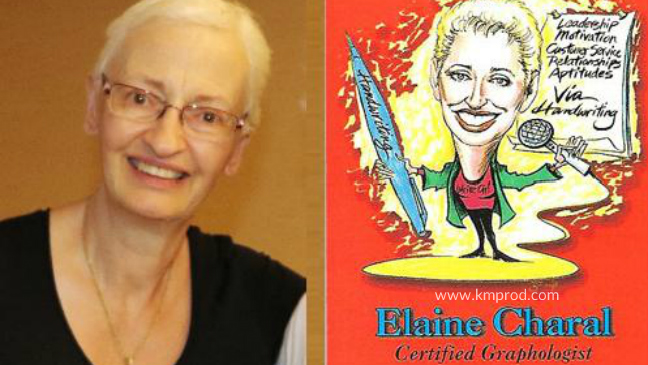 Bio
Elaine Charal is a Canadian, Toronto-based Certified Graphologist (hand writing analyst), Keynote Speaker and Media Personality.
On January 23, 2018, she was featured on Breakfast Television (City TV) to celebrate National Handwriting Day.
She received her certification through the International Graphoanalysis Society of Chicago and also the American Handwriting Foundation, a handwriting association in the United States.She has worked with over 150 companies for more than 20 years as a Certified Graphologist, analyzing handwriting and assisting companies in making their hiring decisions. +

She also delivers humourous, entertaining and insightful keynote presentations as well as one-on-one analyses at corporate events and private functions and enterrtains at more than 200 events each year!
Elaine Charal has been a guest on numerous television and radio shows, including the Steven & Chris Show (CBC), Dini Petty Show, Mike Bullard Show, Canada A.M., Global News at Noon, CHCH News, Rogers Daytime, CFRB's Ted Woloshyn Show, CHFI's Chronicle, Sunday Sunday, and more. Elaine has also been featured in many articles in the Globe and Mail, The Toronto Star, The Toronto Sun, and The Human Resource Magazine to name a few. --
Topics & Categories
Communication
Humour & Variety
Morale Boosting
Most Requested Virtual Shows
Motivational Speakers
Unique & Interactive
Universities & Colleges
Virtual Presentations
VIRTUAL EVENTS:
Elaine Charal is very experienced at presenting "virtually" via the Zoom platform and has been offering a very popular program which includes her keynote presentation (below) as well as providing hand-writing analyses of up to 50 members of your team (samples are sent in advance of the keynote). During the keynote presentation, she will entertain you with humourous insights gleaned from your company's leaders, managers & employees hand-writing samples, and surprise you with the accurate personality insights that the hand-writing samples reveal. It's a fun, fast-paced presentation that is upbeat, entertaining, insightful, with team bonding aspects. For more information on this affordable package, contact us.
KEYNOTE:
What Your Signature Says About Your Personality (Keynote)
In today's complex, new economy, it's essential for employees to gain awareness of their weaknesses and their true strengths to do their best work every day. This compelling and relevant keynote experience challenges us to identify where we are strong and where we may need to improve. With instant, renewed self-awareness, audiences will be able to deploy their strengths and gifts wisely to avoid them becoming potential liabilities. Once they do so, they will be re-awakened to new possibilities. As an option, guests will have an opportunity to get a one-on-one speed handwriting analysis done. +
This presentation combines Elaine Charal's speaking and entertainment talents. It also helps people understand themselves from their own handwriting, and enhances their ability to communicate effectively with business associates, clients, family and friends. It can be tailored to emphasize Leadership, Motivation, Customer Service, Aptitudes, Team Building and Relationships, as reflected through the strokes of handwriting. --
Trade Shows & Customization

Notice how in this composite photo example, the sentence to be completed by the individual is customized to reflect the host client and their business, industry, etc. Further, in utilizing the host company's letterhead stationary, it not only makes for an excellent promotional/marketing tool, but also by virtue of the letterhead stationary, guests always remember who provided this very memorable form of entertainment. This is also a very effective promotional/marketing tool for trade show vendors as Elaine will draw traffic to your booth.
Please note: Elaine Charal's services are provided for entertainment purposes only. She is NOT a forensic graphologist & does not provide those types of services.
Elaine Charal is represented by K&M Productions. For more information, fees & booking certified hand-writing analyst Elaine Charal, contact us.

What Clients are Saying
Elaine was excellent – she did a great job. Very engaging and extremely accommodating!!
–HCR Personnel Solutions Inc.
[More..]
Elaine was excellent – she did a great job. Very engaging and extremely accommodating!!
–HCR Personnel Solutions Inc.
Absolutely fabulous. Elaine was a pleasure to work with and a total hit with the attendees. She was tireless, arrived early, stayed late (beyond the contracted hours) and based on how impressed everyone was with her at the trade show, I'm sure you'll be getting more requests for her. Thanks again to K&M Productions for recommending her.
–VHA Home Healthcare (2018 Trade Show)
Elaine Charal You Rock! Your presentation had everyone from front line administrative staff, to snow-plow operators, to managers and directors all in stitches. Everyone you touched that day left feeling a little more confident and feeling good about themselves.
–City of Kitchener
I knew I was hiring a certified graphologist. I hadn't realized I would be getting a seasoned entertainer, an accomplished comedienne, the perfect ice-breaker for a diverse group and a good mind-reader. The group has not stopped talking about your presentation.
–Alliance Atlantis Communications
Elaine is a true professional. Her knowledge of handwriting nuances is clearly top notch, but more importantly she knows the importance of entertaining her audience and meeting the needs of the client. We had her work her magic during the breaks of a 5-course dinner and the laughter was constant.
–Dare Foods
Not only was the topic informative, but you delivered it with flair and a great sense of humor. I also appreciate the extra time you spent providing handwriting analysis for the attendees.
–IBM Canada
You captivated us with your insight and kept us smiling throughout with your many humorous remarks.
–Re/Max Promotions
Everyone adored you and all agreed that you were incredible - you managed to wow a room full of Phd's that design psychometric profiling tools for a living - a rather impressive feat, to say the least!
–SMG (Self-Management Global)
It was a non-stop hour of fun and, combined with Elaine's charm and wit, indeed, a delightful stress reliever. We just loved Elaine!
–RBC
Elaine was GREAT! A hit at our meeting!!!! She came early and did on-site writing analysis, then presented a very entertaining and insightful keynote address, and stayed until everyone left!!!! She is such a wonderful lady, I'd recommend her to all!!!
–The Pen Centre, St. Catharines, Ont.
You had everyone 'on the floor' rolling with laughter - everyone had such a good time!
–Pepsi Canada
[Less..]