Madame Buskerfly
A Chick on Stilts & Other Oddities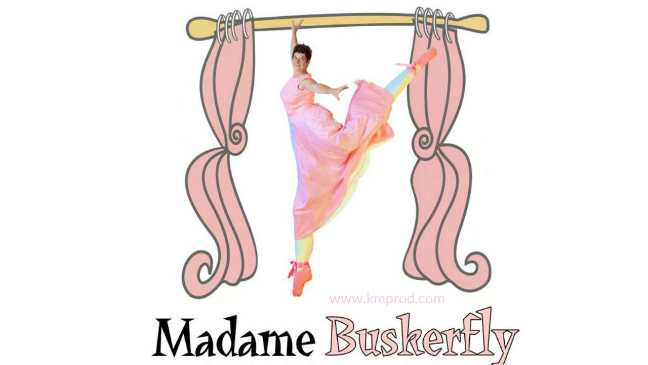 Bio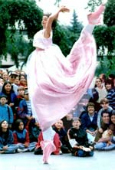 Kristi Heath a.ka. Madame Buskerfly has been a professional performer since the age of eighteen, beginning her career with the Second City comedy revue company. After graduating with a theatre degree, Kristi studied street performance with the Odin Theatre of Denmark. She was soon combining her background in comedy and theatre with the skills of stilt dancing, juggling and unicycling. She has been performing her own unique style of physical comedy around the world ever since, and continues to expand her repertoire of skills.
Show Description
Combining her offbeat humour with the use of objects, Madame Buskerfly has developed a show that blends physical comedy with circus skills. Her show has delighted people of all ages and nationalities with its direct approach and involvement of audience members. +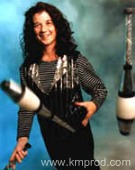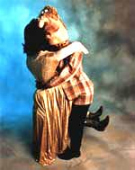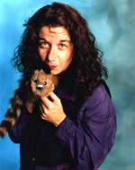 The show moves from juggling with scarves, balls, clubs and Chinese yo-yo to a death-defying card trick involving a raccoon, a deck of cards and a cannon. As well, you'll witness an audience favourite: two ballroom dancers - life sized dancing puppets. What the audience sees is a dancing couple - what they can't figure out is how one performer suddenly becomes two.
Finishing the show is Madame Buskerfly's signature piece - a hilarious stilt ballet, with Kristi as a ten foot tall ballerina. The prima donna chooses an aspiring Baryshinikov from the audience and together they perform an unforgettable pas-de-deux. This routine has never failed to leave the audience in stitches. --


CLICK ON ANY THUMBNAIL BELOW FOR A LARGER IMAGE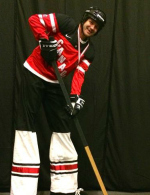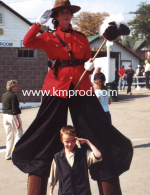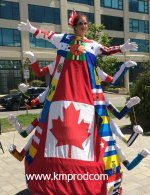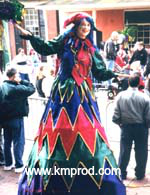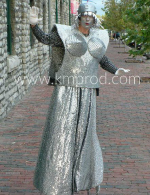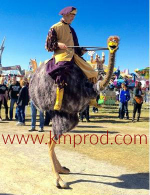 Madame Buskerfly is represented by K&M Productions. For more information, fees, & booking Madame Buskerfly, contact us.