Cheryl Pounder
Gold Medal Champion, Women's Olympic Hockey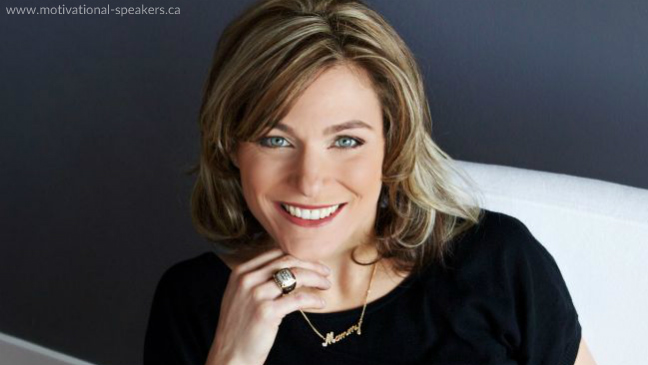 Bio
It's always about the journey. That's the message women's hockey champion Cheryl Pounder seeks to instill in every audience she speaks to. Believing that learning from our successes, as well as our failures, is the key to staying on the path toward excellence, Cheryl shows audiences that true achievement is found on the way to winning gold. +
Cheryl played on six of Canada's World Championship Hockey Teams, where she was named an All-Star Defense-man in 2005. She was also voted the Top Defense-man at the 2002, 2004, 2005 and 2007 Canadian National Hockey Championships. Her greatest career accomplishments are her two Olympic gold medals from the Salt Lake City and Torino Olympic Games, and being crowned the International Ice Hockey Foundation World Champion six times.
Currently, Cheryl is a hockey analyst for TSN. She was also the colour commentator for the coverage of the women's hockey tournament at the 2014 and 2018 Winter Olympics for both TSN and CBC. As a speaker, Cheryl's audiences have included Tim Hortons, Maple Leaf Foods, CIBC, TD Bank, Manulife, Women in Leadership Groups, Girl Guides of Canada, Western-Ivey-Executive MBA and the City of Toronto, to name a few. --
Topics
Cheryl Pounder's Speaking Presentations:
Cheryl is a passionate and invigorating speaker who believes that individuals and teams must be 'inspired by their journey'. Each journey provides a remarkable opportunity to learn from success/failures, adapt to change, and persevere thru adversity. Excellence is a process. This process requires commitment, leadership, teamwork, focus, determination and the willingness to take 'self- inventory'. We must be accountable for our actions and fully prepare every day. Are you prepared?
Pursuit of Excellence: Growing for Gold +

How does one grow and get gold, no matter their situation?Cheryl's enlightening keynote is interactive, engaging and entertaining. She discusses the importance of building a vision while focusing on participation vs engagement and the importance of seizing every opportunity.
Cheryl also focuses on the character dimensions of leadership, the importance of collaboration and how one individual can affect and impact the culture and mission of a group. By sharing information, understanding the importance of inclusivity and recognizing value, we build culture and efficiency. Growing for Gold involves trusting the process, tough conversations and clarity of the common goal. Thinking differently is essential to excellence. --
Pursuit of Excellence: Breaking the Barriers +
How do you take what cards life has dealt you and turn them into a win? Cheryl discusses adversity as it applied to her journey and how being 'abnormal' and taking chances helped her succeed in a world where many believed she couldn't.
Finding strength in vulnerability and having the courage to embrace change leads to incredible opportunities. Cheryl takes you on a journey, discussing how she developed resiliency and how she has overcome her personal fear of failure in order to break barriers and prove to herself and others that she has what it takes to win. --

Pursuit of Excellence: Understanding Mental Health and Ending the Stigma +

Can you recognize the signs of mental illness? Are you doing what you need to do to take care of your own mental wellness?
Cheryl talks about the pressures of leadership, being in the public eye and the importance of taking care of your own mental wellness in order to reach your goals and lead a fulfilling life. She also talks about the importance of encouraging your team and those around you to put mental wellness on their list of personal goals. --
Pursuit of Excellence: Women in Leadership +

The importance of finding your voice, rising up and collaborating
As a professional hockey player and sports broadcaster, Cheryl Pounder will share her journey as a female in a male-dominated community. She discusses the courage needed to find your voice and how to find the strength to 'stand on top of your story'. She will reinforce the importance of joining the conversation and how women can rise up to any challenge in any circumstance. She encourages the audience to talk about their own personal barriers while recognizing their role within a community. Cheryl also talks about the need for collaboration as women in leadership and how teamwork really does make the dream work. --
Host-Emcee +
Cheryl brings her high energy and effervescent personality to each and every event, large or small. With her warmth and friendliness, Cheryl immediately makes guests feel like they have a new friend. For fundraising events, Cheryl encourages giving and supports the cause with personal stories. With galas and award presentations, she is professional, yet down to earth. There's never a dull moment with Cheryl. With her experience as a sports commentator, radio host and keynote speaker, Cheryl keeps the energy moving while focusing on the goal of the event she's at. --
Cheryl Pounder is represented by K&M Productions. For more information, Cheryl Pounder's speaking schedule, fees & booking Cheryl Pounder as your conference speaker, contact us.
What Clients are Saying
Cheryl was amazing! She connected with the guests, had her photo taken, let guests hold her medals, and her presentation was perfect. She integrated her story with our work and at the end, she had a standing ovation. Cheryl is a lovely person and an outstanding presenter. Her love for presenting and her passion for her story and her caring for others comes through loud and clear.
–Halton Healthcare Services
[More..]
Cheryl was amazing! She connected with the guests, had her photo taken, let guests hold her medals, and her presentation was perfect. She integrated her story with our work and at the end, she had a standing ovation. Cheryl is a lovely person and an outstanding presenter. Her love for presenting and her passion for her story and her caring for others comes through loud and clear.
–Halton Healthcare Services
Your enthusiasm, professionalism, and ebullient style was evident not only to our staff, but to the delegates.
–Diversified Business Communications
Cheryl was absolutely PHENOMENAL this weekend. Her presentation was interactive, inspiring and targeted very well to the group of students that was there. She was funny, engaging, incredibly approachable and a very positive person to have with us. She also spent 1 on 1 time with several of us before her presentation, and graciously allowed people to take picture with her afterwards. All in all, she was an absolutely incredible speaker and I would ask her to come back and speak in a heartbeat.
–University of Guelph
Your presentation was not only inspirational but a great lesson on setting goals, focus and overcoming adversity. Your enthusiasm shines through and your hope is contagious. The feedback we have received thus far is that this was one of the best Senior Leadership Days we've experienced in quite some time. You had a direct part in the day and should take credit and be proud of the success. We truly are "Growing from our Strengths.
–Mark's Work Warehouse
When I challenged you to incorporate health and wellness, motivation, planning and link it to Campbell's, I was unsure whether you could "pull it off". Within minutes of your presentation, I knew we were all in for a surprise. Your ability to clearly articulate while emotionally touching the room was felt by all. Combined with the many positive comments following your session, I would have no hesitation recommending you to anyone interested in a 'down to earth' motivational experience. You certainly touched our team and left a lasting impression.
–Campbell Soup Company Ltd.
In a day and age where presentations seem all to plentiful it has become more challenging to find unique and intimate experiences that truly can inspire the pursuit of a dream, a tear and a laugh, and help us each understand what it means to represent something even bigger than we each are and the path to get there. I have had the privilege of seeing Cheryl present to different audiences, from young kids to accomplished professionals, and her level of inspiration and audience engagement is that special touch that is otherwise a missing ingredient for so many. Cheryl represents not only an elite level of accomplished athleticism and winning but at her core message, a heart-felt reminder to us all on the importance of the pursuit and belief in a dream, a vision and to battle through obstacles to achieve it. The medals were earned and her character and integrity of message is natural. Each presentation has ended in a standing ovation with tears throughout. Cheryl's is a unique story of someone that achieved excellence built from a dream as a child; had that world taken away from her and had to find a way to battle back to that level of success through nothing short of a commitment to work hard and sacrifice. Cheryl's message, and perhaps even more so, she individually, will inspire your heart and your own visions.
–Grote Industries Canada
[Less..]