Denis Grignon
Bilingual Corporate Comedian;
Specializing in Farming, Agricultural & Rural Humour
Bio
Denis Grignon's brand of comedy works above the neck, not below the belt (and he can do it in two official languages!) He's an extremely versatile comedian who knows how to research his audiences, drawing on his experience as a former journalist. He continues to contribute radio documentaries for the CBC as well as writing feature articles for major magazines and newspapers, including the Toronto Star. A masterful MC, a disciplined writer of funny scripts, Denis knows how to enliven any event – whether it's at a corporate conference or on a tour of military bases in Afghanistan where he's entertained Canadian and international troops.
Grignon has earned enthusiastic praise for everything from hosting language summits and writing awards shows - which have been hosted by the likes of Steve "Red Green" Smith and members of the Royal Canadian Air Farce - to his own hilarious digs at politics and corporate culture. It's one reason his clean and clever comedy is seen regularly on the Comedy Network.
The Globe and Mail says he's "wonderfully relaxed," while the Ottawa Citizen describes him as "a sharp and likeable comic who respects an audience's intelligence." The Voice of the Farmer, meanwhile, said his comedy is "a refreshing change." You'll find him hilarious.
Show Description
Corporate Shows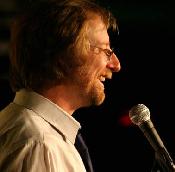 Knowing the audience is paramount for a standup comic—at least, for a smart and conscientious one. And when it comes to empathizing with corporate culture, Denis can relate. He spent 10 years as an on-air staff reporter and documentary producer with CBC Radio, where he is still a frequent contributor. His writing has been featured in the Toronto Star, the National Post as well as numerous periodicals. Heck, he's even contributed feature articles for the Canadian Wildlife Federation's magazines . He's insightful enough to know what his audience wants…and funny enough to deliver it.
Agricultural / Rural Shows
(Shows for Rural Audiences ie. Farming, Feed Supply, Food Industries, etc.) (See testimonials at bottom of page)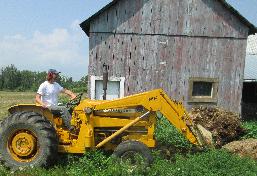 Denis is no clueless city boy. In fact, he's not a city boy at all. Though his work often takes him downtown, his home town is in rural Ontario. Indeed, there aren't a lot of standup comics who have to feed the ducks and shut in the laying hens before they head out to do a show. Rural audiences react enthusiastically to a brand of humour that's just as likely to be inspired by a classified ad in a small-town newspaper as by headlines in the Globe and Mail.
Stand-up Comedy & Host-Emceeing
Sure, Denis Grignon can – and does – perform his standup comedy routine to urban and corporate audience. But he's equally at home performing to rural audiences – largely because he's a rural guy himself. Indeed, much of his act – its material but especially its tone - reflects life beyond the big cities. After all, how many comedians have to head home after the show to shut the chickens in? A true crowd pleaser for any audience, Grignon can make the CEO laugh as heartily as the woman who sells the best corn at that outdoor market.
EVERY SHOW is researched & customized for the particular audience.
Denis Grignon is represented by K&M Productions. For more information, fees, & booking Denis Grignon, contact us.
What Clients are Saying
You were sensational! Your stories create a nostalgic fuzzy feeling & remind us of our childhood.Your background in farming & especially pork production was evident throughout your show. We're grateful that you took the time to do some research on what we do.The jokes you wrote & performed for us were especially fun!!


–Ontario Pork Congress (2016)
[more...]
You were sensational! Your stories create a nostalgic fuzzy feeling & remind us of our childhood.Your background in farming & especially pork production was evident throughout your show. We're grateful that you took the time to do some research on what we do.The jokes you wrote & performed for us were especially fun!!


–Ontario Pork Congress (2016)
A large number of our guests were farmers and the humourous farm and life experiences you related really connected with the audience. Your acute observations and attention to details were very evident in your delightful presentation.


–Northumberland Agriculture Association
You were just hilarious. For 45 minutes we all forgot about our daily troubles. That is a real tribute to your talent – to enable farmers to forget about their problems.
–Norfolk Soil & Crop Improvement Association
You really made a great effort to focus your relaxed humour on every day life in rural agricultural communities. It was obvious you knew your audience.


–Orangeville Agricultural society
The group really enjoyed your sense of humour, your delivery and ability to communicate with them in the business of agriculture.


–Bayer Crop Science
During our annual conference, which included delegates from all across Canada - including several whose first language is French, we had Denis Grignon perform at our Gala dinner event at the Delta Guelph.

Denis's job was to make us all laugh. And he succeeded admirably - at times in both languages, even. He also made a genuine effort to custom write jokes based on what our association is all about. There, too, he managed to find much hilarity in...aquaculture! (Though, granted, some of it came at the expense of a certain politician from the Toronto area).

No doubt he was better able to connect with us and what we do because of the research he did beforehand into aquaculture. We especially appreciated the part of his research that involved calling us a few days before his performance in order to get a stronger understanding of the event. He was professional from days before the event until he walked off stage to applause.
–Conference Coordinator-Aquaculture Association of Canada
Not only were you funny, but you managed to find humour in both the banking industry and farming that allowed you to strike a familiar chord with us. You managed it without sounding parochial or like an episode of Hee-Haw; it was still sophisticated (and clean) comedy that we could relate to. I'm not sure how many performers - if any - can do that.
–TD Canada Trust, Agriculture Services
You tailored your opening remarks to our participants and to the event and you included appropriate humour. Responsible to introducing each of our eleven presenters, you used appropriate biographical and career comments as well as personal humorous anecdotes where possible. You made people whom many of the participants knew only as titles sound human, friendly and real. Your closing wrap-up remarks, thanking all those who participated and attended and congratulating the winners provided exactly the right ending to our ceremony.
–Public Works and Government Services Canada
I have only received positive comments about your show. In fact, one of our staff commented on the fact that you spoke French and were able to swing back and forth between both languages and still keep everyone laughing. They thought that you were extremely talented! Thank you for your intelligent and funny performance. I should mention that I was very impressed by the time you put into researching our organization and becoming familiar and aware of some of the important and 'hot' topics.
–Canadian Institute of Steel Construction
[less]