Fee Range
PGgzPkZlZSBSYW5nZSBmb3IgTGluZGEgTmF6YXJldGg8L2gzPjxwPiQ3LDUwMSAtICQxMCwwMDAgPC9wPg==
Request More Information

Linda Nazareth
Speaker, Business Economist & Future of Work Expert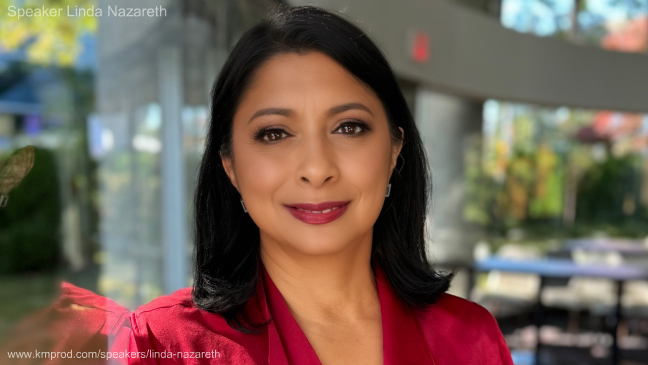 Bio
Linda Nazareth is a keynote speaker, economist and futurist specializing in trends around the future of work, global economic change, demographics and trends. As the Senior Fellow for Economics and Population Change at policy think-tank The Macdonald-Laurier Institute, Linda is an expert in demographic and economic trends. Her talks focus on what will happen — and what you need to think about to be on the right side of change.
Linda began her career as a government economist where she specialized in labor market planning. This was followed by a stint at a major financial institution as a senior economist. Wanting to change things up, Linda lobbied to have a job created for her on the Business News Network (BNN) while it was a startup, and spent a decade on-air as their in-house economist.

Now, Linda is a bestselling author and full-time keynote speaker. Her clients have included everyone from American Express through to The Economist, and all have benefitted from her ability to take big ideas and distill them into information that they can use for their own strategic plans.

Linda's last book, Work Is Not a Place: Our Lives and Our Organizations in the Post-Jobs Economy was nominated for the National Business Book Award. It draws on research and insights she has collected from cross-sector organizations and discusses why replacing the idea of "jobs" with that of "work" might not be that bad after all. Her recent, Where We Left Off: Ten Trends Changing the Post-Pandemic Economy was be published in September 2021. Her latest book "Working it Out: How to Be Ready for the Redefined Future of Work" was published in mid February 2023.

A frequent media commentator, Linda has been quoted everywhere from the Wall Street Journal to WIRED magazine, and is a columnist with The Globe and Mail.
Topics & Categories
AI & Digital Transformation
Business Management & Strategy
Diversity, Equity & Inclusion
Economics & Finance
Future of Work
Future Trends
Global Issues
Human Resources & Workplace Culture
Leadership
Most Requested Speakers
Most Requested Virtual Speakers
Resiliency
Virtual Presentations
Women of Influence
Linda Nazareth - Speaker Presentations for Conferences & Corporate Events:
Linda works with every client to customize her presentation for their audience. Some of her topics include:
Planning for Economic Success in a Post-Pandemic World

+
It is as if the lights got turned off: the economy was humming one day and then everything changed. We will come out of it, but we will come out of it into a different world and along the way we will have to make adjustments. And, as much as everyone is indeed in this together, some organizations will emerge stronger than others. To be one of those resilient organizations will take preparation and planning as well as a willingness to reinvent themselves, perhaps many times over.
This presentation starts with a look at the 'three stages' of recovery that we must inevitably get through before approaching anything that resembles normal. Then, the focus shifts to the megatrends affecting our economy and the way that they are reshaping the landscape for your organization. Although the attention in the short term may be on the pandemic, the reality is that technology, demographics and a changing world of work were already reshaping our future. Finally, the discussion switches to 'resilience', which far from being a buzzword, is now an absolutely crucial component of success in the post-pandemic world.
Part I: The Three Stages of Recovery
Thinking through the social and economic outlook for each of the stages of recovery: what will the economy look like as we go through the crisis and eventually emerge from it? How will the policy decisions made now affect your organization longer term?
The 'shut down' phase (which might happen repeatedly)
The physically-distanced mid-term
The post-vaccine long term
Part II: The Trends – Then and Now
The pandemic does not mean that the trends taking shape before it happened are no longer relevant, but it does mean that they need to be re-thought. These include:
Demographic Trends
Automation trends (where will the Fourth Industrial Revolution take us?)
Trends around the future of work
Part III: Resilience
What can we learn from those who have gone through previous crises? From the Ebola pandemic through to Hurricane Katrina, there have been stories of success and resilience, and lessons that can be borrowed.
Using research done by academics and citing examples of companies and individuals, why resilience matters in business and why that it especially important now as the economy is being re-made.
Part IV: Conclusions/Putting it Together --
Work Is Not A Place: Our Lives & Our Organizations in a Post-Jobs Economy

+
The world is changing and so is the very notion of 'work'. For years we have been told that our aging workforce will mean a shortage of workers in many industries. More recently, the narrative has changed to one where robots do everyone's work and there are not enough jobs to go around. Which view of the future is correct? More important, how will our lives and organizations change as we navigate the changing realities.
In this most-requested presentation based on her book of the same title, Linda Nazareth casts an economist's eye to the way the big trends are changing our realities. From looking at the way global change, demographics, and technology are coming together to reshape the work world through to examining the challenges for individuals, businesses, and governments, she sketches a world that is both unsettling and exciting. How can you best prepare for a world where work is not a place? Start with Linda's presentation and feel like you can meet the future head-on. --
Leadership in the Age of Disruption

+
The next decade will be a time of unprecedented transformation, a time when waves of disruption rock the economy and the world that we know. The leadership challenge ahead will be unprecedented: decision-makers will face a never-ending need to think quickly and adapt instantaneously to change while at the same time crafting the best long-term path and inspiring confidence in those around them.

In this inspiring presentation, economist Linda Nazareth talks about the forces that will re-make the economy in the years ahead and the challenge that they will pose in terms of leadership. Using examples of how companies have coped with previous disruptions she will look both at the lessons from the past as well as how and why leaders must make their own history as they deal with what lies ahead. --
Economorphics: The Trends Turning Today into Tomorrow

+
From globalization to urbanization to dealing with demographic change, the world we know is morphing into a different planet with different economic opportunities and challenges. What are the trends taking today into tomorrow, and what are the trends that are resulting from the shift? In "Economorphics", Linda Nazareth talks about the dozens of things she sees happening, and the challenges and opportunities they present to the economy, the labour market and the financial markets–and to your industry as well. --
The Global Economy in Context

+
Europe, the U.S., oil prices, interest rates, population change, currency markets, the markets and more – what is the big picture and how do you make the right decisions to stay ahead of the curve? How does North America fit into the mix – and how do you plan for your own industry and investments? In this presentation Linda Nazareth looks at the economic outlook, the opportunities in the face of challenges, and the way that the larger picture will affect your own business interests. --
Resilience in a Time of Economic Disruption

+
Bouncing back has always been important, but has there ever been a time when businesses got jolted in the way that is true today? Megatrends like climate change and fourth industrial revolution are rocking our world, and every business has to adjust, and quickly. Throw in some economic and political shocks and you have a world that must change on a dime. Only the resilient will survive.
In Resilience in a Time of Disruption, economist Linda Nazareth explores the concept of resilience, looking at why it is suddenly one of the most important characteristics for companies and their workers to acquire. How are successful organizations dealing with the accelerated pace of change that is becoming the norm? How should companies plan for a time for the possibility that their well-crafted plans have to be scrapped, again? And how do you develop a workforce that thrives in a time of disruption? It Is a brave new world, but with this presentation you will feel that you are ready to deal with whatever it brings. --
An Economist's View of Climate Change

+
Wildfires, floods, hurricanes – climate change is disturbing planet Earth, and the impacts will extend to the economy. Every industry, from energy to the arts will be impacted. How should organizations put climate change in their strategic plans? What does it all mean for investments and the financial markets? What should we be thinking about when it comes to climate change and work? In this thought-provoking presentation, Linda Nazareth casts her economist's eye on the impact of environmental change on the economy, giving her audiences both food for thought and practical takeaways on how to get ready for a future in flux. --
Event Moderator

+

Linda Nazareth is available to moderate events, conduct on-stage interviews, etc. Contact us for more information. --
Economist Linda Nazareth is represented by K&M Productions.
What Clients are Saying
Linda was fantastic! Very well received. All very positive responses. Linda was very pleasant to work with. She met with one of our Board Officers just prior (he introduced her), and he was quite impressed. She covered a lot of content in the hour. Still had time for questions. She did her homework on our industry, and it showed.
–National Wooden Pallet & Container Association (2023)
[More..]
Linda was fantastic! Very well received. All very positive responses. Linda was very pleasant to work with. She met with one of our Board Officers just prior (he introduced her), and he was quite impressed. She covered a lot of content in the hour. Still had time for questions. She did her homework on our industry, and it showed.
–National Wooden Pallet & Container Association (2023)
I just wanted to reach out and say thank you so much for such a wonderful keynote session. Convention would not have been as successful as it was without you. Thank you again for your time and efforts.
–Camping in Ontario (2022)
Linda was fantastic! She had so much great info and a fantastic delivery. Already thinking about when I can book her again.
–CHFA (Canadian Health Food Association)
Your presentation was extremely informative and thought provoking! Many of our members requested a copy of your presentation as a reference tool to look back on.
–Calgary Region Home Builders Association
Your presentation was of great value to the participants and was described as being both thought provoking and intelligent. We enjoyed the opportunity to work with you.
–Canadian Society of Club Managers
[Less..]