Madame Buskerfly
A Chick on Stilts & Other Oddities
Bio
Kristi Heath a.ka. Madame Buskerfly has been a professional performer since the age of eighteen, beginning her career with the Second City comedy revue company. After graduating with a theatre degree, Kristi studied street performance with the Odin Theatre of Denmark. She was soon combining her background in comedy and theatre with the skills of stilt dancing, juggling and unicycling. She has been performing her own unique style of physical comedy around the world ever since, and continues to expand her repertoire of skills.
Show Description
Combining her offbeat humour with the use of objects, Madame Buskerfly has developed a show that blends physical comedy with circus skills. Her show has delighted people of all ages and nationalities with its direct approach and involvement of audience members.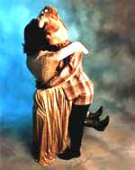 The show moves from juggling with scarves, balls, clubs and Chinese yo-yo to a death-defying card trick involving a raccoon, a deck of cards and a cannon. As well, you'll witness an audience favourite: two ballroom dancers - life sized dancing puppets. What the audience sees is a dancing couple - what they can't figure out is how one performer suddenly becomes two.
Finishing the show is Madame Buskerfly's signature piece - a hilarious stilt ballet, with Kristi as a ten foot tall ballerina. The prima donna chooses an aspiring Baryshinikov from the audience and together they perform an unforgettable pas-de-deux. This routine has never failed to leave the audience in stitches.


Spin Cycle consists of Kristi Heath and Greg Tarlin - two Canadian performers with long careers in the visual and variety arts. When the talents of these two veterans are combined, the result is a truly exciting show filled with lots of surprises.
They start off together with an energetic juggling routine choreographed to music. As the show continues, Greg and Kristi each get a chance to display their personal strengths. Greg impresses the audience with the skills that won him the Canadian Juggling Championship and Kristi gets them laughing with the sense of humour she displayed while working with The Second City Comedy Revue.
The show continues with a revamped vaudeville number that features two life-sized puppets dancing on stage, a thrilling 'danger' routine, and hilarious audience involvement. Things heat up even further when Kristi straps herself into a pair of stilts, Greg hops on a tall unicycle, and they perform an exiting finale involving an audience volunteer, juggling clubs and an ice cream cone.
This is an act that has provided laughs around the world. Since 1994 Spin Cycle has performed in New Zealand, Australia, Korea, the USA, coast to coast in Canada from Halifax to Vancouver, and on Holland America Cruise Line.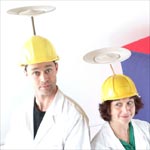 Kristi Heath and Greg Tarlin have created a new show called "Fizzical Fizzicks: The Science of Circus". These two veterans of the circus arts combine traditional circus props, popular toys and some big surprises to help display and explain the properties of the three types of motion: translation, rotation and vibration. Audiences will delight in the performance of traditional circus skills (juggling, stilt-walking, rola bola and unicycling) along with the skills displayed with common toys (yo-yo, hula hoop, pogo stick, ball). There will also be some BIG surprises along the way when giant props are put in motion (a child's swimming pool spinning on Greg's fingertip and a gigantic inflatable ball).
Three teams from the audience will take part in hilarious short contests involving translation, rotation and vibration. It's all part of the fun as these people perform simple motions such as spinning on the spot, throwing a ball and bouncing. All the contests emphasize teamwork and fun and once again help to demonstrate how translation, rotation and vibration work. As the finale of the show, Greg and Kristi perform their "Big Circus Trick" atop stilts and tall unicycle. They pass juggling clubs back and forth, spin plates on their heads and knock an ice cream cone out of the mouth of a volunteer.
The routine is a culmination of the three types of motion and reinforces the science while amazing with the circus.



CLICK ON ANY THUMBNAIL BELOW FOR A LARGER IMAGE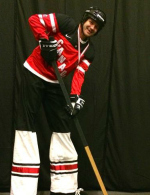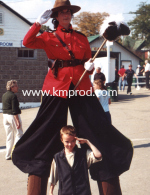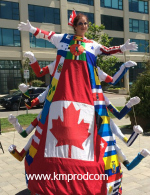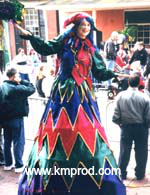 Madame Buskerfly is represented by K&M Productions. For more information & booking Madame Buskerfly, contact us.