Anthony Lindan
Canada's Team Building Magician & Corporate Event Illusionist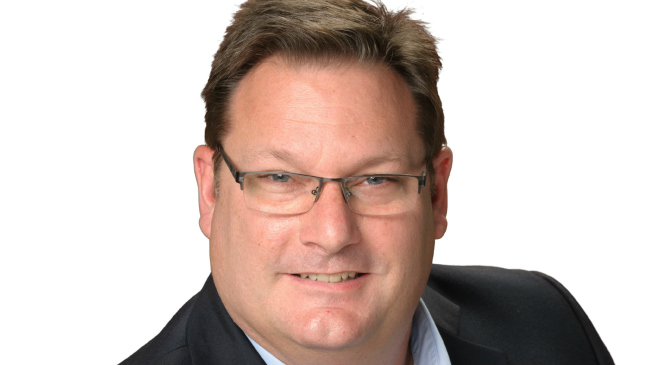 Bio
Anthony Lindan is a master magician, performer, team builder, custom creator and lecturer of close up magic as well as a gifted and engaging stage illusionist and mentalist.
Based in southern Ontario (Canada), Anthony has for more than 25 years performed exclusively for corporate functions such as receptions, conventions, conferences, trade shows, hospitality suites, sales meetings and at numerous prestigious events requiring the finest in blue chip entertainment. Lindan's keynote presentations and workshops share practical tips about tapping into your inner magic, maximizing your personal impact and communicating more confidently and effectively.
Topics
Team Building
THE MAGIC OF COLLABORATION
Interactive Team Building Workshop
Smaller Group Format - up to 80 - 100 people
Dowload PDF outline for smaller group format - up to 100 people
Dowload PDF outline for larger group format - up to 300 people

It is not all just smoke and mirrors. The skill set necessary to effectively perform a magic trick closely resembles that required to successfully communicate in the business world.
Corporate magician Anthony Lindan has developed a fun, interactive and experiential approach to learn about the creativity, communication, problem-solving and presentation skills required to perform magic and entertain an audience. Drawing on over twenty five years of experience, Anthony Lindan reveals the REAL secrets about performing and connecting with an audience.
"In magic, as in real life, the key to success is not the trick itself but how it is performed."
1. Participants break into groups and each group learns a different magic trick.
How the trick works – the mechanics;
Why the trick works – applied psychology;
How to perform the trick – presentation skills;
Each group develops a presentation relevant to their company or industry.
2. Mini – Magic Show
Participants for each group perform the trick in front of the whole audience;
Anthony Lindan serves as MC for the participant's magic show and provides insights into each performance.
3. Debrief
Anthony Lindan examines the experience of working together to learn, process and present new information.
Minimum number of participants is 15 and the maximum number of participants is 300. Including Anthony Lindan's opening magic demonstrations, the total run time is generally 2 - 2½ hours hours. Anthony Lindan provides all necessary magic props as well as and learning & take-away materials.
ADDITIONAL SERVICES provided by Anthony Lindan: +

The Power of Magic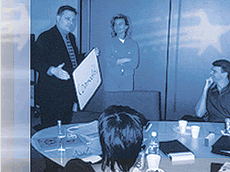 Over the years, Anthony Lindan has participated in hundreds of trade shows and corporate events throughout North America. He practices his specialized brand of marketing wizardry on behalf of an impressive array of corporate clients - industry leaders who have come to believe in The Power of Magic to:
attract and hold attention at a trade show booth or hospitality suite;
to educate and motivate customers;
motivate staff or a sales team at sales meetings, training events and product launches;
entertain participants at conventions, conferences and corporate events and ...
to have a whole lot of fun in the process!

Pure Enertainment
Many occasions call for nothing more complicated than a really good show which is exactly what the Pure Entertainment program offers in two magical versions. Both are lighthearted celebrations of fun and goodwill and each can be customized to carry your corporate message.
Anthony takes care of the pre-performance details and his material is always in good taste so there's nothing to plan, do or worry about.
Now, we should mention that Anthony Lindan decidedly does not fit the usual stereotype of magician-performer. There are no pesky rabbits, no flighty doves and when it comes to costume, he favors well-tailored business suits (or black tie if the occasion calls for it) over Mandrake-the-Magician capes.
Something of a chameleon, he tends to blend in ... until he starts to work. That's when the fun begins.
1. PRESENCE OF MIND - Stage Show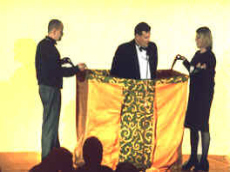 Presence of Mind is a 30-40 minute, cabaret style, stage magic show designed for an audience of 25-500 people. With its focus on audience participation, it's ideal for banquets, award ceremonies, sales meetings, product launches, conventions and any event where people gather to have a good time! It's a fast-moving show and Lindan gets the audience into the act right from the start (pick a card, any card). He turns otherwise perfectly normal people into human slot machines (lots of spinning, silliness and laughter); gets the boss into the act; borrows money, makes it disappear and takes the audience on a complex series of misadventures to get it back. Before you know it, it's time for the grand finale -- the hilariously frustrating Houdini-style escape. Houdini was never like this!
Two volunteers securely lock Lindan's hands behind his back and conceal him as he attempts to escape. In an artfully artless routine worthy of the great silent movie comedians, Lindan wages an impossible battle with his jacket, the shackles, the hapless volunteers holding up the curtain and the audience. Without giving too much away, we can say that he is ultimately successful, the show is over all too soon and as the event manager responsible for booking entertainment, you're looking very good indeed. (See video for more on this.)
2. MAGIC IS AFOOT! - Strolling Magic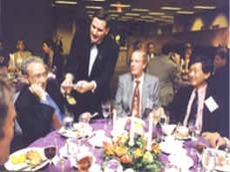 Magic is Afoot! is a form of just-for-fun pure entertainment. Anthony strolls from location to location or table to table involving members of the audience in close-up, sleight-of-hand magic. Given his chameleon quality, it's not always easy to pick Lindan out of the crowd but you can track his progress through the room by following the sounds of amazement and laughter. Magic is Afoot! is an intimate, involving style of show that's ideal for cocktail receptions, intimate dinner parties, trade shows booths to increase visibility and awareness, awards and incentive events, and corporate hospitality suites. --
Anthony Lindan is represented by K&M Productions. For more information, fees & booking Anthony Lindan, contact us.
What Clients are Saying
Anthony was great!!! He had everyone laughing, and his magic tricks made quite a few of us go "WOW...how did he do that????" Thank you K&M Productions for suggesting Anthony - we were truly impressed with him.
–IKO Industries Ltd.
[More..]
Anthony was great!!! He had everyone laughing, and his magic tricks made quite a few of us go "WOW...how did he do that????" Thank you K&M Productions for suggesting Anthony - we were truly impressed with him.
–IKO Industries Ltd.
Everything went great with Anthony's workshop! We found him to be very engaging and was most entertaining through his magic and his sense of humour. I had many people express their enjoyment of a team building activity that was so different than the typical things that have been done in the past. Our VP thoroughly enjoyed the workshop and how it tied perfectly in with the rest of our meeting's theme and content. Anthony has definitely created a unique and valuable program.
I could tell all the groups were having a great time learning the tricks, and it was a riot watching them 'perform'. We had everyone in cross-functional teams, so it was a super opportunity for different people to work towards a specific outcome in a specific amount of time. I especially liked how the groups tied their presentation in with our Kraft Values. Anthony taught something very important when he explained that it's not just about doing a trick, but that a story or message needs to be communicated while doing it. This definitely translates to our actions at work.
Thanks to K&M Productions for working with me to secure Anthony for our meeting; it was a pleasure to work with you!
–KRAFT Canada Inc.
The session with Anthony went very well. The team was very engaged and it tied in nicely to the theme that we were focusing on. I will definitely share the information with my HR colleagues for any future leadership/teambuilding sessions.
–Human Resources Mgr; TELUS Health & Payment Solutions
Thank you for an outstanding performance at our Sears Home Central conference. You managed to integrate a number of our somewhat dry business-specific concepts into a series of well crafted magic tricks that enabled our audience to retain the key messages and be entertained at the same time. Quite an accomplishment! You were a pleasure to work with. I trust I will have the opportunity to work with you again.
–Sears Canada
The feedback we received on the team building workshop was really great! People really liked the approach and they took away interesting concepts from the event. Anthony also performed some really amazing card tricks during dinner and afterward which dazzled all. I would most certainly say the workshop itself was really worth it: very energetic, lots of participation, and I can now speak from experience that it is not easy to perform a magic trick in front of a crowd believing you will fool them! Please convey my sincere thanks again to Anthony.
–Bell Canada - Network Information Solutions
Thank you for your fine work at our 'Magic Box' product launch in New York. You helped make the event a big success. Your customized magic presentations effectively relayed our key messages and did so in an immensely entertaining yet unobtrusive manner. We hope you'll work your magic with us again in the future.
–IBM Corporation
Everyone enjoyed your magic and the SAS messages you integrated throughout your performance. You are a quick study. You know our SAS messages better than some of our own folks!
–SAS Institute Canada
Your customized magic performance was amazing and informative and helped us attract people to our booth. Our staff was particularly impressed with how well you incorporated our key product information into your magic presentations. You certainly did your homework about our company and products.
–Kyocera Wireless Corporation
Thanks for entertaining at our 'Focus 2000' Dealer Road Show. The responses from our Vancouver, Calgary, Montreal and Toronto events were overwhelmingly positive. Your customized close-up magic performances were both amazing and informative. You particularly impressed our dealers and staff with how well you incorporated important Toshiba product information.
–Toshiba Canada
Your presence definitely increased our booth traffic and enhanced our presence at each show. Your ability to learn about Silver Platter's products and incorporate our company's messages into your magic script is astonishing. Our customers thought we had hired a new salesperson.
–Silver Platter Information Inc.
Thank you for your magical performance at our sales incentive plan launch. You truly amazed our audience not only by your tricks but also by how you definitely captured our marketing messages. You also impressed us by your ability to comprehend the marketing story after spending only a short time with us.
–Bell Canada
[Less..]