Fee Range
PGgzPkZlZSBSYW5nZSBmb3IgVGhlIEV2YXNvbnM8L2gzPjxwPiQ3LDUwMSAtICQxMCwwMDAgPC9wPg==
Request More Information

The Evasons
Award-winning Mentalists & Psychic Entertainers;
Live & Virtual Shows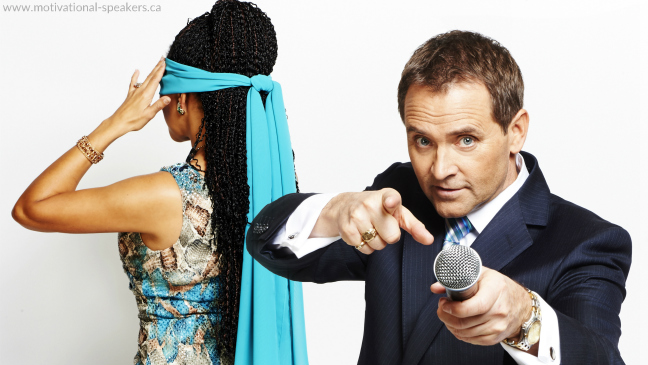 Bio
"The kind of mental gymnastics that are done on this are unbelievable. This act is so good ... I want them to be working forever and doing this act everywhere. I can say this without any fear of contradiction - I have never seen better at what you're doing and it is just fabulous."

— Penn Jillette / Penn & Teller ("Fool Us" appeareance / 2016)
Peers and fans alike recognize Jeff and Tessa Evason as the finest mentalist duo in the world. As mentalists, their magic and telepathy act has amazed audiences worldwide in over 30 countries and has been seen by millions on television. Their act delivers amazement and laughter with their phenomenal mind reading & ESP show. The highlight of the Evasons' dynamic, fast-paced presentation is their unique display of two-person telepathy. The Evasons were featured on Penn & Teller's "Fool Us" on Sept. 7, 2016. +

Award-winning mentalists Jeff and Tessa Evason blend the mystical power of magic with spellbinding feats of telepathy and illusion, psyching out audiences with an entertaining act that defies logical explanation. Hailed as "The most amazing mind-reading act you've ever seen!" by Powers of the Paranormal on FOX-TV, the extraordinary duo have performed in over 30 countries across the globe and made numerous appearances on major television networks including The World's Greatest Magic on NBC, Grand Illusions on the Discovery Channel and Masters of Illusion on PAX.
The Evasons were voted top performers of the year by the international Psychic Entertainers Association and given the prestigious honor of "The Dunninger Memorial Award for Distinguished Professionalism". They're the only mentalists to be granted "SARMOTI Award" at the World Magic Seminar in Las Vegas, which legendary magicians Siegfried and Roy present to their favourite act. To add to their numerous honors, in 2003, The Evasons were the first recipients of "The Mentalism Award" from the celebrated Milbourne Christopher Foundation.
With such widespread recognition, The Evasons have become a popular act for Fortune 500 corporate and campus events alike. The duo has entertained in Las Vegas' renowned Bally's, The Tropicana, Caesar's Palace and The Rio, as well as performed on some of the finest international cruise ships in the world including Disney and Holland America.
Those who attend one of the couple's interactive and comedic demonstrations can expect to be captivated by Tessa's uncanny ability to touch audience members with her powers of intuition. Blindfolded on stage, she'll reveal your first and last name, birth date, a serial number on any bill in your wallet or even your best friend's telephone number. Just when you're on the edge of your seat and left utterly bewildered by her unbelievable displays of extra-sensory perception and prediction, she'll challenge the limits of your belief even further.
The Evasons rely on their unbelievable talents and riveting shows to inspire audience members to open up their minds to new possibilities. "We're not there to prove anything," Jeff explains, "only to entertain and create a sense of wonder". --
Show Description
The Evasons (Jeff & Tessa) are currently offering up to a 30 minute virtual mind reading and mentalism program. The setup and camera angles (stationary as well as roving) along with professional lighting ensure that there is no possibility that Tessa is able to see or monitor the activities offered to the guests. It offers much of the same surprise, awe, fascination and audience entertainment as their live shows. Please contact us to discuss this virtual entertainment program in more detail.
LIVE EVENTS:
Entertainment That Defies Logic +

You're holding a picture of a relative.
On stage Tessa stands blindfolded. You've never met her, never seen her before - she'll never get this.
She hesitates - raises an eyebrow, and as you're thinking, "gotcha," she tells you the picture is of your grandmother, and announces your grandmother's name! As you think "no way," she identifies your friend's necklace and whom she got it from. When another audience member is levitated - no strings attached; when spirits appear in photos - you're blown away! You just Got Psyched!



Powers of The Paranormal - FOX TV
--

Laughter, Amazement and Pure Fascination! +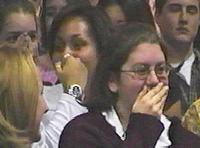 The Evasons present sophisticated demonstrations of ESP, Mind over Matter, Super Memory, Telepathy, Prediction - and in some of their performances - the Levitation of an audience volunteer and the Comedy Spirit Cabinet. You've got to experience it to believe it! Their presentation is polished and fast-paced, projecting a hip, upscale image.
Jeff & Tessa consistently exceed the expectations of clients who have seen it all before. They never fail to create an unforgettable experience that leaves everyone with a sense of having been part of something very special. After every performance, clients comment about how attendees were still discussing The Evasons for weeks afterwards. --

Let the Mind Games begin +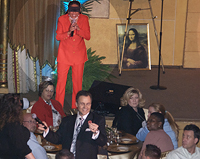 The highlight of the show captures the essence of the connection between this husband and wife team. While Tessa remains on stage wearing a blindfold, Jeff wanders through the audience approaching random volunteers. People are eager to participate.
You find yourself speechless as Tessa calls your first and last names, and if you like, your date of birth. You're holding a picture of a loved one. Tessa speaks a name. You are dumbfounded. She just identified the person in your photograph. You're thinking, how is it possible? But the experience defies explanation. You're amazed by what you see, yet find it too incredible for words. And you wonder if everyone else is thinking the same thing. But then again, you can't read their minds like Tessa can.
She knows the number of keys you carry and the type of car you drive. She describes the ring you're wearing and tells who gave it to you. You think of a friend's phone number and she not only tells you what it is, she also knows the name of your friend! You scratch your head with puzzlement when she reveals the serial number on any bill in your wallet. Amazingly, she seems to know all about you, even though you have never met before. --

The $100,000 Challenge! +

Regardless of whether or not you accept ESP as reality, their goal is to entertain the believers and the skeptics alike. Jeff & Tessa don't call themselves psychics and they don't claim to have supernatural powers. But keep in mind, they have no secret assistants and they do not use any concealed electronic communication devices. In fact they offer $100,000 to anyone who can prove otherwise. --

The Perfect Fit For Your Successful Event +

Part of the key to their success is the fact that they are highly adaptable to the needs of the entertainment buyer. The Evasons are suitable for corporate audiences of all sizes, from intimate gatherings to major events.
Maybe you're looking for a method to deliver a message, or introduce a product in dramatic fashion. Perhaps you'll be hosting a group of valued clients and need to provide entertainment. Maybe you need a new way to inspire innovation and creativity among your workforce or just want to get people together for some intriguing fun at a party.
For all kinds of corporate events - after-dinner shows, awards banquets, sales conferences, conventions, meetings, celebrations, parties, gala evenings, trade shows, customer appreciation and hospitality suites - book The Evasons as your main attraction and you won't need Tessa to foretell a show-stopping success! --

The Evasons are represented by K&M Productions. To inquire about The Evasons' date availability & booking The Evasons, contact us.
What Clients are Saying
This act is so good! Just breathtaking! Never seen better.
–Penn & Teller
[More..]
This act is so good! Just breathtaking! Never seen better.
–Penn & Teller
There are acts, there are shows, and there is entertainment, and then there are The Evasons. In a class of their own, above all others! Shows like The Evasons, come around once in a lifetime for corporations, unless you book them twice. That is exactly what we did! Hard to believe they can improve on perfection, but Jeff and Tessa did exactly that. Watching the audience reaction was almost as good as the show itself. Fast paced, engaging, mystifying, and truly entertaining. Their ability to interact with attendees is keystone. The buzz they create, that carries on long after they are gone, it simply spellbinding.
–Niche Technology (Booked them for 2 conferences)
Our delegates being natural sceptics were amazed by The Evasons!
–MISA Ontario (Municipal Information Systems Assoc. - 2022)
The entire audience was in awe over your show which helped make this the most upbeat and motivational end to a year that I can remember. I would have no hesitation recommending you for any corporate event. You do a great job not only presenting a remarkable show, but connecting to the company and making it relevant to the audience.
–American Express Canada
The audience was on the edge of their seats throughout the performance. The Evason's amazing psychic show has been the 'talk' in our office since our Holiday Party. I would highly recommend the Evasons for any occasion looking for a captivating and entertaining show.
–Cadillac Fairview
I want to thank you for the incredible experience you have given our group at the CAA Annual General meeting in Jasper, Alberta. Your marvelous talents amazed our board of directors and guests and you'll be glad to know that everyone is still talking about their individual experiences. I would highly recommend your show to anyone.
–AMA Groups & Incentives
Regarding our recent corporate Xmas party event with The Evasons; It ran very smoothly, on time, was not rushed and of course was an excellent show. Jeff and Tessa had an action packed hour of amazement for us all. I've heard nothing but rave reviews. Not sure how we'll be able to top this one for next year's party! For sure the best entertainment we've had ever….Even the skeptics were believers by the evening's end. Truly an amazing performance…Once again thank you for everything, it was a pleasure working with K&M Productions.
–Accurate Assessment Group Ltd.
Your spectacular showmanship, interaction with the audience, and genuine care and concern for everyone involved was amazing. The crowd was so stunned with your unique ability to literally read their minds! I was especially impressed with your ability to tailor the show specifically to both our venue and our audiences needs. Your work on stage was both upbeat and funny, keeping the pace of the show at an exceptional momentum. The audience left with many asking me, 'When are you going to book them again?"
–Swinomish Northern Lights Casino
Their performance captivated the audience for the entire hour. They maintained a very high energy level through out their entire performance, and their demonstrations were truly amazing.
–Manulife Financial
I can't begin to describe the reaction we had to the show last night. The Evasons inspired a sense of wonder in grown men and women that we can only fondly recollect from when we were children. They were consummate professionals with a deft comedic touch that thoroughly entertained our group. I would recommend their act to any of my colleagues or clients and know that they would be grateful for pointing them in Jeff and Tessa's direction.
–Cushman & Wakefield
What a show! Our clients loved it. Both you and Jeff were very professional from the moment we made the arrangements till after the show when you departed. You "wowed and amazed" our clients and also our staff. Our staff was talking about your performance for days.
–Four Seasons Hotels
[Less..]