Fee Range
PGgzPkZlZSBSYW5nZSBmb3IgRGF2aWQgTWVycnk8L2gzPjxwPiQ0LDAwMSAtICQ1LDAwMCA8L3A+
Request More Information

David Merry
Corporate Comedian & Innovative Prop Comic, Speaker & Event Host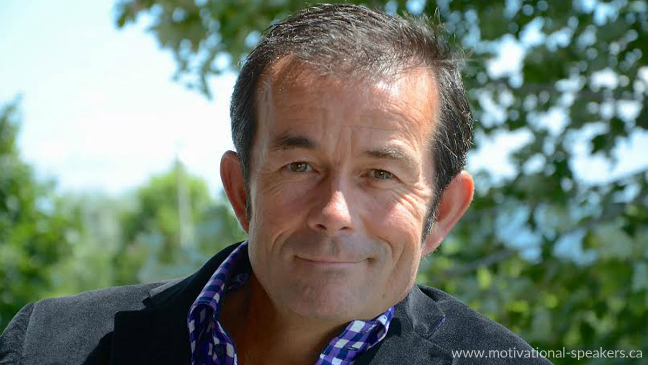 Bio
Canadian David Merry is a veteran comedian, motivational speaker, television personality and host, actor, master of ceremonies, magician and certified golf professional. For more than 25 years, David has been one of the top and most respected comedic entertainers in Canada and, being internationally-known has headlined with his unique brand of comedy all over the world. +

After high school David started with the Second City workshops and soon tried his hand at stand up comedy on amateur night at the local comedy club. After "killing" on his third night he has never looked back. He has since performed over 6400 shows in twelve different time zones and been on over 70 TV shows.
David's shows - whether his extremely popular corporate comedy show "THE DAVID MERRY SHOW" or, his theatrical extravaganza "DON'T PANIC. REMAIN DOT CALM" - use the very latest in original, custom props and site gags (all designed and created by David) as well as rapid-fire delivery of hilarious and sharp-witted one liners.
He is a past recipient of Canada's "Club Comic of the Year" Award, and his show "DON'T PANIC REMAIN DOT CALM" was nominated at the Canadian Comedy Awards in the Category BEST ONE MAN SHOW.

A roller coaster ride of comedy, mayhem and (good-natured) dementia, these performances are all designed to delight, amuse and entertain all types of audiences.

In additional to also offering motivational speaking presentations, David also offers a variety of corporate entertainment services including THE GOLF COMIC - a package specifically designed for company and special event Golf Tournaments, as well as his value-priced corporate entertainment package which includes up to an hour of fun, close-up, sleight-of-hand magic followed later by his after-dinner, interactive, comedy stage show. He is also a sought-after comedic host/emcee and is frequently hired for a wide variety of events including award evenings, golf banquets, fund raising events and more. --
Topics & Categories
Comedy & Humour
Event Hosts & M.C.'s
Humour & Variety
Most Requested Holiday Season Entertainment
Most Requested Shows
Motivational Speakers
Resiliency
Trainers
Universities & Colleges
Virtual Presentations
VIRTUAL / KEYNOTES:
Currently, David Merry has 2 very popular motivational speaking presentations:
ACCOMPLISHING: REALISTIC VS. UNREALISTIC GOAL SETTING
David shares the strategies he has learned, the formulas he's used, inside stories with Seinfeld, Dangerfield and other celebrities and how he still finds the time to fit in writing his third screenplay, a sitcom and now develops film and TV properties through his newest company True Gravity Productions. +
The age of 13 was a big year in David's life. He was introduced to the games of squash and golf and the art of sleight of hand and magic by a childhood friend. With his addictive personality and his quest to conquer whatever he tackled, he became absolutely hooked on magic. Wanting to become the best act in his magic club he re-invested most of his earnings back into the act and took lessons from several of the world's best magicians. At the age of 18 he set off for Las Vegas to attend the Desert Magic Seminar hosted by Siegfried and Roy. After watching the event and always dreaming of bigger things he vowed to return one day good enough to perform for his peers at the world's most prestigious magic convention. The call came through a few short years later when he was asked to host the closing gala with David Copperfield being the surprise guest headliner. Soon after, doors began to open; David began performing in New York, Chicago, LA, he started working on the world's best cruise ships, and became a regular in Hollywood at the Magic Castle and in Las Vegas and Atlantic City.
Constantly performing in gaming Meccas, peeked his interest with gambling. With his connections in the sleight of hand world he was introduced to a York University professor who invented the modern day system for beating blackjack called hi-opt 1. He tirelessly studied and practised the system, soon becoming proficient enough to land a spot on a professional blackjack team in Las Vegas in 1981.
After hearing about an anomaly on the roulette layout from a dealer friend, David studied that game for 2 years and eventually wrote a book on the subject called Re-inventing the Wheel, which is currently in its second printing. With the popularity of poker on TV, it was just a matter of time until David tried his hand at Texas Hold-em which he now plays semi professionally.
By his late teens David had become quite accomplished at both golf and squash. In 1979 he played in Canada's under 18 squash championships then after going to golf's Q school in his 20's received his pro card and has played in events on the Canadian, North Atlantic and Great Lakes golf tours. In 1999 he formed "Gekko Golf", a shoe company that is currently developing an innovative colour changing golf shoe after being granted a US patent for it's unique design. In 2000 he hosted Global TV's golf magazine style show "Get a Grip on Golf" but it was the following year (and where most people recognize him from) when he hosted Global TV's hit sports trivia show "GAME ON". He recently opened "Home Invasion" a customized comedy catering company that supplies unique comedic characters to corporate and private events.
David has played many of the world biggest stages opening for the likes of Jerry Seinfeld, Howie Mandel and The Smothers Brothers, In 2011 he bought a dinner theatre in Whitby on. From a young wide eyed teen doing magic shows in church basements to performing alongside some of the world's best entertainers and now owning several businesses and managing employees, let David show you and your team how to focus on the now, accomplish more by setting realistic goals and the steps he has used to become one of Canada's most sought after and unique personalities.
David share the strategies he has learned, the formulas he's used, inside stories with Seinfeld, Dangerfield and other celebrities and how he still finds the time to fit in writing his third screenplay, a sitcom and now develops film and TV properties through his production company. --
MANAGING YOURSELF UNDER PRESSURE
Typically qualities like quiet, shy and stuttering do not create the perfect backbone to become one of Canada's premiere comedians, magicians, speakers and television hosts. As a child David Merry had lots of friends, was confident around them but like other kids was reserved, quiet and shy when taken out of his natural surroundings. After seeing Bob Hope on TV at the age of 10 and then being introduced to magic by a friend at 12, he set his sights on entering the world of entertainment. In a fascinating and hilarious journey he relates how his love of performing outweighed his limitations, anxieties and what he did to overcome stage fright, panic attacks and stuttering to excel in a range of occupations most people wouldn't even consider. +
His presentation is both enlightening and informative as he shows people the secrets he's learned in order to work within the confines of nerves both mentally and physically. Tricks you can use to feel comfortable in front of others. While researching his distresses and the feelings that accompanied them, he learned so much about their makeup and how to deal with them directly. Most people with these anxieties only have to conquer them occasionally throughout life; it's an entirely different issue wanting to confront them weekly. The concept of this presentation from the beginning was to entertain, inform and ultimately pass on ways to help people actually embrace pressure so they can excel in public speaking, business seminars, pitches, performing, sports and other facets of everyday life.
Having worked in front of audiences from 4 people in a board room to 16,000 at the Corel Centre, he shares personal stories of how to overcome nerves when put into nerve wracking situations when you absolutely have no choice but to deliver.
The presentation contains superb close up magic using multi-media projection and he relates with his honed comedic timing inside stories with Seinfeld, Dangerfield and many other stars on how he learned how to manage himself under pressure. --
Corporate Training:
- Tips for Public Speaking +
As the Creative Director at True Gravity Productions Dave wrote and produced corporate training videos for many years. He was tasked with taking mundane information and putting it on film in ways to captivate and educate. In this new socially aware world there is great demand for corporate videos ranging from bullying to harassment to gender equality and everything in between. Another vehicle that has picked up momentum is the small Netflix type mini series for longer more in depth corporate topics. --
- Host/Emcee
- Stand-up/Prop Comedy
David Merry is represented by K&M Productions. To inquire about date availability & booking David Merry, contact us.
What Clients are Saying
He was GREAT! Everyone loved him. Thanks again to K&M Productions!
–H+N Roofing Sheet Metal Ltd.
[More..]
He was GREAT! Everyone loved him. Thanks again to K&M Productions!
–H+N Roofing Sheet Metal Ltd.
David was a perfect fit for our closing conference dinner and all of our attendees thoroughly enjoyed his show. He is a very very funny man.
–Toronto Police Services/Financial Crimes Investigation Unit
David was awesome! Everyone had a great time and the comments I received afterwards were all positive. It was a large group and he managed to make us all laugh.
–Toronto Construction Association
Our party was a big success and David was a big part of that success. The staff chatter today is fantastic. Thanks again for all your help and in recommending David.
–Shouldice Designer Stone
We received great feedback on David. He's very funny and has a great personality. He did not disappoint. Though David couldn't hear or see them, please assure him that the people at the back of the room were laughing so hard they were in tears.
–Ontario Telecommunications Association
Everything went Great! The group really liked his comedy act and enjoyed the magic within his comedy. I'm getting lots of great feedback. Thanks again!
–Parker Hannifin Canada
David was excellent. On time, in no hurry to leave, very professional and very funny. I have had numerous positive comments from the staff. A great choice! Thanks for recommending him.
–Patlon Aircraft
David was absolutely hilarious and there wasn't a dry eye left in the house. Thanks for recommending him.
–Masterfeeds Canada
It's like Steven Wright doing Magic Tricks on Shutter Island ...
–Toronto Star
[Less..]