B&B Blues Band
High-Energy, Hard-Rockin' Blues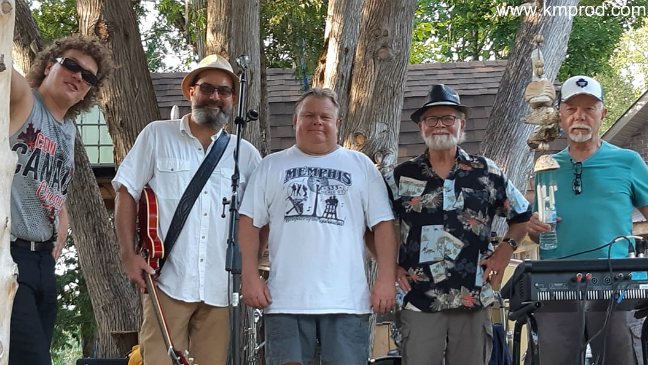 Bio
A favourite in the Kawartha and Haliburton areas of Ontario (Canada) since 2016, along with a dedicated following, The B&B Blues Band are high energy and passionate at capturing and performing the very best varieties of live blues music. Named after co-founders Billy and Barney, this band has been building a reputation as a hard-rockin' blues band that gets the crowd up on their feet & dancing up a storm! With the talents of these versatile musicians they are great for any type of corporate social or special event, conference banquet entertainment, as well community festivals (ie. Ribfests, etc.) The band constitutes 4 core members but is also configurable in different 5 piece formats. +
Core members:

Gord Barnes: Frontman & Harp Player AKA "Barney" One half of the "Barney/Adams Band" playing the Toronto/Barrie/ Durham circuit for twelve years. Recorded one album Blues Attitude. Had the pleasure of opening for George Thorogood and David Wilcox.
Billy J. Campbell: Drummer, started playing professionally at the age of sixteen. The former member of Grant Fullerton's, "Jam Nation" as well as Gerry Markman's rockin' blues band "the Sensations".
Daniel Sandford: Bass Player. Playing since the 1960's in Europe & involved with the Canadian bands "Bond" and "Caesar". Also had the opportunity to play and record with Mel Brown. Daniel also backed up Danny Marks of Edward Bear fame.
Patrick Fockler: Vocalist, guitar-slinger and keyboardist. Patrick is the young man of the group. At the age of twenty-eight Patrick has been playing in many prestigious events. He along with his brother and cousin formed the band "The Fockler's that represented the Great Lakes Blues Society at the International Blues Challenge in Memphis Tennessee in 2017. They made it to the semi-finals and eventually, they would cecum to the eventual winner, Dawn Tyler Watson. Patrick has also recorded & produced with Cat Clyde, playing guitar, keyboards & bass as well as performing with Cat Clyde at the Texas festival S X SW in March of 2019. --
The B&B Blues Band are represented by K&M Productions. For more information, fees & booking The B&B Blues Band contact us.