Andrew Au
Global Thought Leader on Digital Transformation & Culture Change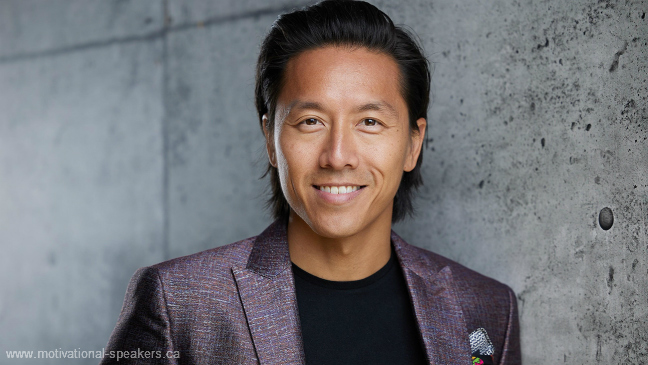 Bio
When companies like Microsoft, FedEx, and 3M want to accelerate innovation, they call Andrew Au. Today, the dynamics of industries are changing. No enterprise is too big to fail, no start up is too small to disrupt. Agility has become the new currency of business, and organizations need to respond. That's where Au comes in. He helps organizations respond to the now and prepare for what's next – helping them rethink how they engage their customers, motivate their employees, operate their business units, and inject innovation into their solutions.

Referred to by Forbes as a "digital transformation expert", Au helps organizations respond to the new culture and nature of work. Through his innovative work, he was the youngest person to be inducted into the Entrepreneurs Organization at the age of 22. He is among the few to be named to Forbes' "30 Under 30" list and has received over 50 domestic and international awards for business innovation and thought leadership. What makes Au's perspectives unique is that he doesn't just study digital transformation and culture change. He makes it real for the largest organizations in the world, every day.

Au has delivered live, virtual, and pre-recorded keynotes for leading organizations such as Microsoft, Rogers, Canada Life, Mitel, Harley Davidson, and a wide variety of industry associations. He shares his dynamic perspectives on leadership and emerging technologies with media including Forbes, Business Insider, Tech Insider, Bloomberg, BNN and the National Post.

Au is the co-founder of Intercept, a strategic consultancy that had led large scale system implementations and culture change programs.
Topics & Categories
Artificial Intelligence (A.I.)
Business Management & Strategy
Change | Change Mgmt.
Communication
Corporate Culture
Creativity | Innovation | Disruption
Digital Transformation
Entrepreneurship
Future Trends
Generational Issues
Health Care & Medicine
Human Resources & Workplace Culture
Information Technology (I.T.)
Leadership
Marketing & Branding
Most Requested Speakers
Most Requested Virtual Speakers
Sales & Service
Science & Technology
Social Media | Internet of Things
Trainers
Virtual Presentations
VIRTUAL / LIVE Keynotes:

Future of Work: Getting 2030 Ready +
By 2030, half of the work we get paid to do today will by automated by technology, 10% of jobs will be in job categories that don't exist today, and demand for technological skills will surge by 55%. Are you ready?
Being "2030 ready" means more than just applying automation, robotics, and AI. It involves a shift in leadership and culture — a modern approach to skilling, a cognitive division of labour, and a complete business model evolution. Andrew Au, an authority on digital transformation, provides audiences with a glimpse into this future and the pathways needed to prepare for this new world of work. --
Reworking Work +
Work as we know it has changed — permanently. Workflows are no longer confined to location, teams are not determined by geographics, businesses are not defined by industries.
In this session, Andrew Au provides a real-time glimpse into how leading global organizations are redefining their future of work strategies, including:
Hybrid culture building practices
Employee skilling programs
Automation, robotics, and AI integration
Redesigned employee feedback loops
Diversity, equity, and inclusion strategies
As a digital transformation leader, Au is on the frontline of today's evolving workplace. Just as the nature of work is evolving rapidly, so does this session. Content is updated monthly to reflect the latest trends, learnings, and practices. --
Navigating Digital Transformation +

Receive a custom keynote that explores how digital transformation is being applied to specific industries and lines of business.

Andrew Au applies his extensive experience consulting global organizations across a multitude of sectors including retail, agriculture, mining, professional services, healthcare, technology, and automotive.

Learn effective change management strategies that have driven successful technology implementations and legacy process modernization. Walk away with actionable frameworks that can be applied by your teams, immediately. --
The Modern Sales Pro +
Digital transformation is rewriting the rules of relationships. Sales leaders are forced to rethink how to connect with their customers in today's digital era.
The customers' buying journey is evolving. Information asymmetry used to exist, where salespeople knew more than the customer. Today, customers are swimming in information, but they lack the time to make sense of it all. As the needs of our customers evolve, so must our approach to customer engagement.
Join Andrew Au as he explores four fundamental shifts — mental, behaviour, technology, and network — sales professionals need to make in order to thrive. --
From Mass to Millennial: Managing Millennial Disruption +

Technology is revolutionizing how we work, live, and play. And, millennials are at the center of this revolution, directly influencing the makeup of today's modern marketplaces and diverse workplaces.
Andrew Au shares the winning formula to win millennials as customers and employees based on proprietary research and experience working with global brands including Microsoft, FedEx, Intuit, 3M, and more.
Key Takeaways:
Understanding millennial values and expectations
Applying a framework for millennial engagement
Activating company values to attract and retain future leaders
Debunking myths on millennials in the workplace --
Building Team Culture Remotely +
We've solved the individual productivity challenge with device docks, screens, remote logins, VPNs, etc. The bigger challenge is solving for collaboration and culture.
Working from home can be great for focused independent work. Yet, the core workflows that create value in most organizations have become more collaborative and creative in nature. Begin bridging the remote culture gap with this interactive session designed to stimulate collaboration when we need it most.
Audiences will learn:
How to re-ignite corporate values.
How to build new communication practices.
How to overcome isolation and maintain social experiences.
How to measure and manage team sentiment.
How to enable learning and development.
This virtual presentation runs 60 minutes, combining a keynote with an interactive Q&A. Length can be customized depending on client's needs. --
Additional Topics:
Education Digital Transformation: "Learning as (un)usual" +
COVID-19 has fundamentally changed education as we know it. Now more than ever, educators are challenged to provide anytime, anywhere learning for all students.
Over the past three years, Andrew Au's firm has helped more than 45,000 educators across North America use technology in meaningful ways to improve learning outcomes. In this highly engaging virtual presentation, Au reveals best practices that support a blended approach to distance and in-classroom learning to help audiences close the digital divide and deliver a new approach to pedagogy that embraces the future classroom.
Discover how to:
Deliver more personalized and inclusive learning experiences.
Create experiential learning opportunities that virtually bridge lessons to the real-world.
Improve student engagement and distance learning impact.
Foster social and emotional resilience for students.
This virtual presentation runs 60 minutes, combining a keynote with an interactive Q&A. Length can be customized depending on client's needs. --
Marketing to Millennials +

The marketing landscape has evolved. Marketers are making a big shift from mass to millennial. Every brand is competing to wih this single largest living generation. 18-38 years of age today, millennials are in the thick of life's biggest moments. Careers. Side hustles. Families. Home ownership. They are claiming their new position as head of household, and every brand is vying for their attention. So, how do you break through?
Andrew shares the winning formula for millennial engagement based on proprietary research and experience working with some of the largest brands, including Microsoft, Intuit, 3M, Scotiabank, 7-Eleven and more. This rich keynote sheds light on the latest lifestyle habits, psychographic insights, social media trends, shopping habits, top brands and breakthrough marketing strategies.
Key Takeaways
Optimizing your message for millennials
Core values and psychographic insights
Social media trends and engagement strategies
Breakthrough marketing best practices --
Digital Transformation for Canadian Healthcare & the Future of Precision Medicine +
The adoption of new technology and the rise of the millennial workforce are driving change and disruption at an unprecedented rate. Today, our healthcare system faces an aging baby boomer population, shortfall of doctors and nurses, above average ER wait times and declining budgets. These factors are amplified by the rising expectations of patients who want to navigate the health system the same way they do on Amazon, AirBnB or Uber.
Digital transformation has tremendous potential to reduce the industry friction we see today. Enhanced patient experiences, improved clinician productivity and lowered cost of healthcare are all achievable outcomes. Hear how healthcare leaders are leveraging technologies such as AI, IoT, Mixed Reality and wearables to improve outcomes for patients and caregivers.
Learn how you can apply digital transformation within your practice by creating a digital culture, rethinking the patient care delivery paradigm, optimizing clinical efficiency and piloting new care models. Also, get a glimpse into some of the latest advancements in genomic sequencing and the future of precision medicine. --
The "New Market" Economies for Automotive Dealerships +

Today, we live in a world of change. Driven by the rise of Gen-X and Millennial car buyers, and accelerated by a technological revolution that is changing the way we live, work and relate to one another. In an era when Amazon is the 800 pound gorilla in every industry, and with its sights set on automotive, how can dealerships win today?
This keynote addresses 3 fundamental questions—Who are Gen-X and Millennial car buyers? What are you saying to them? And how are you engaging them? Hear about the latest demographic trends and take a deep dive into the Gen-X and Millennial buyer mindset.
Understand their values, their desires and how they want you to engage with them. Learn about new technologies that allow you to better engage with car buyers before they step foot onto your lot. Know how to generate and nurture leads, and manage the showrooming that's happening at your dealership. --
A New Paradigm for Customer Engagement +

We are living in the age of the customer. An age where a consistent omni-channel customer experience is the standard. An age where every business is a 'digital business'. So, what does it mean to become a 'digital financial services organization?'
Digital transformation is much more than digitizing paper-based systems or metricizing customer wait times. It's about predicting customer needs to spark more meaningful conversations. It's about securely expanding your ecosystem through API's and third-parties to extend your value proposition. It's about embracing a digital-first culture—harnessing big data, AI, and machine learning—to overcome a legacy mindset.
The cost of not transforming is clear. Lost revenue, customer churn and irrelevance. However, the promise of transformation is also profound. Organizations that are mature in their digital transformation journey generate $100 million more in operating income very year compared to those who lag behind.
Learn the 4 pillars of digital transformation for financial services. From customer service; to employee motivation; to operational excellence; to product innovation. Walk away with actionable steps to becoming a truly digital organization and realizing the potential of digital transformation. --
The Rise of the Connected Enterprise +
Another industrial revolution is on the horizon. As information technology and automated production transformed the 20th century, digital transformation represents the Fourth Industrial. As Klaus Schwab, the founder of the World Economic Forum predicted, "In its scale, scope and complexity, the transformation will be unlike anything humankind has experienced before."
The manufacturing sector has been at the forefront of mass automated production. However, today there's a rapid shift from mass to customized production with IoT at the core. The Connected Enterprise is more than just getting alerts from malfunctioning equipment. Deploying industrial IoT powers automated intelligent decision making that creates new business models, revenue opportunities and better customer experiences. Learn how global organizations are leveraging connected equipment to stream and analyze data in the cloud, enable predictive maintenance, explore pay-per-use pricing tiers, and optimize future product design iterations.
Learn the 4 pillars of digital transformation for the manufacturing sector. From customer service; to employee motivation; to operational excellence; to product innovation. Walk away with actionable steps to becoming a Connected Enterprise. --
From Side Hustle to Main Hustle +
Today, we live in an era of constant change. An era where the marketplace is increasingly global. Where AI challenges legacy businesses, infrastructure and mindsets. Where the need for creativity and entrepreneurial thinking has never been greater.
Millennials are the single largest generation in the workforce, and possess one of the strongest entrepreneurial spirits. Did you know that today 40% of them have a side hustle? Whether you're an entrepreneur or intrapreneur, discover how you foster the entrepreneurial mindset to take a side hustle to a main hustle, or fast track advancement within your organization.
Hear how Andrew Au took an idea in his dorm room to building an international marketing agency empowering some of the largest global brands including Microsoft, Intuit, FedEx, and 3M to name a few. Discover his personal best practices, routines and solution frameworks that have helped him successfully navigate VC funding, conflict and litigation, customer acquisition and retention, competitive rivalries, industry transformation, and more. --
Precision Agriculture and Future of AgTech +
It's estimated that to meet the demands of our growing population, agriculture output must increase by 60% within the next decade. While digital transformation is a disruptive force, it also provides opportunities to create new strategic advantages.
Hear about the latest IoT use cases to increase food production with less waste and optimize equipment to limit downtime. Learn how farmers are using daily satellite imagery technology to monitor crop health and variations in soil and vegetation. Discover unique data collection strategies from on-farm weather stations to in-field telematics.
Book this keynote if you want to hear real stories from real farmers to inspire your digital transformation journey. --
VIRTUAL WORKSHOP: Innovation Hacking +
COVID-19 is a wake-up call. Organizations are now focused on developing new strategies, revenue streams, and operating models that are adaptive and resilient to changing market conditions.
This session is specifically designed for managers and executives who are looking to build new strategies and business models, faster and with greater clarity. Using a series of digital ideation tools, audiences will learn:
Customer empathy immersion.
Accelerated idea generation.
"Parallel-thinking" based idea narrowing.
Team idea scoring.
Bring your leadership team together for this interactive, hands-on innovation session that's designed to stimulate fresh actionable ideas.

This virtual workshop runs 90 minutes. It includes up to five briefing calls/stakeholder interviews to ensure content is applicable to its audience. --
For more information,* speaking fees, Andrew Au's speaking schedule & booking digital transformation & A.I. expert Andrew Au contact us. *Note: Fee range indicated is for "virtual" presentations.
What Clients are Saying
Thank you for the incredibly engaging and topical presentation - I'm hearing fantastic feedback.

You certainly hit all the markers and really drove home the messaging that we can do this; we just need to think critically about how to leverage the new data and technology to move forward. It was such an amazing presentation.
–LifeLabs
[More..]
Thank you for the incredibly engaging and topical presentation - I'm hearing fantastic feedback.

You certainly hit all the markers and really drove home the messaging that we can do this; we just need to think critically about how to leverage the new data and technology to move forward. It was such an amazing presentation.
–LifeLabs
Andrew brought a refreshing perspective to managing changing demographics and disruption in the workforce and marketplace. His thoughtful yet good-humoured approach captivated our group and finished up our conference on an excellent note. Andrew took the time to spend the afternoon with us and his commitment to providing a high impact session was greatly appreciated.
–Ontario Mutual Insurance Association
Andrew's presentation was amazing, and very well received. It was a delight to have him here!
–Canadore College
Thank you Andrew for your engagement, not only in delivering an extraordinary session, but in preparing for it thoroughly and making it relevant to the audience. It went far beyond what I expected of a keynote!
– Harley-Davidson Canada
Great job with your presentation yesterday! Very entertaining and excellent data as well. Feedback from our members was very positive.
–Canadian Hardware & Housewares Manufacturers Association
We had Andrew present at the Canadian Marketing Association's Talent conference, where we launched the Chartered Marketer Designation for Canada. Andrew's highly engaging and informative talk dove into key insights into the millennial hierarchy of needs and how to empower the millennials on your team. His clarity and energy had the delegates asking many questions. We had to unfortunately stop questions in order to introduce the next speaker. The attendee survey following the event reported glowing compliments of Andrew's presentation and his talk scored the highest of the conference.
–Canadian Marketing Association
Andrew delivered a truly inspirational keynote in our National Dealer Meeting in April. The whole motorcycling industry is changing, and a great part of Harley-Davidson's relevance in the future involves understanding and catering for the needs of the different generations willing to enjoy the sport of motorcycling. The challenge is, to a great extent, not so much the who, but how we engage with new customers while staying relevant with current ones. Andrew provided not only a very articulated view to the Dealer audience of who these new generations are, but also how they think as a collective and – more importantly – supported change via actions and insights in the way the dealers think and do business. The results from the Conference were visible from day 1
–Harley-Davidson Canada
[Less..]