Bill Walton
Basketball Legend; Broadcaster; Humanitarian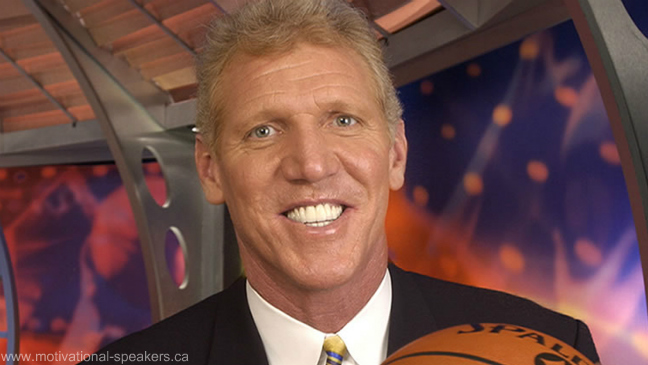 Bio
Bill Walton has a passion - for his work, for family and friends, for music, for life, and for greatness! Bill brings his out-sized passion to the stage and inspires audiences with tales from an improbable life in sport and beyond. He speaks about the secrets of world-class performance, personal and organizational excellence, and how he overcame nearly impossible odds - on the court and off - to persevere and win. As entertaining as he is insightful, Bill is widely considered one of the best speakers from the world of sports. +

The lessons Bill learned on the basketball court became life lessons that served him well throughout his sports, broadcasting, and business careers. No lesson was more important than the words from the legendary John Wooden, Bill's basketball coach at UCLA, who simply said "Do your best." Wooden never asked players to go out and win—simply to do their best and not beat themselves. Bill never forgot those words which helped him throughout his extraordinary career.
Following a celebrated college basketball career, Bill went on to have a Hall of Fame NBA career. After basketball, he pursued his dream job as a sports broadcaster, but first had to overcome his lifelong stuttering affliction. In 2008, Bill endured risky back surgery for to repair damage done early in his basketball career. Through it all, his determination carried him through.
Bill is active with many organizations and charities. For his efforts, in 2002, he received the NBA Retired Players Association Humanitarian Award. He is also involved in numerous online ventures, and is the author of Nothing But Net, and Back from the Dead, which will be published in 2016.
He is an authentic and true original who personifies greatness, and is one of the most compassionate figures in sport with an extraordinary record of giving back through his work with numerous charities and non-profits. --
Topics & Categories
Celebrities & Media
Change | Change Mgmt.
Inspiring Stories
Leadership
Motivational
Performance & Productivity
Team-Work & Collaboration
Bill Walton's Speaking Presentations:
The Power of "Positive" +

At 6' 11" in his Grateful Dead tie-dyed t-shirt, Bill Walton is one of the most recognizable and colorful sports legends ever. He's also among the most upbeat and positive people you'll ever meet. It's a mindset he's cultivated and credits for his ability to adapt, persevere, and ultimately succeed in his challenges on and off the court. Named one of "50 Greatest NBA Players of All Time," Bill incredibly missed 9½ of his 14 NBA seasons due to injuries related to undiagnosed congenital foot problems. Despite that, his achievements on the court were enormous. When his storied career ended with his 30th surgery, Bill's dream was to pursue sports broadcasting. One problem: a severe lifelong stutter that prevented him from even saying a simple "thank you."
Undeterred, Bill set about the task of learning to speak. He conquered stuttering and found a place behind the mic – earning numerous awards and honors since. Bill's greatest test came in 2007 when severe back pain confined him to the floor of his home for 2½ years. Finally relenting to surgery in 2009, the grueling rehab and recovery from that 37th surgery could well be Bill's biggest achievement. While Bill exclaims regularly, "I'm the luckiest guy on Earth," it's clear his outlook on life helped create that luck. Bill Walton loves to inspire audiences with tales about the power of positive. --
Why Winning Teams Win +
What's the secret to team success? Basketball legend Bill Walton has a lot to say on that topic and he speaks from experience. Bill played on two championship teams under the revered UCLA coach John Wooden. Bill's teams contributed to the Bruins' 88-game winning streak, still the record in men's basketball more than 40 years later. Bill was also a two-time NBA champion; with the Portland Trail Blazers and Boston Celtics. Of course, it's not possible to appreciate great teamwork unless you've seen the other side of that coin and Bill experienced that as well during his time with the San Diego/Los Angeles Clippers. That experience gave him a strong understanding of the building blocks necessary for great teams to develop and function.
After Bill's playing days ended, broadcasting offered him the perfect perch from which to watch extraordinary teams perform. Throughout his business endeavors, Bill applied the teamwork lessons he learned from sports with astonishing success. In this keynote speech, Bill talks about the essentials of successful teams – cooperation, friendship, loyalty, sacrifice, discipline, and leadership – with humorous and revealing anecdotes. As one of the most colorful characters from the sports world, Bill Walton delivers an inspiring message for teams looking to take their organizations to the next level. --
Leadership Lessons from the Hardwood +

Basketball icon Bill Walton was part of legendary college and NBA championship teams: UCLA, the Boston Celtics and Portland Trail Blazers. He was also part of the last place San Diego Clippers. To Bill, the difference between winning and losing was leadership. The best coaches knew how to get the best out of their players. In Bill's career no one was better than legendary UCLA coach John Wooden. An English teacher who coached on the side for extra money, Wooden focused on the fundamentals. He never talked about winning – and rarely even mentioned the opposing team. Wooden did insist that players work together, not be selfish, execute flawlessly, and be accountable for doing their best. Armed with that approach Wooden went on to win 88 consecutive games (a men's collegiate record which still stands) and ten national championships.
Bill Walton, the consummate storyteller, shares tales that are as insightful as they are entertaining – about lessons of leadership he learned from John Wooden, Red Auerbach, Jack Ramsey, and others during his storied career. Walton provides an inside look at how world-class performance is really achieved on the basketball court – leadership and teamwork lessons based on principles that transfer off the court, too.. --
Tales of Healing and Recovery +

Bill Walton is the most-injured player in NBA history. In his 14-year career he missed a total of 9 1/2 full seasons due to injury. In spite of that, he went on to be inducted into the Basketball Hall of Fame. Imagine what influence he would have had on the game had he stayed healthy! Bill's feet, knees, and back - the foundation of his ability to perform as an athlete - let him down. 37 surgeries! His last surgery was his most serious: to straighten a lifetime of abuse to his spine. Leading up to that surgery Bill spent three years on the floor of his home in agonizing pain, virtually unable to move. Bill speaks to health care audiences of all sorts and reminds them of the tremendous difference they make in the lives of patients, like him. Bill has also spoken to spinal patient groups to offer hope for the future. Bill's uplifting story of triumph against the odds is an inspiration to all. As Bill says about his life, "I am the luckiest guy on earth." --
Bill Walton is represented by K&M Productions (Toronto.) For more information on Bill Walton's speaking schedule, fees & booking Bill Walton as your conference speaker contact us. (Very SERIOUS booking-related inquiries only.)

Keywords: Author, Change, Accountability, Competition, Empowerment, Diversity, Execution, Healthcare, Improving Performance, Inspiration, Leadership, Media Figures, Motivation, Peak Performance, Teamwork and Turnaround Stories.
Testimonials
The response to our event has been awesome. Your speech was upbeat and on target!...You also impressed a great many people by staying an extra hour and a half to sign autographs and take more pictures. Not one guest in 22 years has done that.
–VP Marketing & Communications, Lifespan
[More..]
The response to our event has been awesome. Your speech was upbeat and on target!...You also impressed a great many people by staying an extra hour and a half to sign autographs and take more pictures. Not one guest in 22 years has done that.
–VP Marketing & Communications, Lifespan
Bill Walton was fantastic. He stayed long after his speech to talk with our members. He went above and beyond. Thanks so much for all your help!
–National Organization of Life and Health Insurance Guaranty Associations
Bill is just wonderful! He is such a pleasure to work with. We loved him so much that we have booked him three years in a row!
–Silver Line
Bill Walton was a true professional and a true gentleman. He prepared for his speech like he was getting ready for the 7th game of the NBA finals and left the crowd on their feet and wanting more.
–University of Dayton
[Less..]