Susan Stewart
Comedian, Author, Motivational Speaker;
The Lighter Side of Work & Life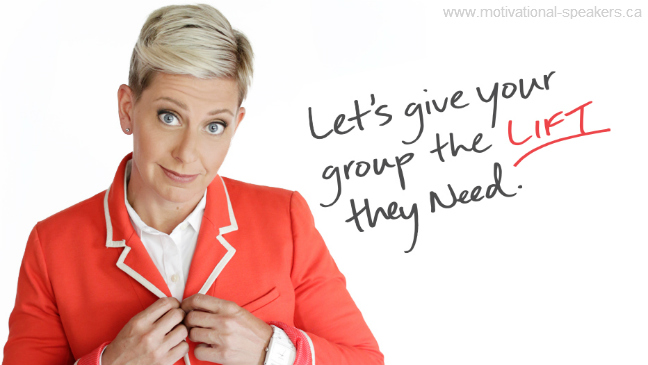 Bio
Motivational Humourist Susan Stewart blends the wit and wisdom she's known for with powerful messages about not taking life too seriously — especially in times of adversity and uncertainty. In her stand-up comedy style, Stewart shares ways to see the lighter side of life leaving everyone more uplifted and inspired to meet their challenges with a positive outlook, and of course, a sense of humour. +
Professionally, Stewart has taken a winding road. After earning a degree in Theatre Arts from the University of Waterloo, she began performing stand-up comedy in Toronto. Three years into her comedy career, Stewart began battling depression and anxiety, which eventually led her to quit performing. When she got back on her feet, she wanted to know "how the other half lived", and transitioned into the world of human resources as an organizational learning and development consultant with the Ontario government.
A year into her new HR career, Stewart was asked to create and deliver a comical presentation about wellness for an upcoming staff professional development conference. Her presentation was a smash-hit and she eventually left her HR career to return to the stage full-time and use her comedic powers for good. For the past decade, Stewart has been entertaining and inspiring people to not take things too seriously, lower stress, and nurture strong mental health.
Stewart is the author of Reaching The Laugh Resort: Why The Journey To Remembering Who You (Really) Are Is Worth The Jet Lag, Your New Lenses Are Ready For Pick Up: A Guide To Seeing The Lighter Side Of Life, and You Gotta Laugh: Wit And Wisdom About Not Taking Life (Or Yourself) Too Seriously. --

Topics & Categories
Change | Change Mgmt.
Comedy & Humour
Difficult People
Employee Engagement
Event Hosts & M.C.\'s
Health & Wellness
Humour & Variety
Mental Health
Morale Boosting
Most Requested Speakers
Motivational
Stress Management
Women of Influence
Work-Life Balance
Susan Stewart's Speaking Presentations:
YOU GOTTA LAUGH: Healing Stress with Humour

Of course, you don't gotta laugh, it's just that you can – it's always an option – that's the freedom of choice we were born with – we are always free to choose how we want to respond to our circumstances. In this entertaining hour, Susan will remind your group how important it is to not take things too seriously and share some ways to see the lighter side of life.
YOU CAN'T BE SERIOUS! Why Science Wants Us to Lighten Up
This interactive presentation is based on the scientific research that has proven that 75% of our professional success is determined by our interest in feeling good and our ability to be resilient in the face of adversity. In her signature comedic style, Susan examines the findings that have led to that statistic by revealing the truth about the relationship between happiness and success, the biological advantages of a "positive brain", what truly makes us happy, and three simple ways to put the powers of a positive mindset to work.
REACHING THE LAUGH RESORT:
A Comedian's Journey to Finally Lightening Up (And Taming the Heckler in Her Head)
Susan shares how fear and self-doubt lead her to quit stand-up comedy and how she discovered the healing powers of not taking life (or herself) too seriously. In the humourous style she is best known for, Susan reveals ways we can change our mind to reclaim that joyful true nature we so freely experienced and expressed at the very beginning of our lives.
YOUR NEW LENSES ARE READY FOR PICK-UP:
Seeing Changes and Challenges in a New Light
This program is a lighthearted reminder that there is always more than one way of seeing things and shares ways to view (and interpret) circumstances that create resiliency in the face of adversity.
Stand-up Comedy
THE LAST LAUGH
This hour is 100% pure comedy and Susan will leave your group feeling energized and seeing the lighter side of life.
Host & M.C.
Need a funny emcee for your event? Susan has been hosting events for over 15 years and will keep your crowd laughing and make your event memorable.

Susan has hosted events for: The Richard Ivey School of Business, Health Canada, Ministry of Tourism, Ministry of Culture, Ontario Place, Ontario Public Service's Human Resources Awards, The Women In The New Century Conference and many more..
Susan Stewart is represented by K&M Productions. To inquire about Susan Stewart's speaking schedule, fees & booking Susan Stewart as your conference speaker contact us.
What Clients are Saying
Susan kept our attention with important key messages, humour, and energized the entire room!"
–City of Toronto
[More..]
Susan kept our attention with important key messages, humour, and energized the entire room!"
–City of Toronto
Susan was fabulous, funny, entertaining and sincere in her delivery. I would highly, highly recommend her. She rocked the house!!!!
–Women In Business Conference
Our employees absolutely LOVED Susan. Everyone in the audience was able to relate on some level to Susan's message. Her presentation was both uplifting and funny.
–Portage College
Susan's upbeat, laughter-filled presentation ended the conference on a high note...
–Occupational Health Nurses Association
Susan's delivery captured everyone's attention and kept them laughing and thinking! My event was a complete success and Susan played a vital role.
–Natural Resources Canada
...what a great speaker you are! I found you to be extremely entertaining, very engaging, and most importantly, informed.
–Ministry of the Attorney General
[Less..]