Geoff Colvin
Senior Editor-at-Large, Fortune magazine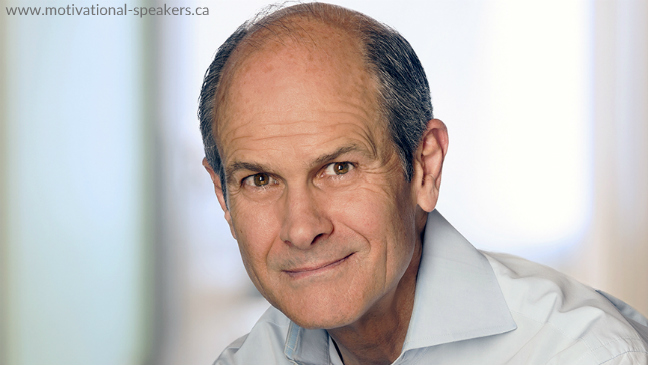 Bio
Millions of eyes and ears count on — and respect — Geoff Colvin's insights on the key issues driving change in business, politics, and the economy. The senior editor-at-large of Fortune magazine, Colvin draws on his unparalleled access to top global business leaders to share effective leadership strategies, and provide actionable insights on the on the economic, market, political, and technological forces driving disruptive change. He leaves audiences with a clearer path for an uncertain future.

Now in his fourth decade at Fortune, Colvin is one of business journalism's sharpest and most respected commentators on leadership, management, globalization, regulation, corporate governance, competition, the economy, the InfoTech revolution, human performance, and related issues. His columns and cover stories in Fortune have earned him millions of loyal readers.
Colvin is also the author of four books, including the ground-breaking international bestseller Talent Is Overrated: What Really Separates World-Class Performers from Everybody Else. It received the Harold A. Longman Award for "Best Business Book of the Year," and was called both "spectacular" and "fascinating" by Charlie Rose. His latest book, Humans Are Underrated: What High Achievers Know That Brilliant Machines Never Will, looks at the future of work and the crucial role of humans in a workplace filled with robots and smart technology.
As a (live as well as virtual) speaker, Colvin has presented to hundreds of audiences across six continents. He is known for bringing clarity to the most important and complex issues impacting business and the economy. He is also a skilled panel moderator, emcee, and interviewer whose subjects have included Janet Yellen, Henry Kissinger, Richard Branson, the Prince of Wales, Bill Gates, Colin Powell, Jack Welch, Alan Greenspan, Ted Turner, George H.W. Bush, George W. Bush, and many others.
In the media, Colvin has appeared on The Today Show, Good Morning America, Squawk Box, CBS This Morning, ABC's World News Tonight, CNN, PBS's Nightly Business Report, and dozens of other programs. He also served as an anchor of Wall $treet Week with Fortune on PBS, and is a daily contributor for CBS Radio Network, where he reaches seven million listeners each week.
Colvin is an honors graduate of Harvard University with a degree in economics and has an MBA from New York University.
Topics & Categories
Artificial Intelligence (A.I.)
Business Management & Strategy
Corporate Culture
Digital Transformation
Economics & Finance
Event Hosts & M.C.\'s
Future of Work
Future Trends
Global Issues
Health Care & Medicine
Human Resources & Workplace Culture
International Affairs
Leadership
Performance & Productivity
Politics & Current Events
Risk & Risk Management
Science & Technology
Trust & Ethics
Virtual Presentations
KEYNOTES & VIRTUAL:
Recalibrate: How to Succeed in This Business Climate +
As business leaders face their biggest challenge ever, Geoff Colvin arms audiences with insights to help them lead their organizations into the future. He connects the dots to provide an unparalleled update on the economic, political, technological, and competitive forces driving business disruption – and opportunity. Geoff has an important message for business leaders gleaned from 40 years at Fortune: the companies who win most often have leaders who summon the courage to act in spite of great uncertainty. Those leaders stopped protecting the past and started inventing the future – and they did it faster than the competition. Geoff reveals how the most successful leaders are confronting and adapting to this business environment right now. Winning in business today demands extraordinary leadership acting on the best intelligence it can find. Geoff provides valuable insights wrapped in a message that is optimistic and energizing: Opportunity is more widely available than ever, he says, and someone is going to win – why shouldn't it be you? --
Rebuilding the Economy – An Update +
No one could have imagined the turn of economic fortunes that are taking place in 2020. Coming back from such economic devastation will take time and every business leader is looking for valuable insights to help set their strategic course of action. In this talk, Geoff Colvin briefs his audience on where the U.S. and global economies are going. Trade, monetary policy, fiscal policy, government regulation, and global dynamics all factor into the equation. With Washington already having provided trillions of dollars in stimulus, what does the future look like and how should business leaders navigate the path forward? This is a timely talk updated with headlines from the day's news. --
Humans: The Ultimate Competitive Advantage +
The coronavirus pandemic launched many companies that weren't ready into a world of virtual work. It also transformed the way we think about relationships in the process. Couple that with robots and smart machines doing more of the work humans used to do – and doing it faster, cheaper, and better – and you have to ask: what's the future of work and how do humans fit in? Based on research for his New York Times bestselling book Humans are Underrated, Geoff Colvin helps audiences understand how work is changing and the critical skills they'll need most to adapt and compete going forward. The key skills are those of social collaboration: storytelling, social sensitivity, brainstorming, creating and innovating with others, leading, and above all – empathy. Geoff reveals what top organizations are doing now to build a competitive advantage by strengthening these capabilities. --
Talent is Overrated – How Great Performers Really Get Great +
Suppose most of what we believe about hard work and raw talent is wrong. That would mean most of us will never have the chance to perform as well as we could. Geoff Colvin, author of the groundbreaking international bestseller Talent Is Overrated: What Really Separates World-Class Performers from Everybody Else, explains the surprising truths about great performers and relates them to real life in real organizations. He shows how most organizations value the wrong things – passion, honesty, and learning are more valuable than hours, IQ, or "native ability." Geoff demonstrates that world-class performance comes from behaviors that every person and organization can adopt. Those who apply these principles gain a tremendous competitive advantage. Geoff cites relevant examples to prove it and to launch an important conversation in your organization. --
Panel Moderator, Discussion Leader, Emcee/Host +
Geoff Colvin's unique gift is his ability to brilliantly moderate panels, lead onstage interviews, and host/emcee. He's played these roles for more than three decades at Fortune conferences worldwide. Top companies and associations regularly utilize Geoff because he gets the most out of participants; he asks the right questions, listens intently to what's being said on stage, and responds to that. He also connects ideas and insights across sessions, transforming a multi-part program into a satisfying, unified whole. He always keeps the discussion relevant and the energy high. --
Geoff Colvin is represented by K&M Productions. For more information, speaking fees, speaking schedule & booking Geoff Colvin, contact us. (Serious booking-related inquiries only, please.)
Keywords: Future proofing your business, The Economy, Leadership & Management, Innovation, Business Trends, The Business Climate, Government Regulation, Global Competition, Secrets of High Achievers, Execution, Finance, Managing Risk, The Business Environment, Turnaround Stories, Author, Business Growth, Global Economy, Change, Competition, Global Business, HR Focus, Healthcare, Improving Performance, Managing/Leading Change, Media Figures, Peak Performance, and Moderator/Interviewer/Host.
What Clients are Saying
Thank you…for contributing to our event in such a substantial manner. We at IBM value the perspectives you brought to our session and appreciate the time you spent with us. Thank you again for making our event a priority.
–Chairman, President & Chief Executive Officer, IBM
[More..]
Thank you…for contributing to our event in such a substantial manner. We at IBM value the perspectives you brought to our session and appreciate the time you spent with us. Thank you again for making our event a priority.
–Chairman, President & Chief Executive Officer, IBM
Once again your stewardship of the business sessions opened the door for a truly interactive and valuable dialogue for everyone. Your depth of understanding of the challenges these companies are facing and the opportunities that lie ahead added tremendously to our conversations.
–Cisco
In a word: fantastic! Geoff really was perfect for this. He kept the conversation lively. Geoff really knocked it out of the ballpark.
–Microsoft
For a second year in a row, people are talking about your presentation. Thank you for joining us and teaching me a lot. I look forward to working with you again!
–The Elliot Group
Thanks so very much for your moderating today. I felt relaxed and right at home.
–George H.W. Bush
[Less..]