Fee Range
PGgzPkZlZSBSYW5nZSBmb3IgR2VvZmYgQ29sdmluPC9oMz48cD4kMzAsMDAxIC0gJDQwLDAwMCA8L3A+
Request More Information

Geoff Colvin
Speaker, Senior Editor-at-Large;
Fortune Magazine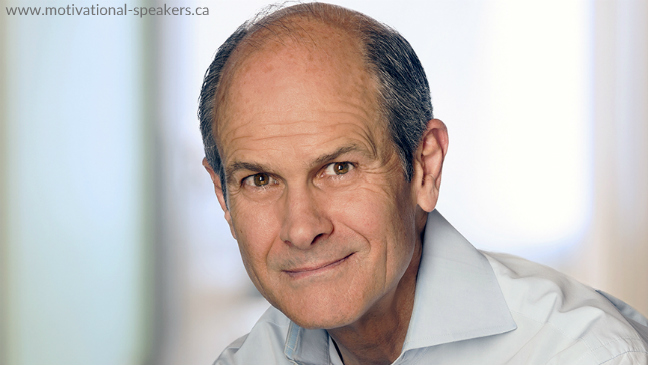 Bio
Experience counts in serious times. For four decades at Fortune, Geoff Colvin has covered the economic, political, technological, and competitive forces disrupting business as we know it. With unparalleled access to the world's top business leaders, his columns and cover stories, as well as his daily segments on CBS Radio Network, have earned him millions of loyal fans. As business leaders face their biggest challenges ever, Colvin is the voice of experience revealing a clearer path for an uncertain future.
As Fortune's senior-editor-at-large, Colvin is one of business journalism's sharpest and most respected commentators on leadership, management, globalization, government regulation, corporate governance, competition, the economy, the infotech revolution, human performance, and related issues. He is also one of America's preeminent business broadcasters. Since 1995, he has made over 15,000 daily broadcasts on CBS Radio Network and reaches seven million listeners each week.
In addition, Colvin has appeared on Today, Good Morning America, Squawk Box, CBS This Morning, ABC's World News Tonight, CNN, PBS's Nightly Business Report, and dozens of other programs. He also served as anchor of Wall $treet Week with Fortune on PBS.
Colvin is a respected author whose ground-breaking international bestseller, Talent Is Overrated: What Really Separates World-Class Performers from Everybody Else, has been translated into a dozen languages. His book, The Upside of the Downturn: Management Strategies for Difficult Times, was named "Best Management Book of the Year" by Strategy + Business magazine. Colvin's latest book, Humans are Underrated: What High Achievers Know That Brilliant Machines Never Will, explores the trend of advancing technology performing tasks far better than people, and the ways humans will create value for their organizations and their careers in this changing economy.
As a speaker, Colvin has presented to hundreds of audiences across six continents. He is known for bringing clarity to the most important and complex issues impacting business and the economy. He is also a skilled panel moderator, emcee, and interviewer whose subjects have included Ben Bernanke, Larry Summers, Janet Yellen, Henry Kissinger, Richard Branson, the Prince of Wales, Bill Gates, Colin Powell, Jack Welch, Alan Greenspan, Ted Turner, Warren Buffett, George H.W. Bush, George W. Bush, and many others.
Colvin is an honours graduate of Harvard University with a degree in economics and has an MBA from New York University's Stern School of Business.
Topics & Categories
AI & Digital Transformation
Business Management & Strategy
Change | Change Mgmt.
Economics & Finance
Event Hosts & M.C.'s
Future of Work
Future Trends
Global Issues
Health Care & Medicine
Human Resources & Workplace Culture
Leadership
Performance & Productivity
Politics & Current Events
Risk & Risk Management
Science & Technology
Trust & Ethics
Virtual Presentations
Geoff Colvin Conference Keynote Speaker Presentations:
Key Speech Themes
Leading Ahead of Disruption
How to Create the Future
Friction-free Business
Purpose vs. Profits
Economic Outlook
Business Model Innovation
High-Value Job Skills
New Tech Will Change Your Business Even More
The Future of Work
Washington Policy Update
Regional Development Focus
How Great Performers Get Great
Moderator/Host/Emcee
Live & Virtual - Sample Topics:
Future of Work - The Good-News

+
The nature of work changed drastically in the pandemic, but that's only the beginning of what's to come. New technology tools will profoundly alter what we used to call office work. Other technology will transform the 80% of work that isn't done in offices (or at home). Beyond tech, changing social norms and reordered personal priorities will change who does what, where and how. While all this is quite disruptive, Geoff Colvin says the big picture is a bright one – billions of people worldwide being more productive, more content, and – believe it or not – less stressed. Geoff reveals:
– How forward-thinking leaders are embracing these changes and winning big
– The increasing value of human skills and which will be most valuable
– The enduring power of physical presence at work
– How to win the war for talent which will only get more competitive
– Actionable to-dos to manage the future of work --
No New Normal: Leading in Continuous Change

+
The pandemic accelerated just about every trend you can think of. Nonstop change has now become the norm, and the world isn't going back. While there is no "new normal," the good news is we aren't doomed to play defense. Geoff Colvin shows audiences how to embrace a world of continuous disruption while building powerful competitive advantages. This uplifting talk shows step-by-step how we can all respond faster to change and even get ahead of it as individuals, teams, and enterprises. Geoff provides actionable takeaways to help leaders face change smarter:
– What the best leaders and companies are doing right now to create the future
– Why confronting reality faster is the key to seizing new opportunities
– Biggest pandemic lessons for business
– Scenario planning: surviving bad times begins with better decisions in good times
– 3 best ways to lead during crisis and disruption
– Creativity and innovation – how to unleash it individually and organizationally --

The New Economic Order – Risks and Opportunities

+
Global turmoil has roiled an already fragile economic order in ways that are still unfolding. At Fortune, Geoff tells the economic story in terms that focus on the risks and opportunities. Business people already know the numbers – what they might miss is the big picture; the forces driving the trends causing disruptive change in their world and, most importantly, what to do about it. In this presentation, the economy isn't a bunch of statistics; it's a story that Geoff tells engagingly, humorously, and memorably with valuable takeaways because, as he says, "Even in tough times, somebody's going to win, why not you?" Geoff covers:
– Why, even in times like this, it's vital to remain optimistic
– The latest data and trends curated for the audience/industry he's addressing
– A plain-spoken explanation of what's going on now – on Main Street, Wall Street, in Washington, and globally.
– How successful companies are winning in this economy --
How to Create a Business Model Built for the Future

+
Brace yourself: In 2022, 94% of CEOs said their company's business model will have to change in the next three years! More important: The majority of them also feel they aren't making progress fast enough. Business model innovation has become a must-have competence for all companies. That's a problem for those that are unprepared but a huge opportunity for the rest. Geoff Colvin identifies the inescapable forces that are rendering reliable old business models obsolete and shows how companies of any size in any industry can – and must – rise to the challenge. Geoff reveals:
– Inspiring examples of companies transforming their business model and winning
– Key trends driving the need for business model change
– How to just do it: Stop protecting yesterday and start creating the future
– The secrets to becoming a business model innovator
– How to adapt to a friction-free economy and create outsized opportunities
– Why human capital is the most valuable kind and how to make the most of it --
Panel Moderator, Discussion Leader, Emcee/Host

+
Geoff Colvin's unique gift is his ability to brilliantly moderate panels, lead onstage interviews, and host/emcee. He's played these roles for more than three decades at Fortune conferences worldwide. Top companies and associations regularly utilize Geoff because he gets the most out of participants; he asks the right questions, listens intently to what's being said on stage, and responds to that. He also connects ideas and insights across sessions, transforming a multi-part program into a satisfying, unified whole. He always keeps the discussion relevant and the energy high. --
To inquire about Geoff Colvin's speaking schedule & booking Geoff Colvin, contact us.
Keywords: Future of Work, Business Leadership, Future proofing your business, The Economy, Leadership & Management, Innovation, Business Trends, The Business Climate, Government Regulation, Global Competition, Secrets of High Achievers, Execution, Finance, Managing Risk, The Business Environment, Turnaround Stories, Author, Business Growth, Global Economy, Change, Competition, Global Business, HR Focus, Healthcare, Improving Performance, Managing/Leading Change, Media Figures, Peak Performance, and Moderator/Interviewer/Host.
What Clients are Saying
Thank you…for contributing to our event in such a substantial manner. We at IBM value the perspectives you brought to our session and appreciate the time you spent with us. Thank you again for making our event a priority.
–Chairman, President & Chief Executive Officer, IBM
[More..]
Thank you…for contributing to our event in such a substantial manner. We at IBM value the perspectives you brought to our session and appreciate the time you spent with us. Thank you again for making our event a priority.
–Chairman, President & Chief Executive Officer, IBM
Once again your stewardship of the business sessions opened the door for a truly interactive and valuable dialogue for everyone. Your depth of understanding of the challenges these companies are facing and the opportunities that lie ahead added tremendously to our conversations.
–Cisco
In a word: fantastic! Geoff really was perfect for this. He kept the conversation lively. Geoff really knocked it out of the ballpark.
–Microsoft
For a second year in a row, people are talking about your presentation. Thank you for joining us and teaching me a lot. I look forward to working with you again!
–The Elliot Group
Thanks so very much for your moderating today. I felt relaxed and right at home.
–George H.W. Bush
[Less..]