Geoff Colvin
Senior Editor-at-Large, Fortune magazine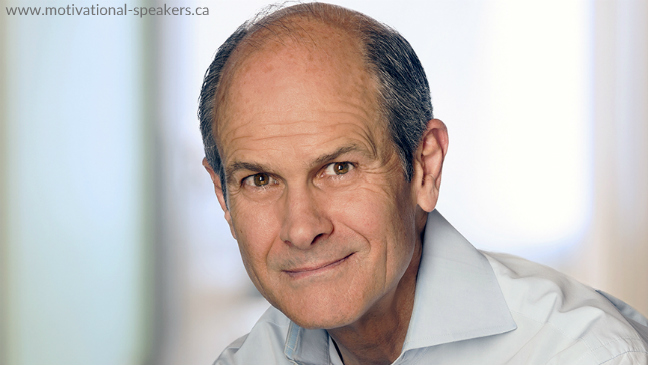 Bio
Geoff Colvin is an award-winning speaker, thinker, author and broadcaster, speaking on today's most significant trends in business. As FORTUNE's Senior Editor-at-Large, his frequent cover stories for the magazine, and his broadcasts on the CBS Radio Network (where he reaches seven million listeners each week), have garnered him millions of eyes and ears who count on and and respect his insights at the key issues impacting business today: the global economy; government regulation; the impact of Washington politics/policy on the business environment and the economy; health care; leadership and management; global competitiveness and more. +

Named by Directorship magazine as one of the "100 Most Influential Figures in Corporate Governance," Colvin draws on his years of insider access to top government figures and high-profile executives to share effective leadership strategies, and provides his unparalleled perspective on the business climate of today ... and tomorrow.
Colvin's ground breaking and bestselling book, Talent Is Overrated: What Really Separates World-Class Performers from Everybody Else, received the Harold A. Longman Award for "Best Business Book of the Year," and was called both "spectacular" and "fascinating" by Charlie Rose. His earlier book, The Upside of the Downturn: Ten Management Strategies to Prevail in the Recession and Thrive in the Aftermath, was named the "Best Management Book of the Year" by Strategy and Business magazines.
As a speaker, Colvin has engaged hundreds of audiences on six continents. He is also a skilled on-stage interviewer whose subjects have included Jack Welch, Henry Kissinger, Richard Branson, the Prince of Wales, Bill Gates, Alan Greenspan, Steve Case, Ted Turner, George H.W. Bush, George W. Bush, and many others. He is the regular lead moderator of the Fortune Global Forum, and he serves as moderator for the International Business Leaders Forum in London.
In the media, Colvin has appeared on The Today Show, The O'Reilly Factor, Good Morning America, Squawk Box, CBS This Morning, ABC's World News, CNN, PBS's Nightly Business Report, and dozens of other programs. --
Topics
Geoff Colvin Speaks On:
The Economy

Leadership & Management

Innovation

Business Trends

The Business Climate

Government Regulation

Global Competition

Secrets of High Achievers

Moderator/Interviewer/Emcee

LEADING AHEAD OF WHAT'S NEXT
NAVIGATING DISRUPTION, UNCERTAINTY: MANAGING, LEADING AND COMPETING +

The business environment is changing in historic and profound ways – competition, technology, government's role, and the balance of global economic power are shifting massively — and it's happening fast! Successfully navigating the tumult is every leader's great challenge today. For this talk Geoff draws on his unique perspective rooted in long-standing relationships with the world's top leaders in business and government. He knows what they're seeing, thinking, and planning and reveals how they're leading, making choices, and responding to today's challenges in ways that others can learn from. In a presentation that's as relevant as the day's headlines, Geoff explains what's important, what isn't, and what's next – offering audiences specific strategies they can put to work right now to navigate the future. --
THE 21st CENTURY CORPORATION
WINNING IN A FRICTION-FREE WORLD +

Imagine an economy without friction – a new world in which labor, information, and money move easily, cheaply, and almost instantly. Psst – it's here. Is your company ready?

The most successful companies today are forming starkly new, more fluid relationships with customers, workers, and owners. They're rethinking the role of capital (as traditionally defined) and finding they can thrive while owning less and less of it. They are creating value in new ways as they reinvent R&D and marketing. And finally, they're measuring their performance by new metrics because traditional gauges no longer capture what counts.

These companies aren't all glamorous Silicon Valley startups. They can be of any age and in any industry. Every company will have to become one, creating value in innovative ways, or lose out to competitors that do so.

Geoff Colvin's presentation is optimistic and energizing showing that opportunity is more widely available than ever – and how to seize it. --
POLITICAL CHAOS & YOUR BUSINESS +

The political pros have been wrong about almost everything in the election cycle so far. How can business people even hope to make sense of it – or make plans for their businesses and themselves?

Geoff Colvin has answers, explaining what's at stake in terms you won't hear elsewhere. This election may profoundly alter the factors and forces that business people really care about. Economic growth, consumer demand, interest rates, taxes, employment costs – cable news doesn't spend much time on those issues, but all of them could be affected by the election's outcome, transforming the business environment in important ways.

That's why business people must keep the most significant issues in mind, even if candidates don't want to talk about them. In the era of the gig economy, the Uberization of everything, advancing technology, and a large-scale global labor market, Washington is still in the 20th century on business policy. In addition, business people need to remember that three giant, long-term issues – entitlement reform, comprehensive tax reform, and immigration reform – are the real keys to how Washington can turbocharge or hinder the overall U.S. economy in the years ahead. Those issues often get lost in the daily coverage of candidates' latest tweets.

Geoff explains why partisanship won't decrease, regardless of the election results. So one thing most business people want from government – policy stability – will remain a dream. Yet we can't afford to be paralyzed, and Geoff shows how the most successful business people are competing and winning in this uncertain environment. Calling on his deep relationships in the worlds of Washington and corporate America, Geoff brings a message of optimism as we look past the rough and tumble of an election cycle unlike anything we've seen before. --
THE ECONOMIC OUTLOOK
TRENDS IN INVESTING, GOVERNMENT REGULATION, AND THE GLOBAL ECONOMY +

It's what everyone wants to know: where's the economy going? Today's economic environment is more volatile and uncertain than at any time in memory: the BRICs are slowing, America's growing, Europe's a question mark; technology is upending whole industries; surging demographic changes are creating new challenges and opportunities; governments are playing a larger role than ever. And it all changes by the day. Geoff offers fresh economic insights that get ahead of official statistics to uncover what's trending. Engaging, energetic, and topical, Geoff helps his audience anticipate the future more clearly. --
TALENT IS OVERRATED – UNEXPECTED TRUTHS OF GREAT PERFORMANCE
ARE TOP PERFORMERS JUST NATURALLY TALENTED…HARD WORKERS…OR IS IT SOMETHING ELSE? +

What if everything you know about raw talent, hard work, and great performance is wrong? Scientific research on great performance shows that what most of us believe is off-base – which means most of us will never perform as well as we could. Geoff Colvin, author of the groundbreaking international bestseller Talent Is Overrated: What Really Separates World-Class Performers from Everybody Else, explains the findings and relates them to real life in real organizations. He shows how most organizations value the wrong things – that passion, honesty, and learning are more valuable than hours, IQ, or "native ability." Geoff demonstrates that world-class performance comes from behaviors that every person and organization can adopt. Those who apply these principles gain a tremendous advantage. --
HUMANS ARE UNDERRATED – WHAT HIGH ACHIEVERS KNOW THAT BRILLIANT MACHINES NEVER WILL
WITH ROBOTS AND ARTIFICIAL INTELLIGENCE BECOMING MORE SOPHISTICATED, WHERE DO HUMANS FIT IT? +

For centuries, technological innovation mostly complemented human labor by creating new and better jobs, facilitating higher living standards and better wages. But technology is now capable of doing jobs that we once thought could only be performed only by humans – driving cars, unpacking boxes, writing articles, detecting emotions, even analyzing legal documents – the list is growing every year. In world of robots and smart machines, what is the future of work? Where will humans add value? How will companies compete?
Interestingly – the answer lies in people acting more like . . . people – and not like machines. This isn't just theory. Ask employers what skills they'll need most in the next 5-10 years like the Oxford Economics research firm did and the answers that come back are those that focus on social interaction: empathy above all, collaboration, storytelling, social sensitivity, brainstorming, creating and innovating with others and leading. While technology will undoubtedly continue to advance into areas and skills that we cannot yet imagine, these leaders know that these skills can create a tremendous competitive advantage – increased customer loyalty, innovation and cultures of engagement.
The transition to the newly valuable skills is happening faster than corporations, governments, education systems and most psyches can keep up with. That's disorienting – and it will get more so. In this presentation, which is based on the ideas outlined in his latest book, Humans are Underrated, Geoff talks about what top organizations – the Cleveland Clinic, Facebook, the U.S. Army, Stanford Business School and others – are doing to build and train for the workforce of the future.
If all this sounds worrying, it shouldn't. Colvin contends that people have spent centuries learning to work better than machines could. That era is ending. Machines do lots of work better than people do. Now there's the opportunity to focus on what people do best – be human. There's a real opportunity here. But it's a fundamental shift and leaders, organizations and workers who are most prepared will fare best. The good news is that people already have what it takes – it's up to us to make of it what we will. --
PANEL MODERATOR, DISCUSSION LEADER, EMCEE/HOST
GETTING THE MOST OUT OF YOUR MEETING'S AGENDA +

Geoff Colvin's unique gift is his ability to brilliantly moderate panels, lead onstage interviews and host/emcee. He's played these roles for more than two decades at Fortune magazine's most prestigious conferences worldwide. Top corporations and associations regularly utilize Geoff because he has a gift for getting the most out of participants; asking the right questions, listening intently to what's being said on stage and responding to that — keeping the discussion relevant and the energy high. He is so skilled that many top firms can't imagine doing an important program without him. As an attendee at a recent conference told the event organizer, "Geoff Colvin literally made this conference." --
Geoff Colvin is represented by K&M Productions. For more information and booking Geoff Colvin, contact us. (Serious booking-related inquiries only, please.)
Keywords: The Economy, Leadership & Management, Innovation, Business Trends, The Business Climate, Government Regulation, Global Competition, Secrets of High Achievers, Execution, Finance, Managing Risk, The Business Environment, Turnaround Stories, Author, Business Growth, Global Economy, Change, Competition, Global Business, HR Focus, Healthcare, Improving Performance, Managing/Leading Change, Media Figures, Peak Performance, and Moderator/Interviewer/Host.
Testimonials
Thank you…for contributing to our event in such a substantial manner. We at IBM value the perspectives you brought to our session and appreciate the time you spent with us. Thank you again for making our event a priority.
–Chairman, President & Chief Executive Officer, IBM
[More..]
Thank you…for contributing to our event in such a substantial manner. We at IBM value the perspectives you brought to our session and appreciate the time you spent with us. Thank you again for making our event a priority.
–Chairman, President & Chief Executive Officer, IBM
Once again your stewardship of the business sessions opened the door for a truly interactive and valuable dialogue for everyone. Your depth of understanding of the challenges these companies are facing and the opportunities that lie ahead added tremendously to our conversations.
–Cisco
In a word: fantastic! Geoff really was perfect for this. He kept the conversation lively. Geoff really knocked it out of the ballpark.
–Microsoft
For a second year in a row, people are talking about your presentation. Thank you for joining us and teaching me a lot. I look forward to working with you again!
–The Elliot Group
Thanks so very much for your moderating today. I felt relaxed and right at home.
–George H.W. Bush
[Less..]