Janet Podleski
Bestselling Author Looneyspoons | Award-Winning Entrepreneur | TV Host Eat, Shrink & Be Merry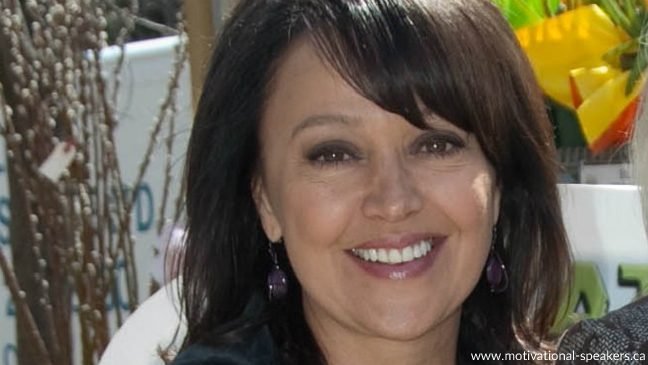 Bio
How did two sisters with no formal culinary training, no publishing track record, no food industry experience and — most importantly — no money, end up writing and publishing one of Canada's bestselling cookbooks of all time? Janet Podleski's captivating (and often hilarious) against-all-odds success story illustrates the power of passion, perseverance, and possibility, even when everyone around you thinks you're absolutely nuts! +

Janet Podleski is the author of four #1 national bestselling cookbooks: Looneyspoons; Crazy Plates; Eat, Shrink & Be Merry; and The Looneyspoons Collection. She's also known as a co-host of the popular Food Network TV show, Eat, Shrink & Be Merry!, along with her sister, Greta, and together they are the co-creators of a successful line of healthy, prepared foods. Janet is also a Registered Holistic Nutritionist and is currently studying for her Doctorate in Natural Medicine from Quantum University of Integrative Medicine in Honolulu.
Janet and Greta's first cookbook, Looneyspoons (published with the help of David Chilton, of Wealthy Barber and Dragons' Den fame), became one of the fastest-selling books in Canadian publishing history, with an astonishing 850,000 copies sold. It spent an incredible 85 weeks on the national bestseller list, and eight months at the #1 spot. Not bad, considering the sisters self-published the book out of their basement.
The sisters' inspirational success story has been featured on countless media outlets throughout North America, including on The Today Show, CNN, QVC, Cityline, Canada AM, and in People magazine and Reader's Digest. Fixtures on many a Canadian kitchen countertop, their books and recipes have been the subject of Trivial Pursuit questions and their famous entrepreneurial story is even studied in university marketing textbooks.
Today, Janet's on a mission to help people create transformation "from the inside out," so they can experience their best health and their best lives ever. --
Topics & Categories
Celebrities & Media
Entrepreneurship
Food
Health & Wellness
Inspiring Stories
Motivational Speakers
Women of Influence
From Cellar to Bestseller: The Looneyspoons Recipe for Success +

How did two sisters with no formal culinary training, no publishing track record, no food industry experience and most importantly, no money, end up writing and publishing one of Canada's bestselling cookbooks of all time, spawning one of the country's most unique and widely recognized healthy eating brands? The answer may surprise, delight, ignite and inspire you!
Janet's captivating, inspirational, heartfelt and often hilarious, against-all-odds success story illustrates the awesome power of passion, perseverance, following your gut instinct and believing that ANYTHING is possible—even when everyone around you thinks you're nuts!
Whatever you want in life, whatever your goal is, whether it's to lose weight, improve your health, start a new career or business, write a book, be a better parent or a better person, after hearing Janet's story you'll JUST KNOW that if she can cook up this super-juicy batch of success, you can do it, too. Just sit right back and you'll hear A Tale of Two Sisters…AND a Dragon! --
How to Eat, Shrink & Be Merry! +

Author Janet Podleski has spent the last 20 years helping North Americans to feel better, look better and cook better with her four #1 bestselling cookbooks, TV and radio appearances, magazine articles, healthy food products business and private practice as a Registered Holistic Nutritionist and Mind-Body Wellness Practitioner.

Now, drawing on her wealth of WELLth experience, Janet shares her most effective, cutting-edge strategies to help you live the healthy, vibrant life you're craving. Blending contagious enthusiasm and passion with a sprinkle of quantum science and a huge dollop of humour, Janet engages and empowers her audience with the knowledge that they have more control over their health (and their lives!) than they think.

It's whole-life inspiration, information, transformation…and a LOT of laughs!

Some topics include:
How to Win the No-Belly Prize! (Janet will inspire you with food whizdom and strategies to melt dangerous belly fat.)
Love Your Gut. Our "microbiome," (the bugs that live in us and on us), is crucial to our physical AND mental wellbeing. Learn what to feed your "bugs buddies" for optimum health.
What's the #1 thing you can ADD to your diet to get the most health bang for the buck?
How to Yank Your Sweet Tooth (Help for the sugar addict!)
That's Oil She Wrote! (What are the best oils to use for cooking? Learn about two "superstar oils" that can boost your brain and immune system, rev your metabolism and help turn back the clock.)
Eat Fat, Lose Fat (Why we shouldn't fear the fat, and why eating the right kind of fat is where it's at!)
All the Juicy Details (Why getting juiced every day is a great idea!)
You are what you eat, but you are what you think, too! (The new science of Epigenetics, and how changing your thoughts and beliefs can change your genes. Exciting!)
Try These Genes On (How food is information that "talks" to your genes.)
Talk Nice to Your Selves, Talk Nice to Your Cells! (The astonishing power of our thoughts, beliefs and words in creating either health or disease.)
Is Emotional Congestion at the root of your belly bloat? (Find out how stagnant emotions can impact your health and add 5, 10, even 15 pounds to the scale!)
Learn how to EAT instead of how to diet! --

Janet Podleski is represented by K&M Productions for speaking engagements. For more information, fees, Janet Podleski's speaking schedule & booking Janet Podleski, contact us.
What Clients are Saying
Janet was absolutely wonderful! Such a pleasure to work with and everyone really enjoyed her story.
–The Business Centre Nipissing Parry Sound
[More..]
Janet was absolutely wonderful! Such a pleasure to work with and everyone really enjoyed her story.
–The Business Centre Nipissing Parry Sound
I thought Janet's talk was personal, stimulating, inspiring and challenging – she would say one thing and my mind would engage in different thought processes and then, before I could capture the essence of my own thoughts, she would be on to something else equally as thought provoking and interesting. Not many guest speakers can claim that kind of attention from the audience I feel.
–Heart & Stroke Foundation Halifax
Janet proved to be a wonderful keynote speaker for our International Women's Day event. She delivered a very impactful message with humour and intelligence, appealing to a varied audience. The reviews from attendees were incredibly positive. I can't wait to have her back!
– Elgin Business Resource Centre
Janet, I wanted to send a sincere thank you to for such an incredible presentation on Saturday — I know our attendees loved listening to your story and tips, as did I! Thank you so much for pouring so much of yourself into it for our tribe.
–Founder & CEO, Mompreneur Showcase Group
[Less..]