Dr. Roberta Bondar
Astronaut, Physician, Scientist, Photographer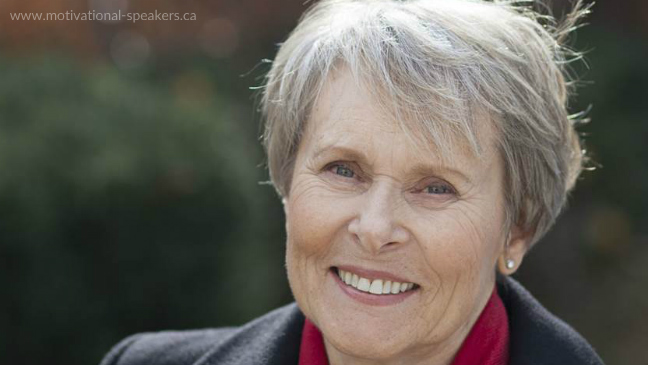 Bio
Dr. Roberta Bondar was the first Canadian woman to fly in space. An astronaut, physician, and photographer, Dr. Bondar expanded the horizons of millions when she joined the space shuttle Discovery for its 1992 mission. Dr. Bondar's highly motivational talks ― punctuated by her stunning photographs ― focus on change, social responsibility, our environment, overcoming challenges, realising dreams, and the importance of life on earth, in all its forms. +
For more than a decade at NASA, Dr. Bondar headed an international research team, continuing to find new connections between astronauts recovering from the microgravity of space and neurological illnesses on earth, such as stroke and Parkinson's disease. Her techniques have been used in clinical studies at the B. I. Deaconess Medical Center, a teaching hospital of Harvard Medical School and at the University of New Mexico.
Dr. Bondar holds a BSc in Zoology and Agriculture, an MSc in Experimental Pathology, a PhD in Neurobiology, an MD, and is a Board Certified Neurologist, Royal College of Physicians and Surgeons of Canada. She sub-specialized in Neuro-ophthalmology at Tufts New England Medical Center in Boston and at Toronto Western Hospital.
A respected advisor to industry and government, Dr. Bondar has supported UNEP (United National Environmental Program) to launch various initiatives, including a talk on "Oceans" at the Rio Summit, tree-planting and promotion of GEO reports. She was Chair of a distinguished panel at the 2010 IWF Cornerstone Conference in Guayaquil, Ecuador and Chair of the Province of Ontario's Working Group on Environmental Education. All recommendations in their report, Shaping Our Schools, Shaping Our Future, were accepted by the Ontario Ministry of Education, thus strengthening environmental education for elementary and secondary school students.
Dr. Bondar is a member of the Governing Council of icipe, a pan-African institute researching the influence of climate change on the spread of insect borne diseases. She is Co-Founder and President of The Roberta Bondar Foundation, created to inspire all ages and to view and to engage our natural environment in a positive light through the lens of photography.
Dr. Bondar served six years as Chancellor of Trent University in Peterborough, Ontario. A graduate of the Institute of Corporate Directors, Rotman School of Business, Dr. Bondar is a Director of Com Dev International, a publicly traded aerospace company. Recently she delivered the Keynote address and was a panelist for the IWF Executive Development Roundtable, Beijing, China.

Among the many honors and awards, Dr. Bondar has been recognized with the NASA Spaceflight Medal, inducted into the Canadian Medical Hall of Fame and into the International Women's Forum Hall of Fame for her pioneering research in space medicine. Dr. Bondar is an Officer of the Order of Canada and has been appointed to the Order of Ontario and as a Fellow of the Royal Society of Canada. She has received 24 honorary doctorates from Canadian and American universities and is featured on the 2003 Canada Post Roberta Bondar astronaut stamp. Dr. Bondar received her own star on Canada's Walk of Fame in 2011. --
Topics
SAMPLE TOPICS >>>
Leadership & Vision +

Creativity, Innovation, Education & Transformation +

Environment & Sustainability +

Change, Adaptation & Risk +

Space, Discovery & Exploration +

Dr. Roberta Bondar is represented by K&M Productions for speaking engagements. For more information, fees & booking Dr. Roberta Bondar, contact us.
What Clients are Saying
Absolutely fantastic ...captured the audience with your first words and kept us mesmerized until the end.
–Rogers Media
[More..]
Absolutely fantastic ...captured the audience with your first words and kept us mesmerized until the end.
–Rogers Media
A wonderful speaker ... exuding intelligence, great warmth and compassion.
–Yale University
Inspirational, humourous and enlightening.
–Federal Bureau of Investigation
An enthusiastic delivery and fascinating speech content… Every person in the room was affixed to her and listening intently, as she spoke about her education, her dreams, her choices and life after her space flight.
–General Motors
...a standing ovation...and in return a standing ovation for us for including her as part of our agenda...a great finishing touch to the day!
–BMO
[Less..]