Dave Meslin
Political Entrepreneur & Engagement Specialist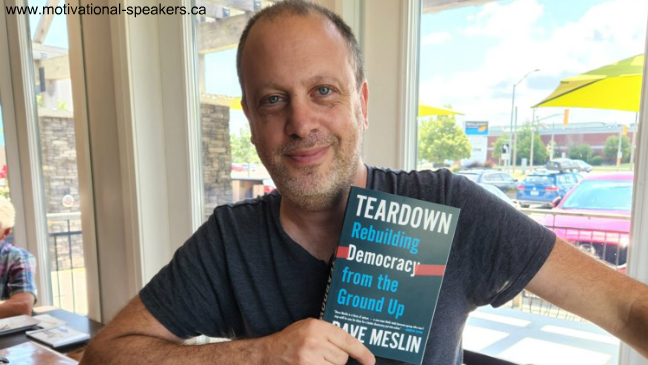 Bio
Multi-partisan and fiercely optimistic, speaker Dave Meslin's presentations focus on how we can overcome cynicism and create a culture of participation. His unassuming presence, creativity and sense of humour keep audiences enthralled. Meslin encourages those present to find what was important to them and become engaged in the process of promoting change by creative participation. The Toronto Star has described him as "mad scientist", "a start-up genius" and "a peripatetic public convener". The Globe and Mail simply calls him a "persuasive rabble rouser". +
Using non-traditional methods and creative tactics, Dave Meslin spent twenty years as a social and political entrepreneur leaving a trail of non-profit start-ups, campaign victories, viral videos, new magazines, and public space interventions in his path. An urbanist, community organiser, author and trainer, Meslin inspires us to invert the traditional pyramid of hierarchy by creating meaningful opportunities to engage our employees, our members, our students. His thesis is simple: We're stronger and smarter when we're all involved. Transforming top-down leadership into bottom-up collaboration is the true challenge of the 21st century.
Dancing between the worlds of mainstream politics and grassroots activism, Meslin has found positive ways to bring them both together and turn energy into action. His 2010 TED talk "The Antidote to Apathy" has been viewed over 1.5 million times and translated into 37 languages.A CBC appearance in 2015, involving towers of colourful LEGO, has been watched 2.5 million times on Facebook.
Meslin's resume of non-profit start-ups also includes the Toronto Public Space Committee, the Ranked Ballot Initiative of Toronto, City Idol, Spacing Magazine, Unlock Democracy Canada, the Downtown De-Fence Project, Dazzling Notice Awards, and DandyHorse Magazine.
While he feels most comfortable working with small grassroots non-profits, Meslin has also donned a suit and tie and worked as an Executive Assistant at both City Hall and Queen's Park. Meslin is currently crowd-sourcing 100 Remedies for a Broken Democracy for his next book. --
Topics & Categories
Celebrities & Media
Education & Youth
Entrepreneurship
Generational Issues
Inspiring Stories
Politics & Current Events
Social Change/Humanitarian Issues
TED Speakers
Trust & Ethics
Urbanism | Cities
Virtual Presentations
Reframing Leadership: The End of Heroes +

Our modern view of leadership is flawed. It centers around the hero narrative – one where faith is placed in a single person to solve organizational problems. Non-participatory in nature, our search for heroes is shifting attention away from policies towards personality and marginalizing the greater majority of an organization. When it comes to the leaders themselves, the pressures being put on them in a hero-obsessed culture are enormous. It manifests in high rates of depression & burnout. The truth is, great leadership actually takes on many shapes and sizes. In this presentation, Dave provides a new leadership lens that breaks the hero model by analyzing the shape power takes within an organization.
Key takeaways:
Teardown: Reinventing Your Structure +

From environmental activism to public space advocacy to the ongoing campaign for electoral reform, Dave Meslin has been on the street and in boardrooms drawing up policies that affect meaningful change. In this presentation based on his book Teardown. Rebuilding Democracy from the Ground Up, Dave shows organizations how they are capable of so much more. From voting & power structures to visual environments & communications, Dave will show audiences how to re-imagine structures to create innovative change.
Key Takeaways:
Seeds of Change: Innovating the Non-Profit Sector +

The non-profit sector is primed for disruption. Our collective perception of this sector is littered with stereotypes that hamper the ability of these organizations to bring about meaningful change. From revenue structures, to a bi-directional brain drain of talent, to cumbersome laws & regulations, the not-for-profit system has a built-in resistance towards real change. In this presentation, Dave Meslin provides non-profit organizations with a roadmap for innovation. He shows audiences how to bring about real change by re-imagining the sector & the ways their organization conducts its operations. This presentation will help organizations create a vibrant community of strong advocacy that is sustainable, independent & disruptive.
Key Takeaways:
Inclusion: The Mechanics of Exclusion & Levelling the Field +

How can a system be designed in a way that not only makes people feel like they have a voice, but also one where they can exercise that voice? In this presentation, Dave Meslin takes a multi-level approach to analyze & solve the problem: looking at both the mechanics along with the broader structural details. Using a customized approach, Dave shows organizations how boosting their inclusion will lead to more depth in your team's collective knowledge & creativity.

Key takeaways:
Building a Culture of Engagement +
Apathy is all around us. Most people have become disengaged not only from politics, but also from our schools, workplaces and associations or organisations. Increasingly, those in leadership positions are asking themselves "How do we boost public participation?", "How do we engage our students?" and "How can we inspire our membership to get involved?". Dave Meslin encourages us to recognize apathy as a web of barriers that reinforce disengagement – and that we can work together to dismantle the obstacles. His seven-minute TED talk about apathy has more than 1.4 million views. This in-depth version of the talk incorporates anecdotes, humour and examples of best-practices. He reminds the audience that we all have something to contribute and that the strongest cities, schools and associations are the ones that have learned how to tap into the collective creativity, passion and knowledge of their constituents. --
Dave Meslin is represented by K&M Productions. For more information, fees, Dave Meslin's speaking schedule & booking Dave Meslin, contact us.
Testimonials
Dave was fantastic and people referenced his presentation throughout the day which reinforced what a great fit he was for this conference.
–Manager, Education | Ontario Municipal Social Services Association
[More..]
Dave was fantastic and people referenced his presentation throughout the day which reinforced what a great fit he was for this conference.
–Manager, Education | Ontario Municipal Social Services Association
Thank you very much for providing this wonderful, engaging and thought-provoking speaker. We enjoyed him as a speaker – and as a human being. He was so easy going and easy to work with.
–Alberta School Board Association
Your closing keynote was definitely a highlight – thank you for being there so much of the day, and for connecting so well with the audience. Your creativity, unassuming presence, sense of humour and inspiring community activism were a terrific capstone for our conference.
–Faculty, Student Life & Development, Kwantlen Polytechnic University
Dave gave a great presentation, and had everyone laughing throughout it. He gave us all a lot to think about – all relevant to what we do. Dave pointed to some very real shortcomings in the way government interacts (or fails to engage) the public in planning efforts. His fun and humorous presentation kept it light. Many people who spoke to me afterwards thought it was the highlight of the conference.
–City of Chilliwack
[Less..]