Dave Meslin
Political Entrepreneur & Engagement Specialist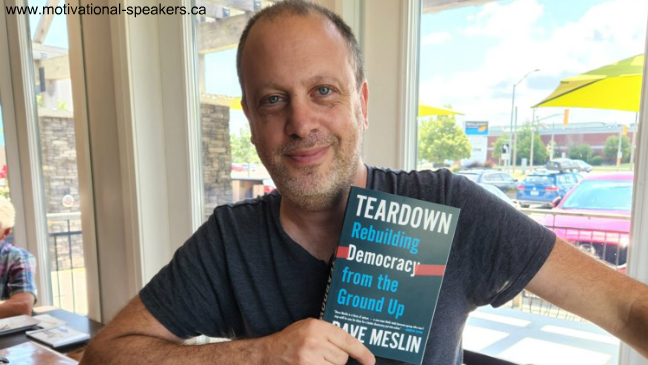 Bio
Multi-partisan and fiercely optimistic, speaker Dave Meslin's presentations focus on how we can overcome cynicism and create a culture of participation. His unassuming presence, creativity and sense of humour keep audiences enthralled. Meslin encourages those present to find what was important to them and become engaged in the process of promoting change by creative participation. The Toronto Star has described him as "mad scientist", "a start-up genius" and "a peripatetic public convener". The Globe and Mail simply calls him a "persuasive rabble rouser". +
Using non-traditional methods and creative tactics, Dave Meslin spent twenty years as a social and political entrepreneur leaving a trail of non-profit start-ups, campaign victories, viral videos, new magazines, and public space interventions in his path. An urbanist, community organiser, author and trainer, Meslin inspires us to invert the traditional pyramid of hierarchy by creating meaningful opportunities to engage our employees, our members, our students. His thesis is simple: We're stronger and smarter when we're all involved. Transforming top-down leadership into bottom-up collaboration is the true challenge of the 21st century.
Dancing between the worlds of mainstream politics and grassroots activism, Meslin has found positive ways to bring them both together and turn energy into action. His 2010 TED talk "The Antidote to Apathy" has been viewed over 1.5 million times and translated into 37 languages.A CBC appearance in 2015, involving towers of colourful LEGO, has been watched 2.5 million times on Facebook.
Meslin's resume of non-profit start-ups also includes the Toronto Public Space Committee, the Ranked Ballot Initiative of Toronto, City Idol, Spacing Magazine, Unlock Democracy Canada, the Downtown De-Fence Project, Dazzling Notice Awards, and DandyHorse Magazine.
While he feels most comfortable working with small grassroots non-profits, Meslin has also donned a suit and tie and worked as an Executive Assistant at both City Hall and Queen's Park. --
Topics
Building a Culture of Engagement +
Apathy is all around us. Most people have become disengaged not only from politics, but also from our schools, workplaces and associations or organisations. Increasingly, those in leadership positions are asking themselves "How do we boost public participation?", "How do we engage our students?" and "How can we inspire our membership to get involved?". Dave Meslin encourages us to recognize apathy as a web of barriers that reinforce disengagement – and that we can work together to dismantle the obstacles. His seven-minute TED talk about apathy has more than 1.4 million views. This in-depth version of the talk incorporates anecdotes, humour and examples of best-practices. He reminds the audience that we all have something to contribute and that the strongest cities, schools and associations are the ones that have learned how to tap into the collective creativity, passion and knowledge of their constituents. --
More Than a Feeling: The Unlimited Potential of Community Organizing +
With anecdotes from the non-profit sector, the electoral scene and the vibrant world of grassroots community organizing, Meslin paints an optimistic and inspiring picture of the possibilities that lie within all of us. With a sense of hope and urgency, audiences hear how we can build a new culture of political engagement in our communities. Dave Meslin offers concrete tips on how ordinary people can make an extraordinary impact on the world around them. The presentation can be tailored to be relevant to large well-funded non-profits, small grassroots student groups, or anything in-between. --
FPTP, PR, MMP, STV, WTF? A Crash-Course in the Mechanics of Electoral Reform +
CBC's most popular video on Canada's 2015 Election Night wasn't Justin Trudeau's victory speech, or Stephen Harper's concession speech. It was Dave Meslin's 90-second video clip, using colourful stacks of Lego bricks to explain how our voting system fails us each and every election. (The video has over 2.5 million views on Facebook alone.) Canada holds the unfortunate distinction of being the only OECD country that uses "First Past the Post" as its exclusive voting system for all levels of government. Increasingly, citizens, activists and politicians themselves are calling for change and renewal. But what are the alternatives? Using clear language, humour and interactive exercises with the audience, Meslin explains the pros and cons of various alternative voting systems. This topic might be relevant to any audience who's interested in politics, and also to any organisation that wants to look at their own internal voting systems (regional chapters, school councils, etc) and think about how they could increase engagement by reforming their process. --
Canada at 150: Time for a democratic makeover? +
As our bodies age, we visit our doctors for regular check-ups just to make sure everything is working properly. As Canada turns 150, perhaps it's time to take a look at our country's vital signs as well: Is political participation increasing or decreasing? Do Canadians feel connected to their government? Do voters have faith in our system? Do our elected governments reflect the rich diversity of our population? What would a democratic makeover look like for Canada?
Dave Meslin has been researching 100 Remedies for a Broken Democracy as a follow-up to his 2010 TED Talk, "Antidote to Apathy". The results of the project will be published in book format by Penguin Canada in 2017. Birthdays are a time to celebrate and also a time to reflect, adapt and to grow. Canada's 150th is a perfect opportunity to revitalize our democracy and transform a culture of disengagement and cynicism into a culture of meaningful participation. --
Dave Meslin is represented by K&M Productions. For more information, fees, Dave Meslin's speaking schedule & booking Dave Meslin, contact us.
Testimonials
Dave was fantastic and people referenced his presentation throughout the day which reinforced what a great fit he was for this conference.
–Manager, Education | Ontario Municipal Social Services Association
[More..]
Dave was fantastic and people referenced his presentation throughout the day which reinforced what a great fit he was for this conference.
–Manager, Education | Ontario Municipal Social Services Association
Thank you very much for providing this wonderful, engaging and thought-provoking speaker. We enjoyed him as a speaker – and as a human being. He was so easy going and easy to work with.
–Alberta School Board Association
Your closing keynote was definitely a highlight – thank you for being there so much of the day, and for connecting so well with the audience. Your creativity, unassuming presence, sense of humour and inspiring community activism were a terrific capstone for our conference.
–Faculty, Student Life & Development, Kwantlen Polytechnic University
Dave gave a great presentation, and had everyone laughing throughout it. He gave us all a lot to think about – all relevant to what we do. Dave pointed to some very real shortcomings in the way government interacts (or fails to engage) the public in planning efforts. His fun and humorous presentation kept it light. Many people who spoke to me afterwards thought it was the highlight of the conference.
–City of Chilliwack
[Less..]